Reviews
Peacemaker Episode 4 Review: The Choad Less Traveled
The gang goes to prison and Peacemaker unpacks some serious daddy issues in another metal hour.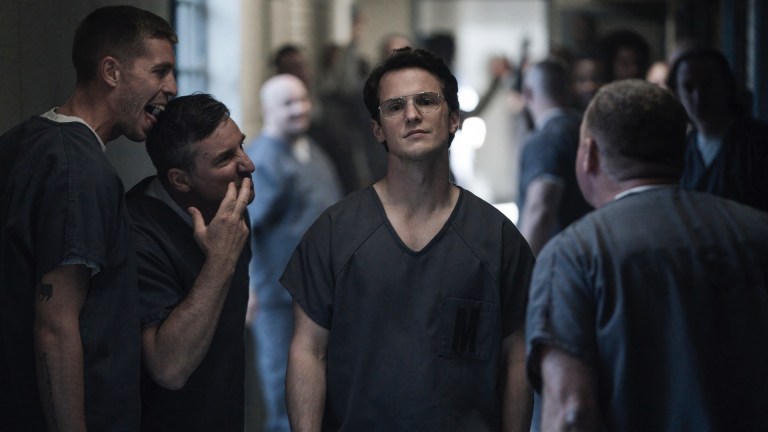 This Peacemaker review contains spoilers.
Peacemaker Episode 4
Welcome back for another week of coverage about the show featuring an obscure, sociopathic DC character who will not let anything stand in the way of justice – no matter how many people he has to kill to achieve it. That's right: it's episode four of Vigilante.
We kid, we kid, but in its second week of airing (and fourth episode overall since last week's premiere contained three installments), Peacemaker really does feel like the Vigilante show at times. Or at least Vigilante has an arc closer to what one might have expected Peacemaker to have had in the first place.
Freddie Stroma as Adrian Chase a.k.a. Vigilante quite simply owns this episode from a sheer entertainment perspective. He begins the hour convinced he'll never walk again because he's missing half a pinky toe. But that doesn't stop him from getting himself thrown in prison merely because Adebayo intimates Peacemaker's life would be better without his father in it.
Say what you will about the masked psycho, but the man has a code. During his threesome with Peacemaker and Amber last week, he bluntly told them he would have killed them in the past for their marijuana use. But it's legal now so they get to live. When he finally gets Peacemaker to concede that his father is a racist, he then asks, in all credulity, why Peacemaker doesn't kill him. His worldview is that simple. Though Peacemaker's perspective of keeping peace at all costs appears to be cracking after the events in Corto Maltese, Vigilante's doctrine of justice above all else is unshakeable. That creates a horrifying human being…but one hell of a compelling character.
Aside from its pitch perfect opening credits, Peacemaker has never been more entertaining than it is during Vigilante's brief stint in jail to kill Auggie Smith. He makes his presence known from moment one, sitting in on an Aryan card game and immediately asking the crew to name their favorite contributions to culture from Black Americans. 
"I'm grateful that Black people gave us rock and roll music," Vigilante says. "Lynyrd Skynyrd, ZZ Top, 38 Special, all those guys owe everything to Black American folk and blues musicians. I mean, they wouldn't exist without them. And then white redneck music would just sound like…well, what it sounded like before Black people: which was the wet, sloppy sounds of fucking your sister."
A fight then ensues and Vigilante says something so foul to Auggie that I'm not sure I can reprint it without phoning the FCC first. So yeah…the Vigilante show.
That's the thing about making a secondary character a main protagonist: you kind of have to make them do protagonist things. That means fleshing out Peacemaker as a human being named Christopher Smith and not just the catchphrase spouting murderer he was in The Suicide Squad. To Peacemaker's credit, this week's episode does a lot better in that regard than the first three. Peacemaker has never shied away from its titular character's daddy issues. This week, however, brings them into even clearer focus. 
"He's one of the worst people to ever set foot on this planet," Adebayo (Danielle Brooks) says of the elder Smith early on in the proceedings. Then the episode goes a long way to proving it.
We've already seen the racism, bigotry, hypocrisy, and downright disregard for humanity in all its forms from Auggie Smith (Robert Patrick). Now we get a better idea of just how damaging all that was to his son. According to Harcourt (Jennifer Holland), Amanda Waller's file on Peacemaker includes the information that Auggie Smith trained his son to be a killer from birth. Not only that, but Chris's brother died under mysterious circumstances and the government thinks Chris may have played some sort of role.
Later on, when Peacemaker is dancing alone in his home to Faster Pussycat's "House of Pain" (yes, it's nothing but bangers this week once again. This particular song choice is topped by only The Cruel Intentions' "Jawbreaker" during Vigilante's prison stint), we see him flash back to the moment of his brother's death. And it's rough. What could have possibly caused a young boy to foam at the mouth and roll around in the dirt is unclear. But it's a certainty that Auggie Smith is responsible. 
Yet, when Peacemaker pays a visit to his pops in prison, Auggie tells him he "fucking loved" his brother. Obviously, of course, he didn't. That supposed love is only used to hurt Peacemaker amid his fury. Auggie says he should have slit his son's throat the moment he was born. He calls him a blob of flesh he felt nothing for.
How does Peacemaker respond to this breathtaking cruelty? With some jokes, of course! He's a grower, not a shower. Like as a person…not as a chode. That Peacemaker is able to leave that prison interview and go on with his day reveals just how deep the scar tissue goes. Auggie probably tells his son he should have slit his throat every day, whether it's due to him getting thrown in prison on false chargers or merely coughing too loud during Fact Attack.
That's why Vigilante feels closer to the central character of the Suicide Squad HBO Max spinoff I envisioned. Though Adrian Chase has his problems (including an absent father of his own and only 9 ½ toes), they don't come anywhere close to how bleak Peacemaker's upbringing is. John Cena puts in superb work in this episode to keep the mood up while also believably presenting an adult son's familial trauma. 
Peacemaker is somehow halfway through its eight-episode run already. While it has its flaws (Judomaster was perhaps one obscure DC character too many), this remains a truly worthwhile TV endeavor. Now let's see what's up with Murn: secret butterfly.