Features
Painkiller True Story And Where Is The Sackler Family Today?
Netflix's Painkiller takes us through the end of Purdue Pharma, but what happens next in the story of the Sackler family and the opioid crisis?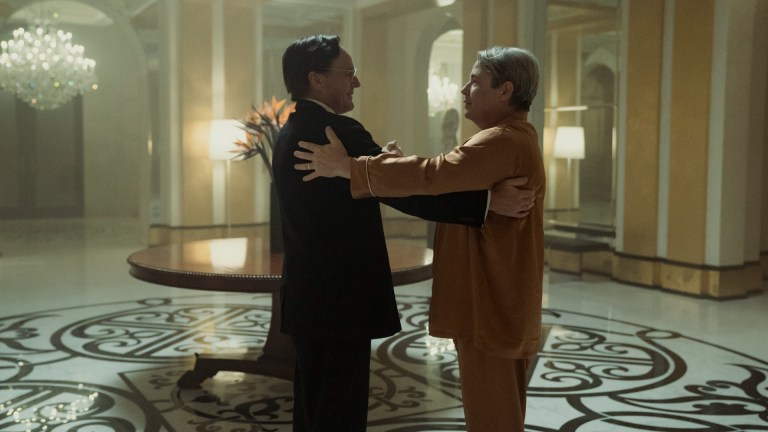 This article contains spoilers for Painkiller.
The ending of Netflix's Painkiller puts a lot of energy into properly punishing its antagonist Richard Sackler (Matthew Broderick).
The series, which Netflix is careful to note is a fictionalized retelling of true events, concludes with Richard being beaten to a bloody pulp by the ghostly apparition of his legacy-obsessed uncle Arthur Sackler (Clark Gregg). Richard is merely trying to explain to his uncle that the Sackler family and their Purdue Pharma company has cut a pretty good deal with the government to avoid criminal punishment for their role in developing the drug OxyContin and perpetuating the opioid crisis. But Arthur is just not having it.
In-between violent punches to Richard's face, Arthur decries his nephew's decision to give even an inch to prosecutors, screaming, "You were weak. You conceded. I don't care about immunity. You tore down the name that I built. You destroyed the name!"
It's certainly a cathartic moment for an audience that just spent six episodes witnessing the human destruction that Richard's company wrought … but it's just that: a moment. It's telling that this miniseries, based on Patrick Radden Keefe's New Yorker article and Barry Meier's book, has to turn to the realm of the fantastical to visit judgment on the Sackler family. It's safe to assume that the real Richard Sackler didn't get his ass kicked by The Ghosts of Vengeful Relative's Past like Ebenezer Scrooge. That's just a dramatization to cover up for the dismal reality of how this all really went down.
With that in mind, let's examine how Painkiller leaves off its story and how the saga of Purdue Pharama and the opioid crisis have progressed since.
Did Painkiller Leave Anything Out About the Purdue Pharma Lawsuits?
In fairness to Painkiller, Richard's ghostly beatdown isn't the only way the show addresses the ending to the Sacklers' story. Prior to that, the series makes time for the tried and true "here's what happened next" postscript text. The entirety of that text reads:
In 2019, as a direct result of the multi-state lawsuits, Purdue Pharma filed for bankruptcy. As part of a proposed settlement, the Sackler Family agreed to pay a settlement of 6 billion dollars. It is estimated that over 300,000 people have died over the past two decades from overdoses involving prescription painkillers like OxyContin. Over 40 people die in the US from prescription opioid overdoes every single day. As of March 2023, final approval for Purdue Pharma's bankruptcy is still pending. No member of the Sackler Family has been criminally charged in connection with the marketing of OxyContin or any overdose deaths involving the drug. The Sackler Family "is believed" to be worth over 11 billion dollars.
In broad terms, that indeed says most of what needs to be said about the end of Purdue Pharma and how the Sacklers avoided criminal liability. Of course, there are other places to look if you want more details regarding how the many Purdue Pharma lawsuits were settled. Patrick Radden Keefe's New Yorker article and Barry Meier's book Pain Killer: An Empire of Deceit and the Origin of America's Opioid Epidemic (both linked above) are great starting points.
But if you're looking for something a bit flashier, Last Week Tonight with John Oliver has created three educational segments about the opioid crisis. The third one, "Opioids III: The Sacklers," which aired on Aug. 8, 2021 as part of the show's eighth season, is the most revealing one for our purposes. You can watch it below.
Oliver and his staff delve into some details that Netflix's narrative didn't have space to fully explain. The most notable aspect is that not only has no member of the Sackler family been charged in connection with the marketing of OxyContin, if this plea deal is approved, none of them ever will. In having Purdue Pharma declare bankruptcy, the Sackler family essentially consolidated the many lawsuits against the company into one $10 billion settlement (of which they'll contribute $6 billion, up from the previous $4.5 billion number).
As part of that deal, however, the family negotiated language that they will not be subject to further civil claims on the matter as part of a "Non-Consensual Third Party Release." That agreement reads, in part: "…the Shareholder Releases Parties shall be conclusively, absolutely, unconditionally, irrevocably, fully, finally, forever and permanently released…" and includes the names of over 200 companies and trusts as the Shareholder Releases Parties.
It's no wonder then why Richard Sackler expected a favorable response from the Arthur in his head.
What Is the Status of the Purdue Pharma Settlement?
The closing text in Painkiller notes that "as of March 2023, final approval for Purdue Pharma's bankruptcy is still pending." As fate would have it, there was a major development regarding that approval on Aug. 10 – the very day that the show premiered.
On that date, the U.S. Supreme Court blocked Purdue Pharma's bankruptcy proceedings from moving forward. The U.S. Trustee Program, under the federal government's Department of Justice, has argued that the agreement violates American citizens' constitutional rights to "due process" by depriving them an opportunity to seek further litigation against the Sackler family. In granting certiorari (releasing a document that says they will hear a case), the Supreme Court announced that they will hear oral arguments in Harrington v. Purdue this December.
Is OxyContin Still Legal?
OxyContin is still legal … for the most part. Purdue Pharma's signature product has experienced an evolving legal status as the opioid epidemic progressed. In 2013, the FDA banned generic pills that included the original time-release OxyContin formula (Purdue Pharma discontinued that product design itself in 2010 because it could be easily crushed into a powder). In 2018, Purdue Pharma reported that it would stop recommending the drug to doctors altogether.
Current laws regarding Oxycodone (the compound that makes up OxyContin) vary from country to country. In the United States, the drug is considered a "Schedule II Controlled Substance," meaning that is has legitimate medical applications but a high potential for abuse. This puts oxycodone on the same level as drugs like codeine, amphetamine, opium, and fentanyl.
Like the other drugs in its class, oxycodone can operate effectively in a controlled medical environment. That's why Knoa Pharmaceuticals, the entity that Purdue plans on becoming after its bankruptcy is resolved, will continue to manufacture and sell the drug with revenues contributing to the National Opioid Abatement Trust. Of course, while oxycodone remains legal in a medical capacity, the brand name OxyContin has some baggage attached. According to health care data firm Iqvia, OxyContin's sales have decreased every year since 2010.
Where Is The Sackler Family Now?
The Sackler family is known for being highly secretive. That's why one of the stipulations of their pending plea deal is probably particularly painful for them. That stipulation allows for the creation of an online depository to make public all documents, depositions, and details in this case. Until that information is released, we probably won't know much about the Sackler family's actions during the opioid epidemic. For now though, this is what we do know about their current status.
Richard Sackler has maintained a low profile since this all began, popping up only for his deposition and for a virtual hearing at U.S. bankruptcy court in 2022 alongside his son David and stepmother Theresa. He currently lives in Boca Raton after selling property in Beverly Hills and Austin. Richard's aforementioned son David made headlines when he and his wife were profiled in a Vanity Fair article in 2019. Arthur Sackler's brothers Mortimer (played by John Rothman in Painkiller) and Raymond Sackler (Sam Anderson) died in 2010 and 2017, respectively.
The Sackler family name has been removed from several institutions, including the Victoria and Albert Museum in London, the Louvre in Paris, the Metropolitan Museum of Art in New York, and Oxford University.
All six episodes of Painkiller are available to stream on Netflix now.