Features
Ozark: What to Expect From the Final Episodes
The final season of Netflix drama Ozark has been split into two parts. Here are the questions we need answered from part two.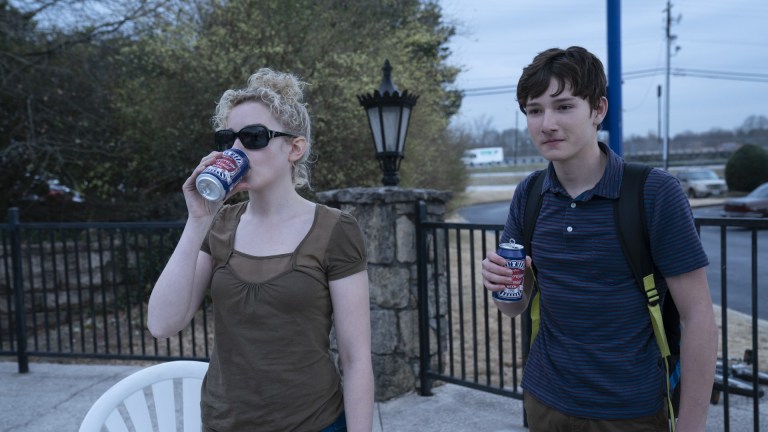 This article contains spoilers for Ozark season 4.
Netflix's decision to split Ozark's final season into two separate parts seems to have worked. Audiences are left impatiently wondering what will happen to Marty Byrde (Jason Bateman), Wendy Byrde (Laura Linney), and Ruth Langmore (Julia Garner) when the hit crime series returns for its final run this summer.
Ozark season 4 episode 7 leaves off with Ruth furiously threatening to kill the Byrde patriarch after she thinks that they are to blame for the death of her cousin, Wyatt (Charlie Tahan). The actual perpetrator of the tragic homicide? Javi (Alfonso Herrera), the nephew of Navarro cartel head man Omar (Felix Solis).
While the latter has been the supposed enemy of the series from the beginning, it is becoming increasingly clear that the introduction of the former is where the main evil in the show is going to come from as we reach the finish line. Javi's style is similar to another scene-stealing baddie from a rival crime drama, and his infusion of energy into the fray is necessary. The Byrde family has gotten a little too comfortable telling their bosses how high to jump recently.
And that's where we get to the other questions. Almost everything left to answer revolves around whether these characters will get out of the mess they have created in clean order. Or will they end up like so many others' fates in the long line of suburban criminal shows? Let's try to figure it out together!
Will Wendy Byrde Pay For Her Sins?
While all of the characters in this show have made bad decisions and committed illegal acts, it's crime wife Wendy who resembles some of our favorite anti-heroes the most. As the Byrde family got deeper into the decision-making for the Navarro cartel, Wendy embraced the thrill of the kill. She sanctioned the murders of Ruth's dad, Cade (Trevor Long), and even her own brother, Ben (Tom Pelphrey), in heartbreaking fashion at the end of the third season.
The first half of this final act saw her continue to get in the good graces of drug kingpin, Omar, while inspiring hatred from her son, Jonah. She doesn't seem to care anymore who she affects with her choices.
Wendy wants power and control and is willing to do whatever it takes to get it. More than any other wife character on TV, Wendy is the one who feels like she's in charge of the operation. She's an evolution that goes well beyond The Sopranos', Carmela Soprano, and even Breaking Bad's Skyler White.
And with this immorality comes the question of accountability. Will Wendy get what's coming to her in the final seven episodes of the series? She can't just run the Ozarks with a callous fist and then return to her home in Chicago with everything in her life intact. The showrunners will definitely discipline her, whether that's through direct action towards her or her family.
The problem is that it really doesn't feel like anything could destroy her inside. When your heart is already black, the comeuppance is just par for the course. It's an accepted part of her journey that could be shrugged off with true sociopathic tendencies by the most evil woman in the Midwest.
Will Jonah and Charlotte Make It Out Alive?
This is one of the ways that Wendy could theoretically be hurt by her misdeeds. If one of her children dies, will she realize that all of her actions were disastrous? We know that Marty will be destroyed by this potential outcome, as he has maintained a semi-decent relationship with both of his kids throughout the series.
Jonah especially got closer to Marty in the first half of Season 4 when his father helped him navigate his own desires to be a money-launderer for Darlene and Ruth. Some fans may have even felt that the end times were coming for Jonah in these past few episodes as he got ever closer to the dangerous world that his parents navigate daily.
This would make it more surprising if Charlotte is the one who sees her demise when the show returns. She's tried to be a good soldier and listen to her mom and dad's instructions recently, a huge decision that contradicts her earlier attempts to get emancipated from the Byrde home in the second season.
It would be a pretty morbid turn for the show to kill off one of these characters. Yet, Omar ominously warning that he doesn't murder children, and then reiterating that line to Wendy, seems a little too foreboding. He may not take this action, but that doesn't mean his nephew, Javi won't.
Will Mel the P.I. Get His Signature?
Or Helen's body? He doesn't care which one he gets. This mysterious former cop was introduced this season with one goal in mind: to track down the location of the Navarro cartel's slain lawyer. It's unknown to the audience why he cares so much about this result, as he claims he's just working out the divorce papers between Helen and her husband.
As he struggles to get information from the various characters surrounding him, the plot seems to thicken. He starts butting his head into places that he shouldn't be at, such as the motel that Jonah and Ruth are laundering heroin money through.
Who is this man, exactly? He has an ambiguous background, and it would be plot-writing malpractice to not involve him in the final seven episodes of the series after hinting at such a decision this season. Ozark has always thrived when including new figures for a season or two (Ben, Agent Petty, and Cade) and this is another golden opportunity for such.
When Will We Find Out What Happened to the Byrdes' After Their Car Accident?
The show uses a flash forward early in the first part of this season showing the Byrde family driving away from the Ozarks, presumably back to Chicago. Everything is hunky dory until Marty takes his eyes off the road. He crashes on the side of the lane into a patch of forestry, and we are left to wonder what happens after the fact.
This scene seems to be a device to peak interest in what will occur when the show resumes, and it's important for the writers to address it thoroughly. If it is treated as no big deal, then it minimizes the purpose of this scene. Could this be the way that the universe spits in Marty and Wendy's faces? That they escape from their crimes just to meet their demise in a car wreck?
Whatever happens, Ozark has always found strength in pulling out surprises when we least expect them. The show is creative enough to have carved out a place in history, but finishing strong will go a long way in furthering that legacy. The end is hard to execute, so let's see if the writers can be as adept as Marty is at laundering drug money.