Reviews
Outlander Season 5 Episode 6 Review: Better To Marry Than To Burn
Jocasta's wedding attracts the movers and shakers of North Carolina in this week's Outlander, but Jamie and Claire can find no escape from their problems with Governor Tryon or Stephen Bonnet.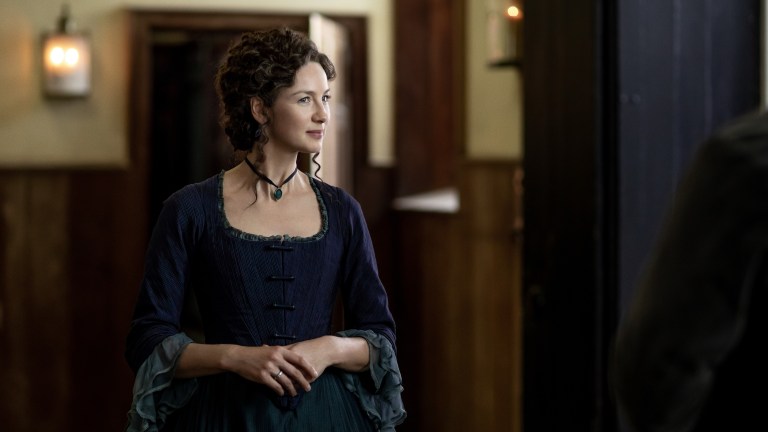 This Outlander review contains spoilers.
Outlander Season 5, Episode 6
"Better to Marry Than To Burn" marks the halfway point of Outlander Season 5 with an extended episode. Claire and Jamie attend the festivities before Jocasta's wedding to Duncan Innes at River Run, but their problems with Governor Tryon and Stephen Bonnet follow them. Meanwhile, Roger and Bree have to fight off a plague of cicadas threatening the crops on Frasier's Ridge.
While this episode scores well with tying together the biggest plot lines this season, it fails miserably when it comes to addressing previous critiques of the use of sexual assault and rape tropes on Outlander.
The episode begins with a dramatic flashback to Jocasta and her first husband Hector Cameron fleeing the Highlands after Culloden. Non-readers likely had questions about her past, so this was a good place for the script to answer questions. Dragoons found the secret stash of Jacobite gold and in the fight to keep the gold, her daughter Morna died. She found the strength to move on. The Mackenzie clan motto: Luceo Non Uro (I Shine Not Burn) forms the running theme for the rest of the episode.
Duncan Innes spent the stolen gold on purchasing and building River Run. Jon Gary Steele's extremely elaborate design of the pergola at River Run reflected this. Historically speaking, wealthy landowners like Jocasta copied the elaborate gardens of royal palaces and Versailles in the colonies. Hand in hand with this set were the elaborate costumes of the attendees. While some can take a more critical eye to the silhouettes and fabric choices, the silk gowns make a clear contrast to the linen and cotton dresses we've seen all season.
While Jamie and Claire are mingling with elites at River Run, Bree and Roger on Fraser's Ridge have to deal with a swarm of cicadas intent on eating all the crops. This time around, Roger doesn't need Jamie to criticize his leadership skills; there are two haters ready to brand him a useless captain. Roger gets a chance to prove them wrong by remembering how smoke rings could fend off insects. Bree delivers a line that is a motto for all of the women on Outlander as a whole. "I'll handle this, you keep shoveling your shit."
Although this plot was not in the books, this is a great opportunity for the show to feature complex cinematography. Filming with simulated or real smoke must have been difficult for all involved. The sweeping darkness as the cicadas flew over the fields makes the audience feel as if their homes are about to be attacked. The smoke successfully drives the cicadas away as well as the marital woes from the previous episode.
Lord John Grey is a welcome sight for the Frasers, but a different sort of swarm gathers during the evening reception: Governor Tryon is one of the guests of honor and he doesn't miss the opportunity to throw another wrench in Jamie's plans. He announces he's moving to New York shortly, as he accepted a promotion to governor. Of course, he's very interested in making sure his legacy is that he controlled the Regulator problem. The worst thing that could happen is a new governor who doesn't permit Jamie's fine line on protecting Murtagh.
As Claire can't mingle with the men as they discuss politics, she finds a companion in Margaret Tryon. Just as Claire overhears some women talking trash about Dr. Rawlings' family planning advice, more trouble finds her. Philip Wylie, last seen at the governor's ball in Season 3 is back with a colonial Pennywise makeover. Wylie was in the novels, but as part of a now deleted side plot. Now he's for Bonnet smuggling silk damask and other luxury goods while Tryon's tax agents look the other way. Claire realizes this is a chance to obtain credible information on Bonnet's location, and she begins to talk about selling Jamie's whiskey.
This whiskey tasting and discussions about his prized horses turns in a dangerous direction as Claire tries to respectfully turn down Wylie's come-ons. The glaring weakness in the episode script overall is apparent as Wylie becomes a poor imitator of Bonnet in attempting to rape Claire. To add insult to fans already fed up with Outlander's rape tropes, Jamie goes from hero to zero by having him actively victim blame Claire for what happened. Thankfully, Claire responded to Jamie's slip towards toxic masculinity with a slap heard around the world.
Jamie takes the very long way around towards becoming likable. He bets Claire's wedding rings in a high stakes card game with Wylie. The episode skipped showing the game play, but in all honesty the story would have been much better served if this was the focus of the plot in between the locusts and Jocasta's scenes. In this way Claire and Jamie's makeup hookup would have been more impactful and less overshadowed by unnecessary trauma and toxicity. Past seasons have done well to tone down Jamie's more overtly misogynistic moments from the novels and feature Claire's perspective on her own desires, but this episode completely failed at this.
Not only does this episode also fail to side step the tired tropes around sexual assault, it also dodges a meaningful discussion on slavery once again. All of that scenery the guests are enjoying was built on slave labor. Abigail and Margaret are two new slaves introduced in the episode but they have no personality at all. Ulysses expresses concerns about Jocastas' happiness with Duncan, but this leaves a problematic concept out in the open with no pushback. Curiously enough, Phaedre isn't helping Jocasta change or assisting other women staying in the house. It's entirely possible Natalie Simpson was unable to film, but this may present an issue later on if the show decides to return to River Run plotlines.
The one person who should have been nowhere near Jocasta ends up in her private chambers: Murtagh. In lieu of interrupting the actual vows and risking immediate arrest, he tries one last time to convince Jocasta to marry him. The theme of survival over surrendering to impractical passion or even political danger comes back again when Jocasta turns Murtagh down one last time. It may be the end of the road, but every moment until the end was incredibly well-acted. Women like Jocasta often married a second or even a third time for financial security or even simple companionship over true love. Her instincts are telling her Murtagh is sure to end up dead from his Regulator activities so she needs to stick with Innes no matter how boring he ends up being.
"Better To Marry Than To Burn" ends with Stephen Bonnet once again taking the gentlemen act too far. Jocasta's lawyer tells Bonnet that Jemmy is the sole heir to River Run. Will Jamie kill him before he has time to attempt to stake a claim? Will the show find a way to put Bree unnecessarily in harm's way?
Additional Comments
The 3 out of 5 rating is mostly due to the script, not the other elements. Wylie's makeup is a purposeful exaggeration of what dandies really did with their makeup at the time. It's to accentuate how terrible of a person he is.