Sponsored
Outlander's Most In-Demand Trading Cards
These Outlander Trading Cards give fans a piece of their favorite characters. Plus check out two exciting new eBay exclusives!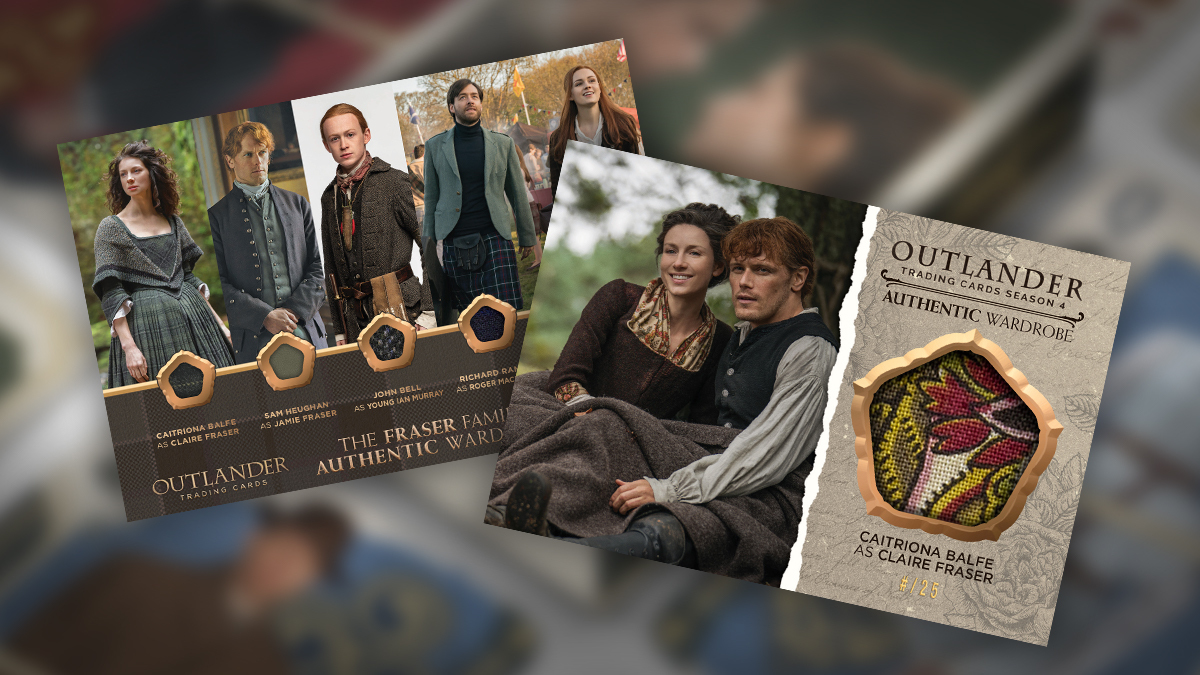 Presented by: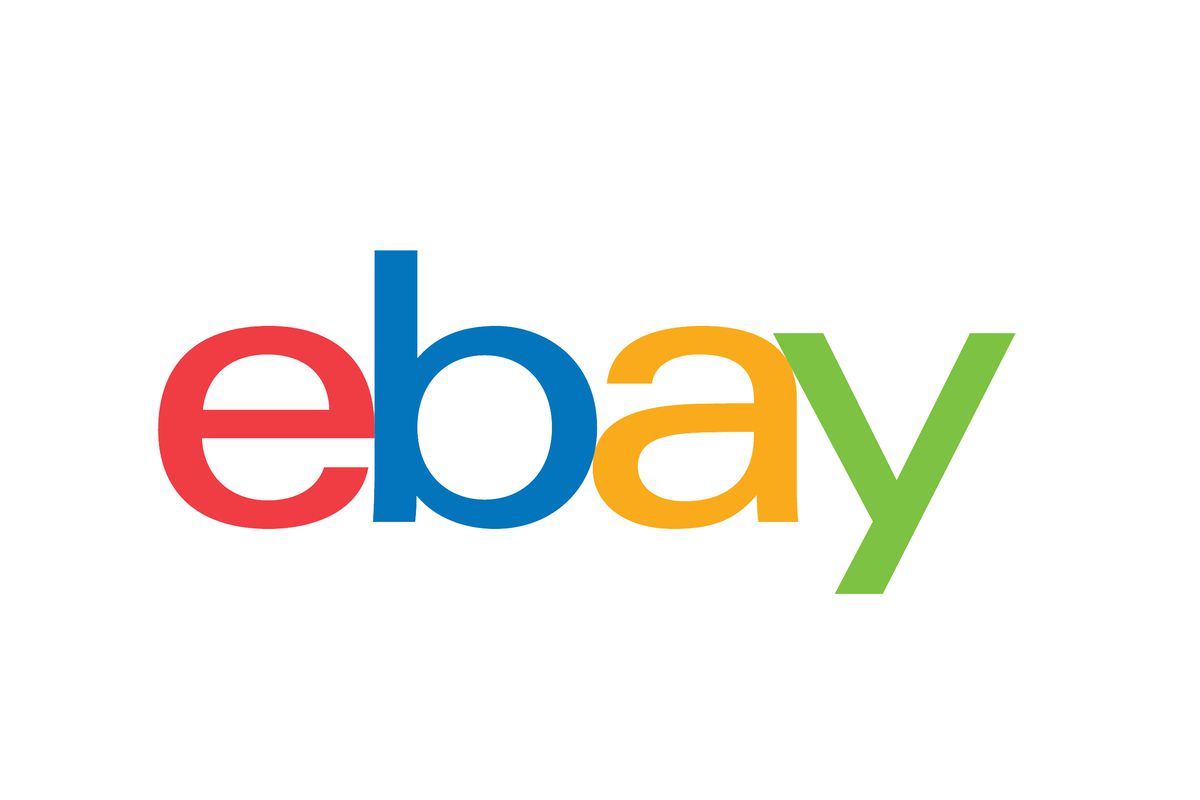 Outlander fans want an immersive experience in the world of the show. However, in the midst of both Droughtlander and a global pandemic, fans of the time-traveling historical romance have fewer options than ever to engage with this rich world. Some fans are satisfied with collecting clothing items or themed gifts, but Cryptozoic's trading card collections take Outlander fandom to the next level by giving fans the opportunity to collect pieces of screen-used costumes and cast autographs.
Which cards should you go for? Well, that depends on your particular interests in the fandom, but demand and availability might also come into play—especially if you have a budget. Generally, the most active eBay auctions currently are for unopened Season 4 and earlier trading card sets. Wardrobe and autograph cards are mixed in at random, and sealed boxes guarantee no cards were swapped out or removed. Since the pandemic has eliminated opportunities to meet the Outlander cast at conventions or press events, autograph cards are now more valuable as collectors' items.
If you're looking for something special, Cryptozoic is partnering with eBay on two exclusive cards: "The Fraser Family" Oversized Wardrobe Card launches on eBay at 2 p.m. PT on Nov. 30. "Caitriona Balfe as Claire Fraser" Oversized Wardrobe Card, which contains fabric pieces from the costume of star Caitriona Balfe from Season 4 launches on eBay at 12 p.m. PT. These limited edition cards will be among the top Outlander trading cards fans are craving to score on eBay.
If you're new to the world of Outlander trading card auctions on eBay, it can be a bit overwhelming. We'll walk you through what you need to know to dive into this world…
Top Wardrobe Cards
The Fraser Family Oversized Wardrobe – Cryptozoic x eBay Exclusive
One of Outlander's most important themes is family. All of the main characters have sacrificed to keep the Fraser family together. By themselves, each wardrobe and character would be worth at least $50 but having five characters together raises the stakes considerably for collectors. Fans are naturally inclined to prefer to collect either Jamie (Sam Heughan) and Claire (Caitriona Balfe) or Roger (Richard Rankin) and Bree (Sophie Skelton) themed items. This card adds Jamie's nephew Young Ian Murray (John Bell) whose plotline in Season 4 affects both couples. There are a small handful of scenes where all five characters appear, which makes the combined photos particularly valuable.
Analyzing the costume swatches reveals additional surprises. Claire's Season 1 green tartan dress is incredibly sentimental for fans since she wore it around Lallybroch. Jamie's Season 4 wool frock coat was chosen to color coordinate with Claire's. Ian's Season 4 textured wool jacket represents his life in North Carolina. Roger and Bree's modern clan-gathering outfits from Season 4 represent the forming of their eventual marriage. Season 1 swatches are extremely rare.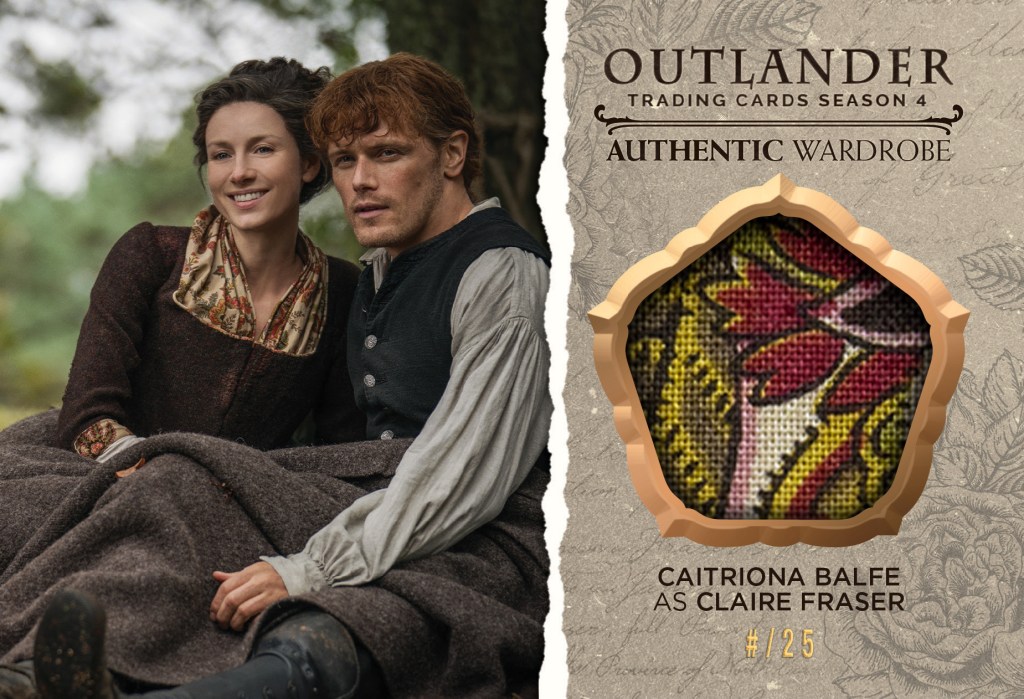 Season 4 Caitriona Balfe as Claire Fraser – Cryptozoic x eBay Exclusive
Claire costume swatches are extremely popular among Outlander collectors. This exclusive stands out because it is a swatch of her floral fichu (neck scarf) from several Season 4 episodes. Usually, swatches are made from her dresses, skirts, or jackets. The floral pattern is also similar in color pattern to another iconic Claire outfit: her brown floral brocade riding habit she wore to the Versailles gardens in Season 2, Episode 5.
Season 4 Quad Wardrobe Card: Caitriona Balfe, Sam Heughan, John Bell
This is another example of a Frasier family-themed wardrobe card. Claire, Jamie, and Ian are having a conversation in the picture. Claire's yellow linen jacket and petticoat from the scene are featured, as well as the white linen shirt Ian wears. Jamie's black woolen Rarity drove the demand for this auction. Only 25 of these cards exist and #24 sold for $1,225.
Buy Season 4 Quad Wardrobe Card: Caitriona Balfe, Sam Heughan, John Bell on eBay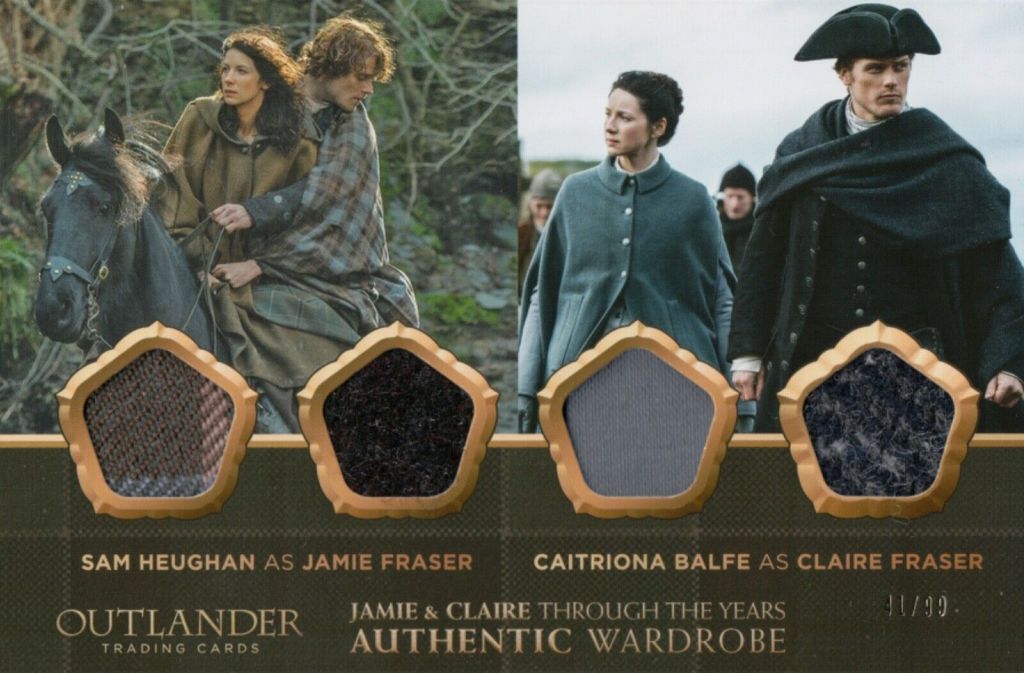 Outlander Season 4 Jamie & Claire Quad Oversized Wardrobe Card
Jamie and Claire are the heart of Season 4's story. This card combines two frequently used promotional shots for their relationship and the matching costume swatches. Some may recognize the first photo as a still from Season 1 when their relationship was starting to grow. The second photo is from one of their excursions beyond Fraser's Ridge in Season 4. One swatch features a piece of Jamie's signature kilt in Fraser tartan and his wool coat. Claire's swatches are from her Season 4 riding habit (18th Century travel suit) and from one of her petticoats. Be prepared to put in a fight with other collectors as the winning bid for #14 of 99 sold for $428.
Buy the Outlander Season 4 Jamie & Claire Quad Oversized Wardrobe Card on eBay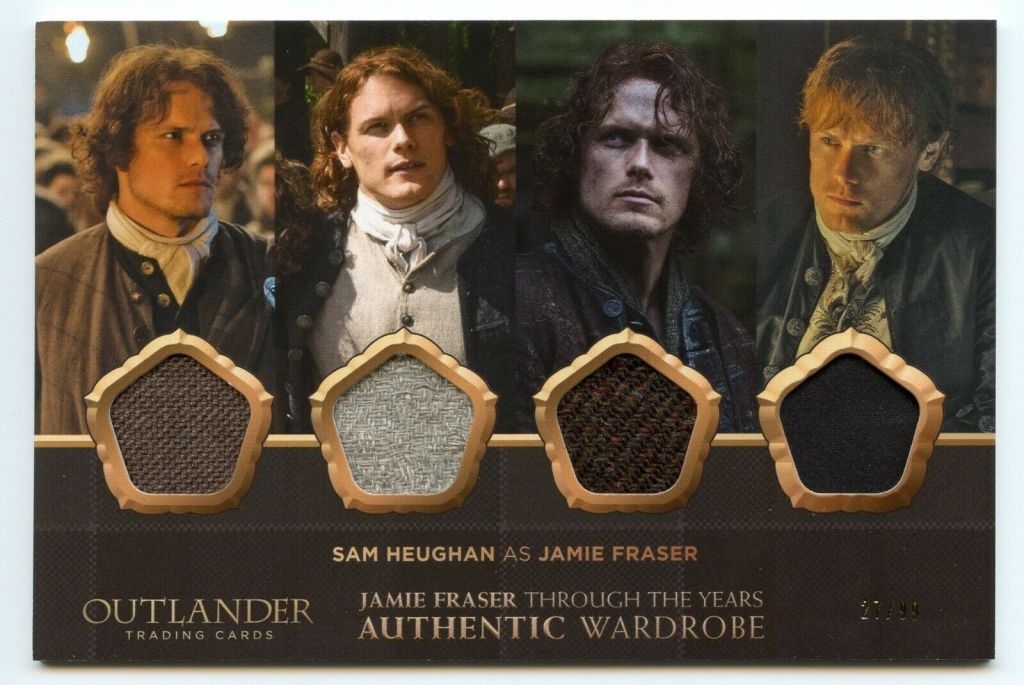 Season 4 Jamie Quad Oversized Wardrobe Card
Jamie and Sam Heughan cards are the most popular, according to Cryptozoic. Each picture represents a season and stage in Jamie's journey from young man to leader of a settlement in North Carolina. A swatch from Jamie's black silk suit from the Season 2 Paris episodes stands out as the peak of his formal attire on the show thus far. The second swatch is actually from his white cravat (necktie) as opposed to a section from a jacket or shirt. The other two swatches are pieces of his famous tartan jackets worn throughout Outlander. Only 99 of these were made, and two bidders fought for one in an incredibly close competition that ended at $369.
Buy Season 4 Jamie Quad Oversized Wardrobe Card on eBay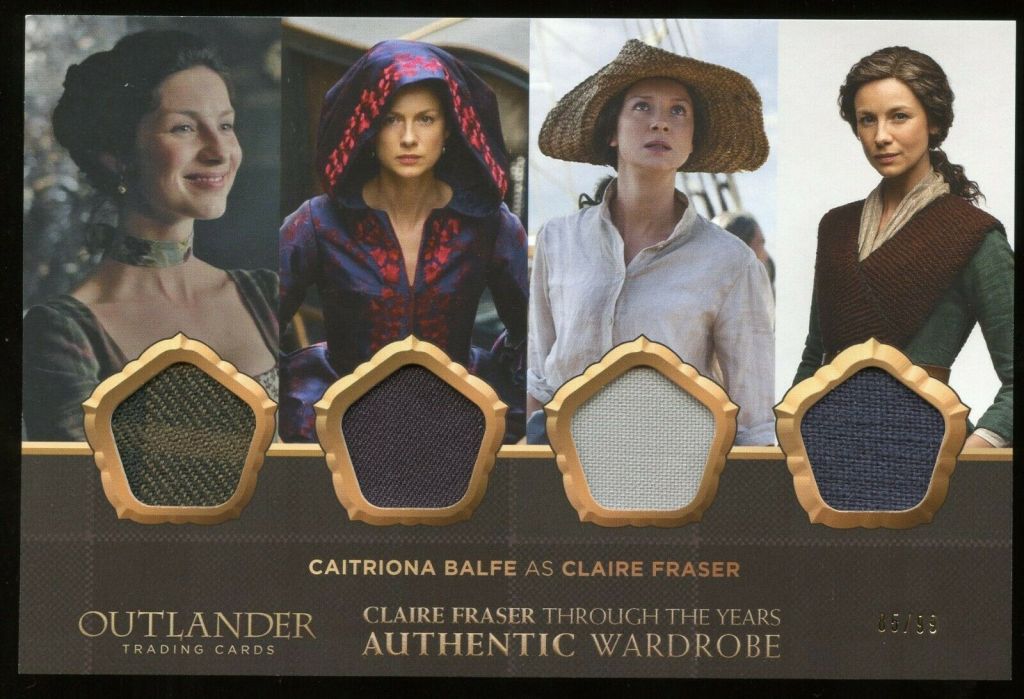 Season 4 Claire Quad Oversized Wardrobe Card
Fans can't get enough of Claire's beautifully patterned costumes. Each swatch represents a sample of Claire's journey from a time traveler out of her element to a pioneer of penicillin in the 18th century. Claire's intricate plaid dress she wore to The Gathering in Season 1 alone is incredibly sentimental to Outlander fans. Her purple silk Brunswick (18th-century jacket with hood) from Paris' Season 2 episodes also hold sentimental value. Her white linen shirt from Season 3 and her teal linen jacket in Season 4 represent Claire's time in the New World. #2 of 99 sold for $324, which is likely less than it would cost a cosplayer to recreate one of the outfits pictured.
Top Autograph Cards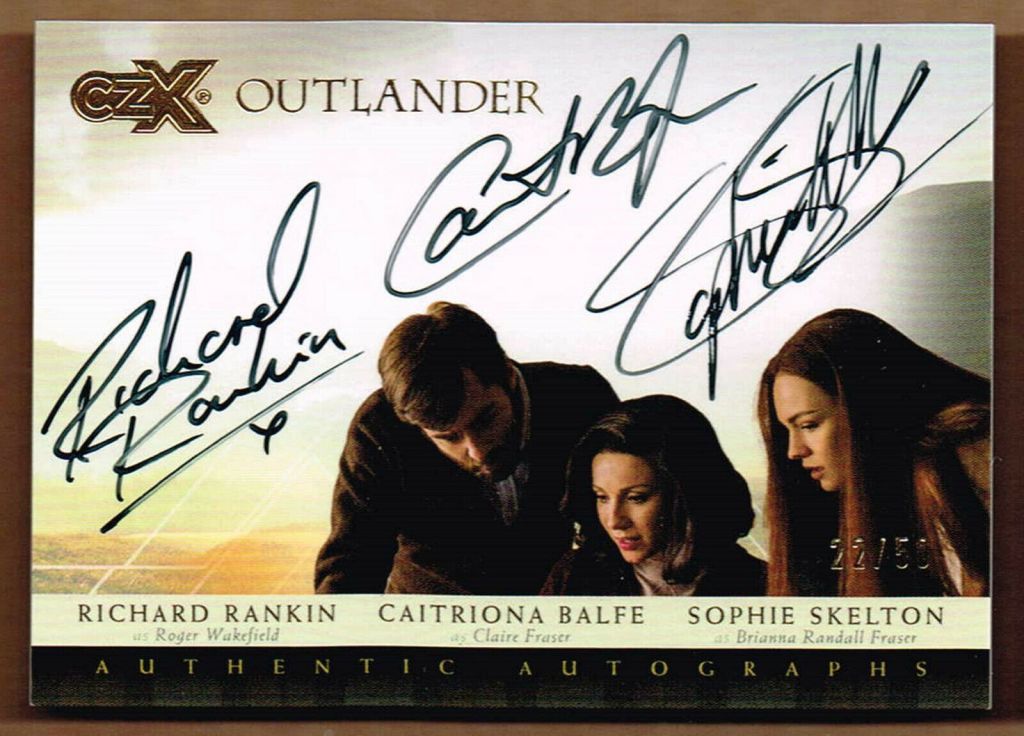 Outlander CZX Triple Autograph Caitriona Balfe, Richard Rankin & Sophie Skelton
Autograph collectors are always going to be tempted by chances to have more than one cast autograph at once. Over time, the value of a group of cast autographs rises. What is unusual about this card is that Sam Heughan as Jamie is excluded. Many of the other dual and trio autograph cards feature him. This exclusivity benefits fans who prefer Roger to Jamie or fans who focus on Brianna's relationship with Claire. Some fans exclusively watch the show for Richard Rankin so they would place a high value on any items featuring the actor or Roger Mackenzie.
Buy Outlander CZX Triple Autograph Caitriona Balfe, Richard Rankin & Sophie Skelton on eBay
CZX Autograph Wardrobe Card Caitriona Balfe
Autograph and wardrobe combo cards offer collectors the best of both worlds. Claire's photo and costume represent the very beginning of her journey as a heroine. The swatch is from the navy blue peacoat she wore in the first episode during her honeymoon with Frank. This early Season 1 sentimentality is why the latest auction for this dual card ended over $40 more than an auction for a solo Caitriona Balfe autograph card.
Buy CZX Autograph Wardrobe Card Caitriona Balfe on eBay
CZX Autograph Wardrobe Card Sam Heughan
One of Jamie's most iconic Season 1 costumes is the hand-me-down leather coat from his father. The coat represents Jamie's legacy and duty as laird of Lallybroch. Card #17 out of 60 sold for $260 clearly due to the sentimental value of the costume swatch.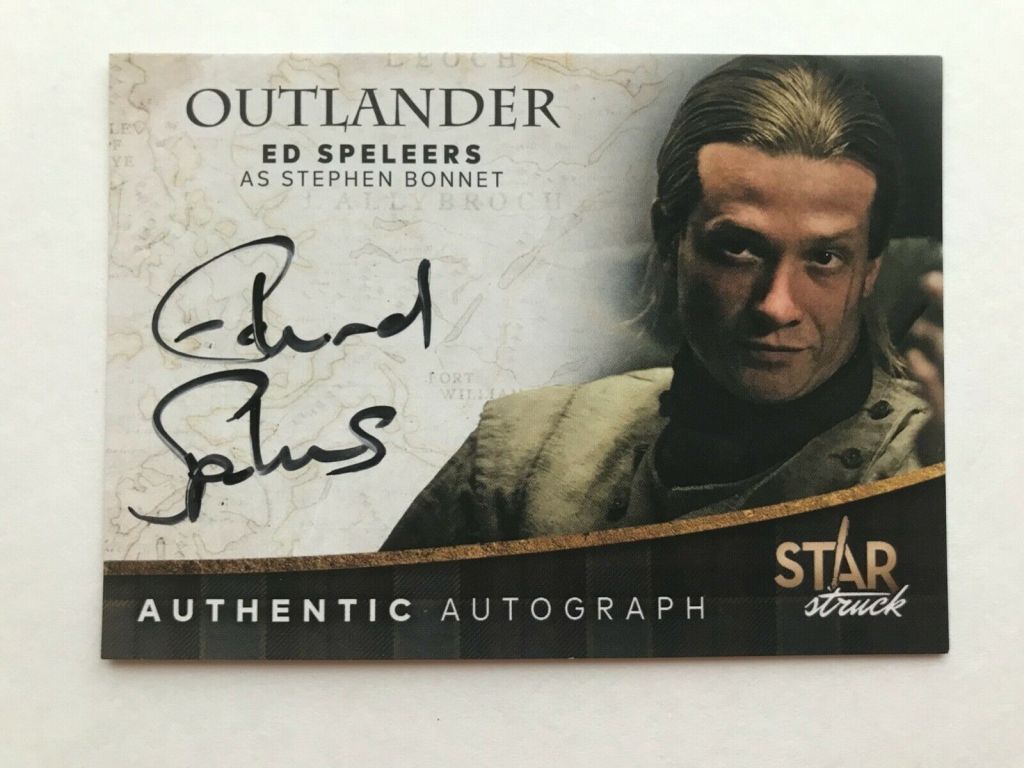 Season 4 Stephen Bonnet Autograph Card
Ed Speleers played Season 4's Big Bad Stephen Bonnet. Although most fans would shy away from villain characters, Speleers earned respect and praise across Outlander fandom for faithfully portraying Bonnets' cruelty from the novels. In addition, fans of Speleers' previous projects Downton Abbey and Beowulf: Return to the Shieldlands followed him into the fandom. Neither show ever produced autographed merchandise which adds to the appeal of obtaining a Bonnet card. The most recent auction ended at $16, a good place for a beginner or budget-conscious collector to start.
Buy Season 4 Stephen Bonnet Autograph Card on eBay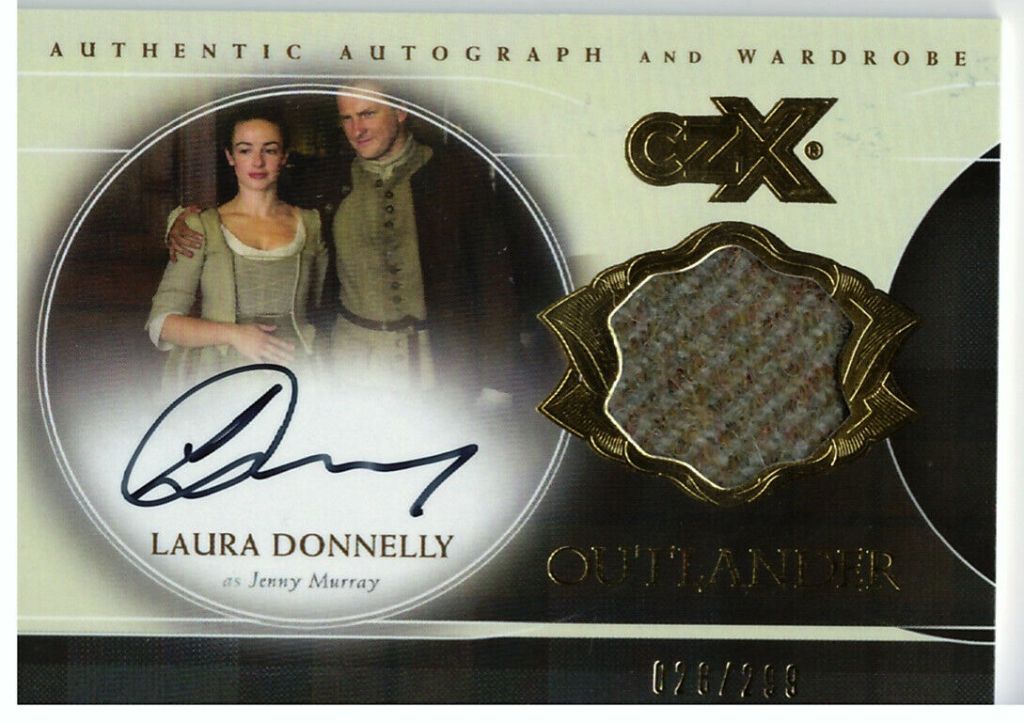 SDCC NYCC 2019 CZX OUTLANDER Laura Donnelly Autograph Wardrobe Card Exclusive
This is a recent example of an older Cryptozoic convention exclusive attracting bidding attention. First of all, Laura Donnelly left her role as Jenny Murray, Jamie's sister, after Season 3 to pursue other opportunities. Jenny has a small but devoted following for being a tough but loving wife and mother. Secondly, cards with both costume swatches and an actor autograph are rare. The costume swatch is from one of Jenny's promotional photo costumes which makes for high sentimental value for fans.
Buy SDCC NYCC 2019 CZX OUTLANDER Laura Donnelly Autograph Wardrobe Card Exclusive on eBay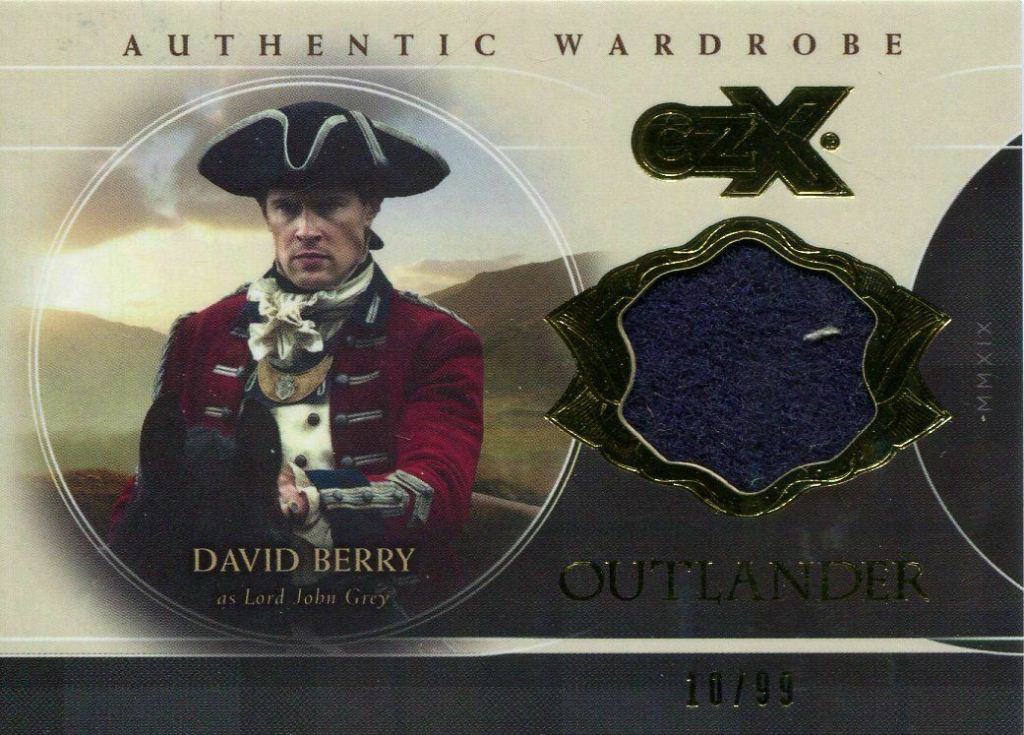 CZX David Berry As Lord John Grey Card
Lord John Grey evolves throughout the story of Outlander from Jamie's jailer to one of his closest friends and allies. At the heart of his character development is the struggle of living as a closeted gay man in the 18th century. In addition, he is the legal guardian to Jamie's son with Geneva Dunsany, William. Lord John has developed a small but devoted following from the spinoff novels and short stories and on the show. Some of Berry's fans from the Australian period drama A Place to Call Home have also found their way into Outlander fandom.