Reviews
NOS4A2 Season 2 Episode 5 Review: Bruce Wayne McQueen
Charlie Manx is coming for Wayne McQueen. Lou and Chris try to stop him on a Rashomon-inspired episode of NOS4A2.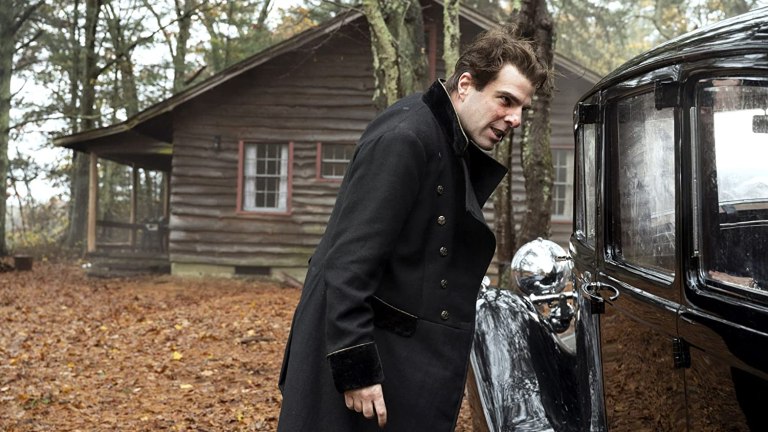 This NOS4A2 review contains spoilers.
NOS4A2 Season 2 Episode 5
It's been established. Charlie Manx is coming to Haverhill and he's looking to get his hands on Bruce Wayne McQueen, one way or another. There are FBI agents, explosive devices, and Wayne's family standing in his way. So, really, nothing that can slow down a man who is essentially immortal with a lot of experience sneaking around and stealing children, especially with the Gas Mask Man, Bing Partridge, working alongside him.
"Bruce Wayne McQueen" is one of the most cleverly constructed episodes of NOS4A2, especially of this season, because it takes a single event, the kidnapping and capture of Wayne, and tells it from the point of view of both the kidnapping victim and his mother, completely with illustrated title cards to remind us of who we're watching the events through. The events themselves don't change in a fundamental way, but it's a clever way to tell a story from a few different angles and make sure all the characters involved get their own perceptions across, with Wayne's section illustrating more about the relationship between Bing and Charlie, and Vic's section focusing on the action sequences, including not one, but two instances of Vic (Ashleigh Cummings) being hit by cars.
Switching perspectives provides a lot of solid work for the performers, as they get to dig into their rationale in every scene, and fill in some of the background information that's only briefly glimpsed at other times, like through the windows of the Wraith as Bing (Olafur Darri Olafsson) menaces Wayne (Jason David) until he is corrected by Charlie (Zachary Quinto). If anything, Bing is almost jealous of all the attention Wayne is getting, versus all the attention his best friend Mike never really got from Charlie Manx, and Charlie's general lack of gratitude for all Bing has been doing for Charlie over the last ten years, tracking down the Wraith, finding a child, and bringing Charlie back from the grave. It's interesting to watch Thomas Brady sprinkle these little clashes throughout the script, culminating in Manx fleeing the scene with Wayne and leaving Bing behind to escape, or get caught, on his own.
It's a clear change in the Manx/Partridge relationship, though the relationship has been strained throughout the second season. Bing literally puts his body on the line, getting shot while chasing Vic for his boss, and Manx won't even wait long enough for Bing to hop in the car before he tears off into the night, abandoning Bing just like everyone else in his life has abandoned him. Sure, Bing is evil, but he's also very loyal, and he seems to expect the same from Charlie Manx and isn't getting it.
A lot of this heavy lifting comes from Olafur Darri Olafsson, particularly in his interactions with Wayne. Bing is something of a large child, at least in how he's characterized, and his emotions run close to his skin. Olafsson does a stellar job of portraying the emotional lability of children, and Bing is particularly dangerous when he's feeling spurned, jealous, or angry, simply because of his impressive size and dexterity with the gingerbread gas gun he carries. He has to make a lot of sudden shifts in mood, all usually within the same scene, bouncing from angry to sullen to happy with breakneck speed, and it's especially impressive in this week's episode just given the sheer amount of times he has to do it. When the boss is out of the car, Bing is a much different person.
Similar kudos to Ashleigh Cummings, not because she has to do a lot of shifting in her emotions, but because she has to dig so deeply into her reserves of terror and fear. A particularly strong moment is Vic, up to her nose in water and hiding under the dock, trembling in fear with her mouth wide open under the water to muffle her anguished groan. It's stellar work from both the performer herself and the crew behind the camera to really pull something memorable together.
One of the better shots in the series, let alone this episode, and the stand-out moment in Hanelle Culpepper's direction of the episode. It's a very impactful shot in an episode that has a lot of them. Manx, yelling at Vic with such focus that he misses Lou sneak behind him. Lou, hatchet in hand, trying to smash into the Wraith while Wayne watches with panic in his eyes. Wayne, watching his father getting beaten viciously, watching his mother get hit by the Wraith, watching his mother get hit again by the Hourglass Man (Paul Schneider).
The scenes are constructed well, and the performances make the visuals work, and vice versa. As far as sheer entertainment factor goes, "Bruce Wayne McQueen" is much like Bruce Wayne himself—a man with a plan for everything, and the tools to execute it. Even when something doesn't work—Vic getting hit by the Wraith looks dodgy—NOS4A2 makes sure everything else around that element works well enough to keep it from being distracting from the overall narrative.