Features
NOS4A2: The Meaning Behind the Show's Name
AMC's NOS4A2 borrows its name from a vanity license plate and over a hundred years of vampiric history.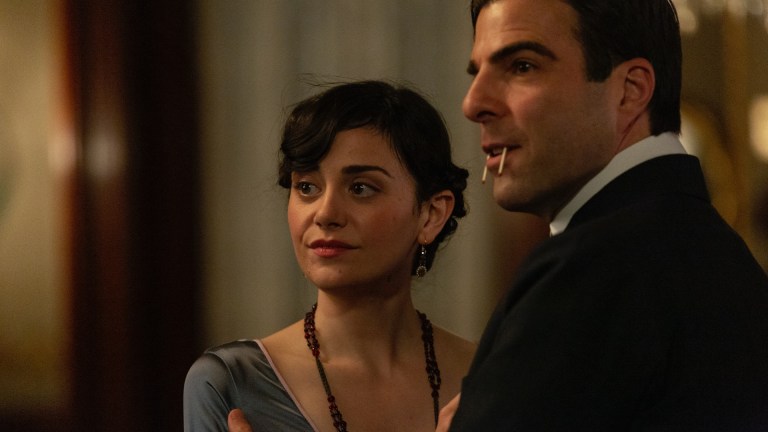 As any TV critic who has had to hold down the shift bar and poke between letters and numbers on a keyboard before can tell you: "NOS4A2" is a strange name for a TV show.
To the uninitiated, it may take a moment to sound out what the code is meant to pronounce phonetically. And then once that mystery is unraveled, it only opens up a new set of questions as to the name's real significance. That requires some thinking. And thinking is awful. So we've done the job here at Den of Geek of breaking down the meaning of AMC's NOS4A2.
Joe Hill's original novel NOS4A2 takes its title from a vanity license plate that adorns the 1938 Rolls-Royce Wraith of one Charlie Manx. Charlie Manx (played by Zachary Quinto in the show) is an immortal creature who feeds off of children's souls, and then tosses their husk-like remains into "Christmasland" – an imaginary village of his own making.
The vanity plate "NOS4A2" adopts the naming mechanism that many other vanity plates do to save place and incur a smaller charge at the DMV like this fun example of an outlawed plate in Florida "IH8 KIDS." Perhaps Charlie Manx thought "I EAT KIDS" would be too on the nose (or cost too much at Hell's DMV) so he went with "NOS4A2" or phonetically: "Nosferatu."
"Nosferatu", of course, is another word for "vampire." At least, the name is thought to be an archaic Romanian world for a beast roughly resembling a vampire. The 1922 silent German horror film Nosferatu: A Symphony of Horror is essentially an unauthorized retelling of Bram Stoker's Dracula with the names changed. The film follows Count Orlok (Max Schrek) a Transylvanian nobleman who also just happens to be an undead bloodsucker.
Charlie Manx is not a vampire in NOS4A2 in the literal sense. He doesn't drain the blood of his victims via fangs. But he does drain their essence or their souls in a decidedly vampiric fashion. His license plate, and the book and show's name are clear nods to his destructive nature.
There's also the matter that, when he's probably fed, Charlie Manx is a pretty handsome guy. He's played by Zachary Quinto after all. And though Max Schrek's Count Orlok has a truly terrifying visage, many other vampires throughout pop culture have been charming and handsome aristocrats. In fact, take a look at this clip for NOS4A2 season 2 episode 2 "Good Father" in which Charlie receives a very particular compliment from his wife. 
"Doesn't my husband remind you of the nosferatu?"
Lady, you don't know the half of it.
NOS4A2 season 2 airs Sunday nights at 10 p.m. ET on AMC.