Features
Nightflyers: Inside the George R.R. Martin Syfy Series
Syfy's Nightflyers wants to bring another grand George R.R. Martin world to television.
Syfy's upcoming Nightflyer , a George R.R. Martin adaptation about a haunted spaceship, is a lot of things. It's science fiction; it's horror; and above all else, it's big. 
"One of the things that struck me about Nightflyers is that even as a 100-page novella it creates a huge world," showrunner Jeff Buhler says. "That's what was so thrilling and exciting about the story."
Buhler, who previously adapted Clive Barker's The Midnight Meat Train, started as a writer on the series and was soon elevated to showrunner. It's fair to say that he's never shepherded a television project as big as Nightflyers because few people have. 
Nightflyers follows a group of scientists and one telepath aboard the titular ship the Nightflyer. The vessel is piloted by the mysterious Roy Eris (David Ajala), and is on a course for the celestial object, "The Volcryn," in the hope of making first contact with an alien species that may possess enough energy resources to save all human life. 
Aboard the ship are an astronomer, Karl D'Branin (Eoin Macken), the telepath, Thale (Sam Strike), Thale's caretaker Dr. Agatha Matheson (Gretchen Mol), and several other scientists. While en route, the group never sees Captain Eris aside from via hologram. The Nightflyer's crew is not fond of their science expedition companions. The mood is weird. And then people start dying. Lots of people. 
Read the Den of Geek SDCC 2018 Special Edition Magazine Here!
"There's a lot going on, right?" Buhler concedes. Still, the central premise of Nightflyers is simple enough. All of the science fiction trappings are elaborate framing mechanisms for a straightforward horror story about being trapped in an unwanted place, particularly once people start dying. But those science fiction tropes still matter greatly to the show. It was important for Buhler to include details like "L-1" telepaths, human beings who have mutated into the most powerful and feared versions of telepaths. Buhler also enjoys the fact that cyber technician Lommie has a surgically implanted neuroport in her left arm to directly interact with the ship's computer program. Those details are part of a larger world. And few writers can build a world as large as George R.R. Martin.
Martin is the writer behind the"A Song of Ice and Fire" fantasy series, which became the inspiration for HBO's genre-defining Game of Thrones. The world of Westeros (and Essos) in both literature and television is a fantasy universe with cities, towns, geographical features, shipping routes, a complicated political landscape, extensive family histories, and even recipes. The world is so large that it seems fundamentally un-adaptable and unfilmable. And it was… until Game of Thrones.
Now Buhler, along with his cast and crew, are trying to make the impossible happen twice by bringing every detail of Nightflyers' 100 pages to screen. (Martin is not participating in the creative adaptation of Nightflyers due to his contractual commitments to HBO, however he remains an executive producer on the series.)
Says Buhler: "That's what George R.R. Martin is so good at. The world-building. You want to go back and visit it and see how your characters are doing. I didn't want to lose that richness."
That richness includes the character of Melantha Jhirl. Mel is one of Martin's most memorable sci-fi creations. She is a genetically engineered human being who is bigger, faster, and smarter than any traditional human.
Originally Mel was the victim of whitewashing with the character appearing as white on both a 1980 book cover and in a nearly forgotten 1987 film adaptation. Upon seeing the casting of the statuesque Jamaican and British actress Jodie Turner-Smith, Martin wrote on his charmingly out-of-of-date LiveJournal:"Maybe it took 30 years, but at long last I can say: now, that's Melantha Jhirl."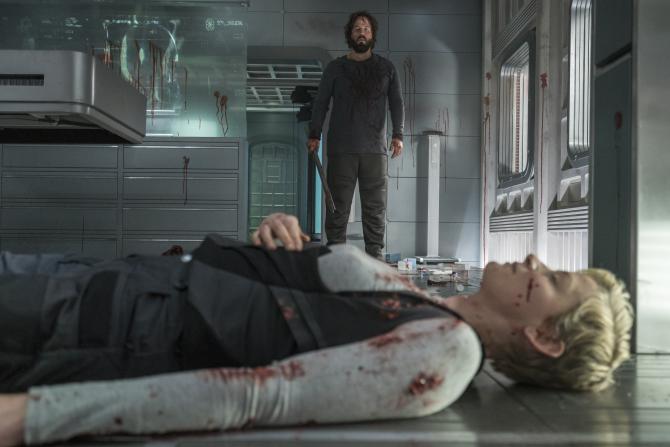 It's clear that every detail from Martin's science fiction work is important to the show, but this isn't a purely science fiction endeavor. Nightflyers is a horror story at heart.
"I think it's been a while since we've had a really good horror TV show—something that gets under your skin," Buhler says. "[Martin] refers to this story as Psycho in space. There's a lot of The Shining in there. It makes it a lot of fun for fans of horror and science fiction."
The problem is horror and science fiction world-building don't always go hand in hand. Nightflyers must capture the entirety of Martin's sci-fi vision, for which 10 episodes feels too short, but also instill a sense of claustrophobia and terror in its viewers, for which 10 episodes feels too long.
Buhler is confronting the paradox by focusing on "pieces" of the show, one-by-one. 
"When we're breaking a new episode we try to find what the horror theme would be," he says. "I see them all as interconnected pieces. Each piece has an opportunity to do something different from the last one. There are traditional horror scares but there are scares that fit only into this world."
It helps that the show has a secret weapon in combing aspirational science fiction with its haunted spaceship premise: the spaceship itself. To a certain extent many outer space epics are only as good as their ship, a fact of which the crew behind Nightflyers appears to be aware. 
The in-universe nature of the ship lends itself to some bravura science fiction set design. The Nightflyeris a lumbering beast. It started out as a simple vessel but as the necessities of space travel changed, so too did the Nightflyer. Layers of the ship were added over time, leading to a haphazard sculpture that looks like a space station plopped on top of a rocket with some beads in-between. The almost-improvisational nature of the Nightflyerled to plenty of creativity from the production team. There are acres of the Nightflyerset in the studio in Limerick, Ireland all recreating different parts of this unique spacecraft.
"We have these sweeping, curving sets that are really fun to stage sequences in," Buhler says. We have three stages here in Limerick. We have been adding sets on top of sets, behind sets, and under sets."
If this is a story of a haunted house in space, the Nightflyermakes for one hell of a haunted house. The ship's many domes allow for different environments to exist on the ship, including one dome that is entirely forest land, something that Buhler teases could come in handy for a horror show. 
Nightflyers is a big, expensive gamble for Syfy and Netflix, the latter of whom is picking up the international distribution. Neither network has provided official figures but on his blog, Martin described the budget as "substantial." This is a lot of imagination to fit into one show, something that Buhler acknowledges.
"I think we bit off a huge world in a huge ambitious project trying to bring horror and science fiction together in a way that satisfied," he says, before adding, "there are so many challenges but I do get to go home and remind myself that I'm working on a spaceship."