News
Netflix Orders Colin Kaepernick Drama From Ava DuVernay
Former NFL quarterback and activist Colin Kaepernick is set to have his high school experience dramatized by filmmaker Ava DuVernay and Netflix.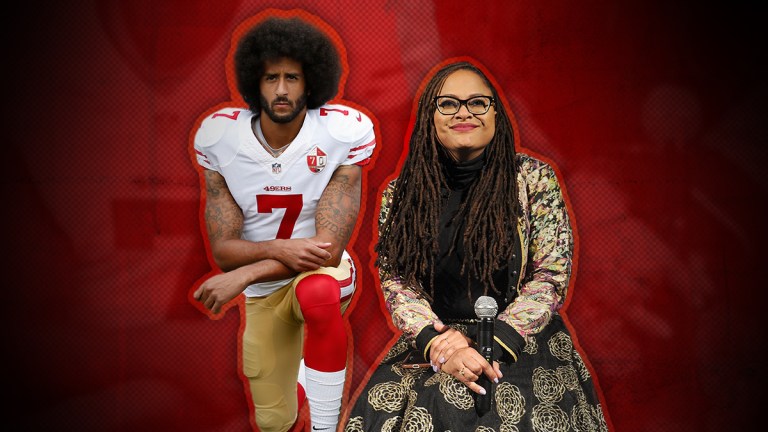 The life of former NFL star and social justice activist Colin Kaepernick will be dramatized in an upcoming Netflix series from Oscar-winning director Ava DuVernay, the streamer announced on Twitter.
In a surprising twist, the series, titled Colin in Black & White, will focus on Kaepernick's high school days rather than his football career or his decision to kneel for the national anthem to protest police brutality. The ensuing fallout, which sparked a heavily politicized national debate that has now spanned two presidencies, continues to reverberate as civil unrest and the Black Lives Matter movement are at the forefront of public consciousness in 2020.
Netflix made a straight-to-series order for six episodes, which will focus on how his teenage years growing up as a biracial kid in an all-white household influenced his activism. He was adopted at 5 months old by Rick and Teresa Kaepernick, who are white. According to THR, Kaepernick will narrate the series and an actor will be cast to portray a younger version of the quarterback.
Since taking a knee during NFL games in 2016, Kaepernick has yet to be signed by another NFL team. Kaepernick filed a collusion grievance with the league that resulted in a settlement in February 2019.
Kaepernick pledged to donate $1 million of his salary from the 2016 season to charities that help communities of color. Since then, he's continued his activist work and become a major face for the new civil rights movement.
"We're proud to bring Colin's experience and his creative vision to life as he joins Ava to share his powerful story and message with all our members around the world," said Cindy Holland, VP originals at Netflix in a statement. "It is an unparalleled union of two strong and defining voices coming together to tell the story about what it's like to be Black in America."
The streamer previously worked with DuVernay on the limited series When They See Us, based on the story of the Central Park 5, which earned 16 Emmy nominations. DuVernay became the first Black woman director to earn a Best Picture Oscar nomination for Selma in 2014. Michael Starrbury will write the script for Colin in Black & White serve as executive producer, along with DuVernay and Kaepernick.
In addition to producing the series, Kaepernick is currently working on a self-published memoir. His activism initiatives are on-going, including Know Your Rights camps, which work to advance the "liberation and well-being of Black and Brown communities through education, self-empowerment, mass-mobilization and the creation of new systems that elevate the next generation of change leaders."