Features
Netflix's Cursed Reinvents the Traditional Once and Future King
Devon Terrell discusses taking on the mantle of King Arthur in Netflix's Cursed.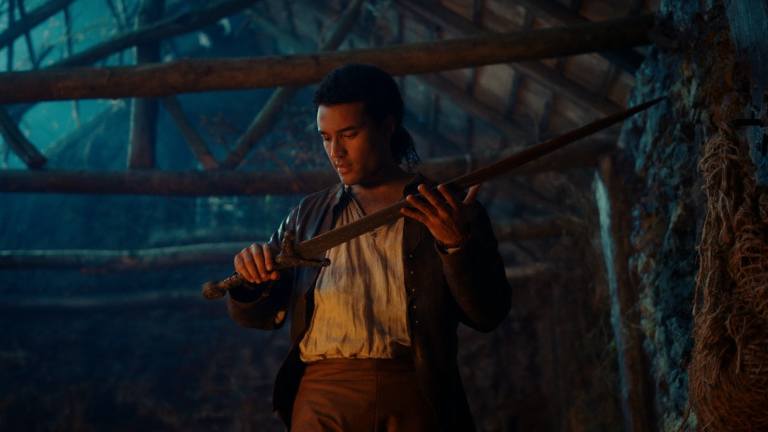 Netflix's Cursed will (rightly) generate a lot of buzz for the way it injects a much-needed female perspective into the traditionally male world of Arthurian legend. The series gives a voice to a largely unexplored female character by focusing on the story of Fey girl Nimue, who is destined to one day become the Lady of the Lake. But in doing so, it also reimagines our understanding of Arthur himself, putting a fresh, new spin on a centuries-old figure.
The Arthur we first meet in Cursed isn't exactly what you'd call once and future king material. A young mercenary for hire, initially he seems to be little more than a hustler looking out for his own ends. That this is a significant departure from the stories we generally know, to put it mildly.
Traditionally, Arthur is generally presented as the noblest of terms, either as a legendary warrior who bests all comers physically or as a wise and noble ruler ultimately betrayed by the moral weakness of those closest to him. The idea that Arthur even needs to really learn anything about kingship in order to rule is most fully explored in T.H. White's 1958 novel The Once and Future King, which depicts a child Arthur who receives various lessons from Merlin on leadership and power. The novel spawned several popular pop culture adaptations, including the Lerner and Lowe musical Camelot and the Disney film The Sword in the Stone.
At first glance, Cursed's Arthur has more in common with White's young Wart than the warrior king of early legend, and his journey is a coming of age tale that seems as though it will mirror Nimue's own in many ways.
"It's a different take on Arthur, but it's so exciting because Nimue's story hasn't been told [either]," says star Devon Terrell, who plays the (future) once and future king. "We're discovering Arthur through Nimue as well.
"He's had to be selfish in his life. I see him as someone who just tried to get by. Especially as we discover more about his story, we start understanding that he is someone who didn't have the best luck, didn't have the best cards dealt to him. So, he's always used his charm and his sword skills to kind of maneuver through the world, and he thought that was enough."
Cursed isn't meant to be only an origin story for the Lady of the Lake, it's one for Arthur as well. And his relationship with her will serve as a catalyst for him to become a better man. Maybe even one that could become a legend.
"He doesn't really believe in himself yet," Cursed author and series co-creator Tom Wheeler says. According to Wheeler, Arthur's journey "is going to be about trusting himself" and "finding the right teachers, in some cases."
In most of the legends, the Lady of the Lake is a supernatural being who gifts Arthur with Excalibur, a magical sword that helps him win his throne. Here, this Nimue isn't the Lady of the Lake yet, but she offers the young Arthur a gift that may ultimately prove to be just as important.
"Through Nimue he discovers how to be selfless and how to love," Terrell says. "He realizes he actually does have a really good heart and wants the best for others."
"You can't watch much of Devon without feeling a sense of truth and justice within him," Wheeler says. "But part of the fun and the discovery is looking [through] the longer lens of where these characters need to get to. What makes a king? What are those learning steps along the way? And how is Nimue a huge part of that?"
Terrell's Arthur is groundbreaking in another way as well: He's a Black man. The decision to race bend one of the most famous characters in literature may surprise some viewers but the move feels long-overdue to Terrell, who touts the necessity of increased diversity within genre programming.
"I loved Harry Potter, I loved Game of Thrones. I loved Lord of the Rings. We all love them," he says. "But I, as a person of color, love them in a different way in that I could never see myself in them. And if [there] was a character [of color] they were never integral to the story; you could cut them out and it wouldn't shift [it] in any way."
The vagaries surrounding the real Arthur's historical origins – and the fact that this is literally a story that has magic in it – provide fertile ground for exploring what the myth and its lessons can mean to different groups.
"We need to have a more inclusive world within fantasy," Terrell says, particularly since more diverse viewers and readers are finding their way to the genre in the wake of recent pop culture hits like Game of Thrones.
"Even people watching this, I think that you're going to get fans that are like, 'Oh I don't understand why there's a female lead?" or 'Why isn't this character the center?' and things like that," Terrell explains. "And it's just one of the things – why do you think like that? Why are you thinking that?"
Most historians can't agree whether the King Arthur that is immortalized in the famous stories was based on a real person or a fictional hero of Celtic mythology. He's claimed by Wales, Cornwall, and even Scotland, depending on who you read, and there are tourist locations associated with him in all three locations (Caerleon, Tintagel, and Arthur's Seat outside Edinburgh, respectively). So to say the legend is open to flexible interpretation is something of an understatement.
"This is a character who no one knows if [he] existed, but the more stories you told the greater the legend became. [Some] people thought [Arthur] was a bear — there are stories about him being a bear or a lion. So, if a person of color – like if there's a magical sword, why can't there be a person of color play[ing] Arthur?"
As a series, Cursed faces complex issues of sexism, racism, and persecution head on, in a way that will likely feel very timely to modern audiences.
"I definitely think demonization of 'other' is something that is front center of the story," Terrell says. "There's a lot of prejudice, there's a lot of ideas of about (certain kinds of) people in the story, and I think what's exciting is [it] constantly questions you to think differently. You think this character is strong, but then they show you vulnerability and you see strength through that vulnerability. I think that's exciting."