Features
How Netflix's Cuphead Show Captures the Spirit of "Pure Cartoons"
Showrunner Dave Wasson on the trials of translating a video game to TV for Netflix's The Cuphead Show!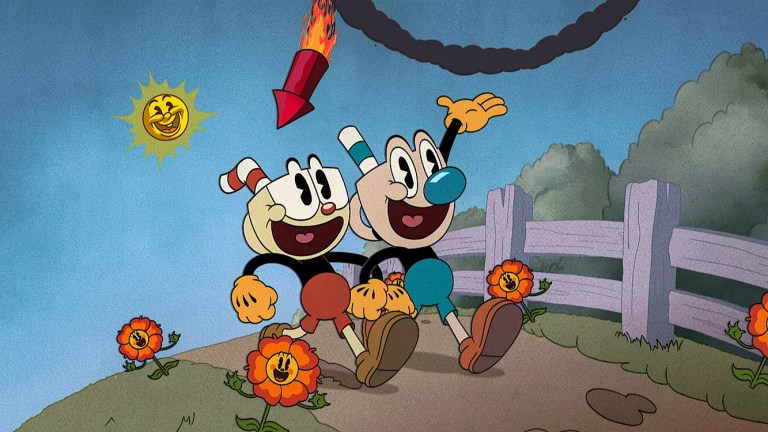 You don't have to be a gamer to appreciate the traditional animated stylings of Cuphead. That's the first thing Dave Wasson – showrunner behind the upcoming Netflix TV adaptation – makes clear to us. Limited videogame experience aside, with credits on Space Jam, Cool World, and Cloudy with a Chance of Meatballs, it's hard to think of a hand better equipped to bring this madcap world of anthropomorphic crockery, vegetables, and slot machines to life.
"There was buzz about the Cuphead video game," Wasson recalls about the early days, before he was even involved in The Cuphead Show. "Even within the animation community… because it was all based on a 1930s, rubber hose style of animation."
Originally developed by the Moldenhauer brothers, known as Studio MDHR, Cuphead first launched in 2017, before achieving success on consoles. Classic run-and-gunners had existed for decades before, but as Wasson notes, what made Cuphead stand out was its impressive mimicking of 1930s animated serials. "MDHR really went bananas with it, doing full-on traditional 2D animation, and really captured that style beautifully," he says. "It was a real love letter to the cartoons of that era."
Netflix quickly showed interest in bringing the adventures of Cuphead (alongside his trusty brother Mugman) to a much broader audience – one that perhaps wouldn't get to witness the wonders of this Fleischer Studios-style throwback otherwise. The idea with The Cuphead Show! was to make something just as authentic-looking as the game, all while expanding on the world and characters. To do this, Wasson tapped into his love of 1930s animation, as well as his experience working on a Mickey Mouse TV series for Disney years prior.
"The thing that was really fun and special about working on those Mickey Mouse shorts was, Disney really did give us permission to make them funny," Wasson reveals. Said approach was highly influential for The Cuphead Show! "I just wanted to take that same spirit and bring that to Cuphead. A lot of that stuff is kind of rubber hosing as well. That early Mickey stuff was all invented in the 20s, and 30s, too. I felt like that all just translated right over."
Like the bite-sized chunks of play the game provides, Cuphead's first 12-episode season is primed to offer viewers similarly short bursts of fun, with episodes running at around 14 minutes each. The difference is that fan-favorite characters like Cuphead, his adoptive parent Elder Kettle, and even the Devil himself now have a voice. This change was seen as a must if The Cuphead Show! was to appeal to Netflix's desired age group of 7- to -12-year-olds, as well as older-skewing existing fans.
"There's really fast-paced, slapstick comedy in there for kids. And the colors and backgrounds are great. But we're hoping that it works on an adult level as well," Wasson mentions. "These characters have all different sorts of heightened emotions. There's jealousy, greed, pride, and all that kind of stuff that I think is really relatable to adults, because they can see qualities in these characters that they recognize in themselves. And that's always really fun to laugh at."
Problem is, outside of a basic narrative opening establishing Cuphead and Mugman's longing to escape from their serene cabin life with Elder Kettle, the game's story is extremely light. "That little bit the Moldenhauer brothers provided was our springboard," Wasson says. "And then from that, we were kind of like 'Okay, so that means Cuphead is kind of this thrill-seeker, and Mugman is the more cautious one.' So we fleshed it out from there."
Much like those original serials, each episode of The Cuphead Show! is its own self-contained adventure. One episode sees the duo compete in a questionably seedy gameshow, while the next has them trying to calm down an ever-crying baby using various irreverent techniques. Its basic "bottle" storytelling shined up and sheened for 21st century audiences yet it blends the new and old by aping the Cuphead game's watercolor backgrounds, film grain filter, and hand-drawn characters using modern techniques.
Wasson recognizes that, much like the game that inspired it, The Cuphead Show!'s traditional visuals and storytelling style will be the primary allure for viewers. Still, he's hopeful that such distinguishing elements can go on to further shake up the animation landscape. "These days, it feels like there are more, almost like animated sitcoms, or features," he posits. "But there're not a lot of pure cartoons getting made. So whether it's 1930s cartoons or more cartoons inspired by the 40s or the 50s, I just think comedy cartoons is the format that I love. And so I hope that The Cuphead Show! definitely inspires a new generation of that."
All 12 episodes of The Cuphead Show! will be available to stream on Netflix from February 18th.