News
Narcos Season 4 Trailer, Release Date and More
Narcos Season 4, otherwise known as Narcos: Mexico, will be headlined by Michael Peña and Diego Luna.
Netflix is about to roll out a rebooted iteration of its hit drug cartel drama for Narcos Season 4 or Narcos: Mexico.
The anthological turn that the series has made since Season 3 transitioned away from its focus on Pablo Escobar is even greater in Narcos: Mexico. Indeed, the series arrives refreshed yet again in this fourth season, touting a new era (the early 1980s), new country, new cartel and new narcos, this time focused on a set of characters in Diego Luna's Miguel Ángel Félix Gallardo and Michael Peña's Enrique 'Kiki' Camarena.
Additionally, genre fans may be interested to know that Legends of Tomorrow and The Flash baddie Matt Letscher (Eobard Thawne/Reverse Flash) will play James Kuykendal, a member of a new team of DEA agents and Colombian police.
Narcos Season 4 Trailer
The newest Narcos: Mexico trailer lives up the touted tagline, "The Birth of Mexico's Drug War." Indeed, the new clip focuses on this season's status as a prequel and the era in which it takes place, the early 1980s. Consequently, if you're one of those people who hangs a poster of Al Pacino as Scarface on your wall, chances are that you're probably going to enjoy the complementary tone and aesthetics of Narcos: Mexico.
A teaser trailer has arrived for Narcos: Mexico, showcasing some of the explosive action in store for viewers.
Here's the early Narcos Season 4 teaser, which arrived back in December…
Narcos Season 4 Release Date
Narcos: Mexico (or Narcos Season 4,) is set to premiere on Netflix on November 16.
Nacros Season 4 Cast
Michael Peña (Crash, Ant-Man) and Diego Luna (Rogue One, Y Tu Mamá También) will be the new powerhouse stars. They are joined in the cast by names such as Clark Freeman, Alyssa Diaz, Jackie Earle Haley, Mark Kubr, Julio Cesar Cedillo, Joaquín Cosio,  Mike Doyle and Jorge Jimenez.
"We always knew that we would get to Mexico eventually," showrunner Eric Newman admitted to The Hollywood Reporter. "A key team comprised of myself and the guys I really trust and work very closely with — [director] Andi Baiz, [co-creators] Carlo Bernard and Doug Miro — have been discussing how to best transition to Mexico as early as season two. We decided on the Guadalajara cartel because it represents the beginning of the modern Mexican drug trade. It makes sense to start there."
Newman also added that "The design was always to finish out the Colombian story and the players that we've come to know there, and then start anew in Mexico."
But should you be wondering if we've seen the last of season 3 star Pedro Pascal, the answer is…well, let's just say 'hazy'.
"I'd like to think that he still hasn't made up his mind about whether he wants to come back. It is after all an intersecting universe — the Mexicans did a lot of business with the Colombians," Newman went on, but wouldn't give a straight 'yes' or 'no' on Pascal's return, only confirming that season 4 is "not about him."
Narcos Season 4 Synopsis
Narcos: Mexico will launch as a new Netflix original series later this year. Shifting away from Colombia, where Narcos spent three seasons, Narcos: Mexico will explore the origins of the modern drug war by going back to its roots, beginning at a time when the Mexican trafficking world was a loose and disorganized confederation of independent growers and dealers. Witness the rise of the Guadalajara Cartel in the 1980s as Félix Gallardo (Diego Luna) takes the helm, unifying traffickers in order to build an empire. When DEA agent Kiki Camarena (Michael Peña) moves his wife and young son from California to Guadalajara to take on a new post, he quickly learns that his assignment will be more challenging than he ever could have imagined. As Kiki garners intelligence on Félix and becomes more entangled in his mission, a tragic chain of events unfold, affecting the drug trade and the war against it for years to come.

Michael Peña will play Kiki Camarena, a family man and an undercover DEA agent who garnered valuable intel through a series of informants around Félix and his newly minted Guadalajara cartel, but quickly found himself in c as he realized he had completely underestimated the sophistication of Gallardo's system. 

Diego Luna will play Miguel Ángel Félix Gallardo ("Félix"), the leader of the Guadalajara cartel, one of the biggest narcos in the history of Mexico and the founder of the modern Mexican drug trade. Quiet but bold, inscrutable but sharp-minded, to all appearances he is a benevolent leader, loyal to his friends, associates, and employees…but his ambition comes before all else.
Narcos Season 4 Poster
Here are a few of the official posters for Narcos: Mexico.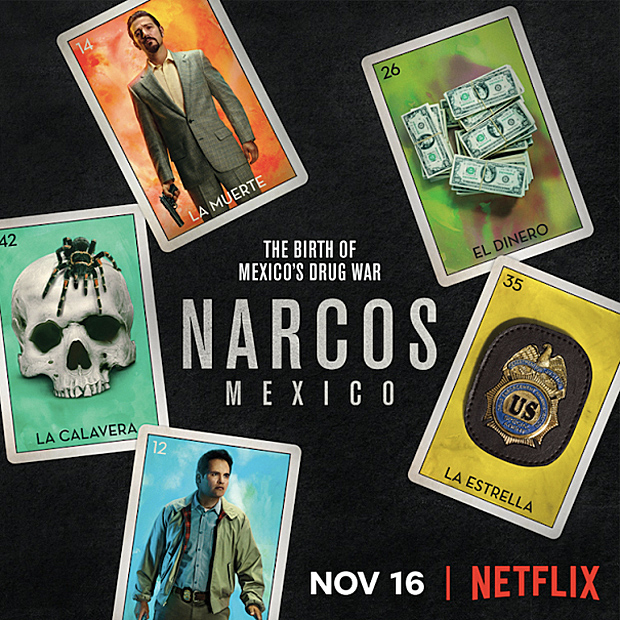 Joseph Baxter is a contributor for Den of Geek and Syfy Wire. You can find his work here. Follow him on Twitter @josbaxter.
Read and download the Den of Geek NYCC 2018 Special Edition Magazine right here!