Reviews
My Hero Academia Season 4 Episode 15 Review: Smoldering Flames
My Hero Academia attempts to return to normalcy, but still has trouble letting go of the past in an episode that's strong, but lacking.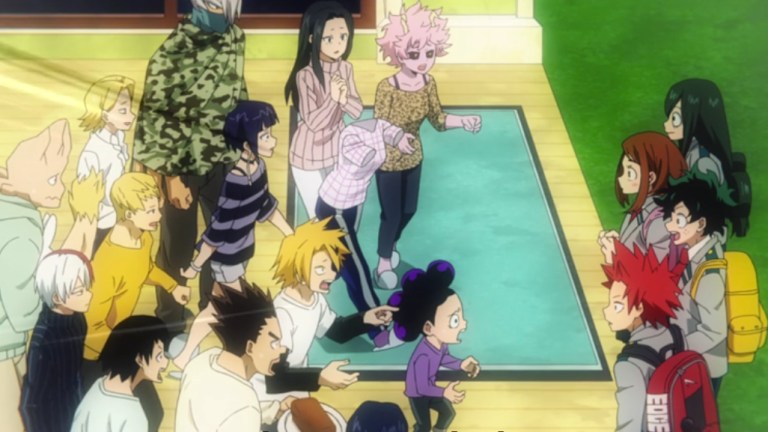 This My Hero Academia review contains spoilers.
My Hero Academia Season 4 Episode 15
"Let's keep smiling!"
Stakes are a funny thing. One week you're saving a young girl from a life of torture and her abusive guardian while you watch your latest mentor pass away before your eyes and then the next day you're figuring out your act for your school's cultural festival. That's not just anime for you, but it's particularly My Hero Academia's style. There have been a number of "festivals" that the students of U.A. High have become caught up in, with each of them operating as a mini-tournament of sorts. These festival arcs are fun and entertaining in their own way, but there's a considerable amount of whiplash present in "Smoldering Flames."
I wasn't exactly expecting another "grimdark" storyline to follow this season's Shie Hassaikai arc, but there are still ways for this show to effectively balance the frivolous games and entertainment that await Midoriya and company with the pain and loss that they're still reeling with from past events. Even the new opening and ending theme songs for this arc are drastically more cheerful and poppy than what came before. The smartest thing about "Smoldering Flames" is that it doesn't wipe the slate clean by any means, but it's almost too resistant to move forward. In the end, "Smoldering Flames" feels more like the extended epilogue to My Hero Academia's last arc rather than the beginning of a new one.
"Smoldering Flames" eventually moves onto the season's next big focus, but both this episode and Midoriya drag their feet before fully leaving the past behind. There's still perhaps more time than necessary spent on the aftermath of Chisaki as characters continue to recuperate in the hospital. That being said, it's very sweet that Midoriya is so eager to try to say goodbye to Eri and Mirio before he officially moves back into normalcy at U.A. High.
Psychologically, it also makes sense that Midoriya would be apprehensive about returning to the basics after everything that he's recently experienced. However, this approach makes it feel like the episode is practically over by the time that it finally starts getting into the U.A. High material. There's even a moment where Midoriya literally reflects back on everything that's happened this year as a sizzle reel of the season plays out. The episode is still very hung up on the past.
Midoriya does get the opportunity to briefly touch base with Mirio, but it turns into a very emotionally rich moment. Mirio is committed to carry on Nighteye's final words and to live a life that's as cheerful and joyful as possible. His optimistic attitude considering the harsh lot that he's been dealt is a breath of fresh air, but it hopefully won't lead to Mirio ignoring his real emotions and compartmentalizing himself away. His upcoming actions should make for one of the more complex character arcs during the second half of this season.
It's also interesting to see that Mirio does bring up the idea that Eri can perhaps rewind his body back to when he had a quirk, so if the show does move in that direction it's at least done its homework. However, Mirio's attitude and how he's not at all depending on that to happen would make that decision a little easier to tolerate. Midoriya also gets to vent a little on how all of this perhaps could have been avoided if Mirio was One For All's successor, but Mirio's level take on the situation helps Midoriya finally move on from his insecurities over the topic. If anything, this season of My Hero Academia hasn't struggled to illustrate just how much is on Midoriya's mind.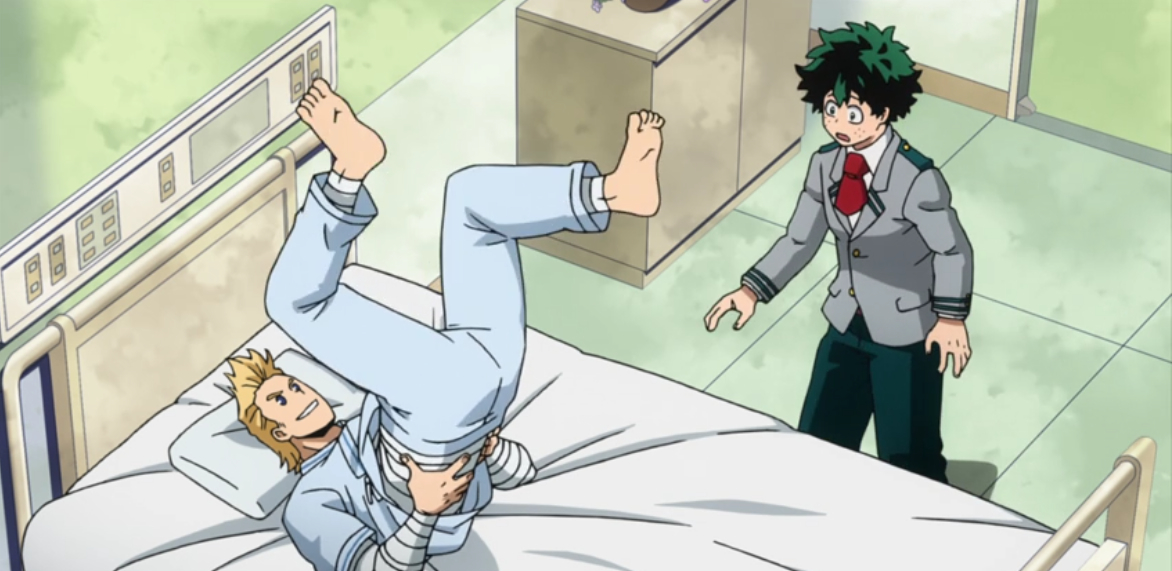 Before Midoriya can return to school, both he and Kirishima get intercepted by the police. They want them to come with them to the station to help fill in some blanks regarding the Shie Hassaikai takedown. This keeps Midoriya out of the action for a little longer, but thankfully "Smoldering Flames" shifts its focus over to U.A. High rather than sticking with Midoriya. When Midoriya and company finally arrive, it's satisfying that the episode allows for a moment of reverence as everyone reflects on just how long it's been since these characters were separated. Even though chaos and danger are inevitabilities, it's really nice that for now all of these individuals can be together again. It harkens back to the vibe from My Hero Academia's earliest episodes.
Perhaps the biggest tease out of all of this is that Bakugo and Todoroki are about to start the training course for their provisional hero licenses. This means their appearance here is a little more muted, but it seems like their journey is going to be a major focus of what's to come. It's exciting to see that the final half of this season will experiment with several overlapping storylines instead of the more focused approach of the earlier episodes. If nothing else, Bakugo and Todoroki should make for an interesting duo once their training begins.
Lurking in the shadows of all of this are the evil machinations of the League of Villains, who are still riding that high after neutering Chisaki and asserting their dominance. The various tendrils of the League of Villains are coming out of the woodwork in many different ways and the organization feels more fearless than ever before. The League of Villains' Kurogiri and his warp gate quirk are ideal for keeping a low profile, yet he's still been seen a number of times. This has the authorities (which includes Gran Torino) worried that he—or even worse, the League of Villains as a whole—are up to something.
The capture of Kurogiri is a nice win for the police, but he's really just a means to an end here as the police force and Gran Torino stumble upon a much greater revelation. Kurogiri has business with Gigantomachia, a humungous Titan-esque villain that doesn't just look intimidating, but has a powerful backstory to match. Much like Shigaraki, Gigantomachia was also "raised" by All For One and was turned into another vessel of hatred and evil. It's a little convenient that he's never been mentioned before, but this still doesn't break the canon in any ways and it adds a compelling new layer to the League of Villains' actions. Kurogiri gets captured, but the "walking disaster" gets away, which is a much larger concern. This development is kind of left in the background to percolate for this episode, but it's nice to see the groundwork for the League of Villains' larger story begin to get set up.
"Smoldering Flames" hints at a lot of positive ideas and it's still an entertaining installment of My Hero Academia, but it doesn't do enough to push things forward. There was such momentum behind the final episodes of the battle against Chisaki, so it's frustrating that what's followed has slowed things down so much and wallowed in the same content. In spite of the shortcomings that are present here, "Smoldering Flames" seems to finally close the book on the past and readies these heroes for their next challenge. Midoriya and his friends are now more seasoned than ever and have witnessed true depravity, which hopefully means that what follows is still a thrilling, fulfilling experience.
Keep up with all our My Hero Academia news and reviews right here.
Daniel Kurland is a published writer, comedian, and critic whose work can be read on Den of Geek, Vulture, and Bloody Disgusting. Daniel knows that the owls are not what they seem, that Psycho II is better than the original, and that Hannibal is the greatest love story ever told. His perma-neurotic thought process can be followed at @DanielKurlansky.