News
Muppets Now Unscripted Series Gets Disney+ Release Date
The Muppets get their first original series for Disney+. Muppets Now throws away the scripts.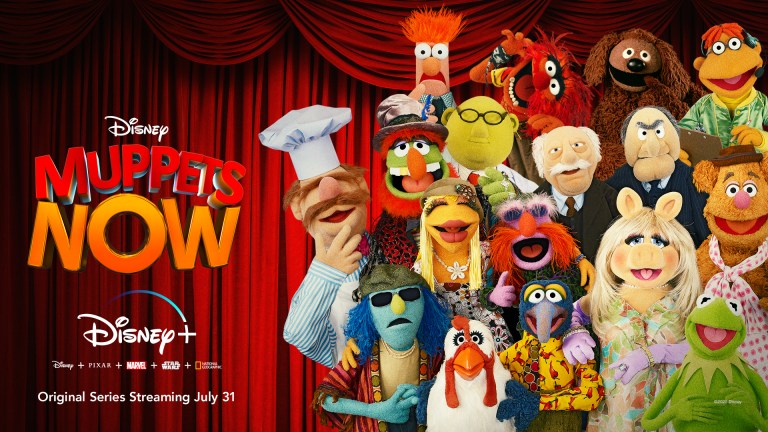 The Muppets began as a scrappy and scruffy educational tool and became a national entertainment institution. Those fluffy puppets learned their lines and hit their marks. Well, "The Pig's Out of the Bag," Disney+ proclaimed in celebration of National Streaming Day. The troupe will throw away their scripts for an improvisational extravaganza in The Muppets Studio's first original series for Disney+. Muppets Now release date has been set for July 31.
"Overflowing with spontaneous lunacy, surprising guest stars and more frogs, pigs, bears (and whatevers) than legally allowed, the Muppets cut loose in Muppets Now with the kind of startling silliness and heartfelt fun that first made them famous," reads the press announcement. Muppets Now will feature surprise guest star appearances, but none have yet been revealed.
"Lights! Music! Muppets! …Unscripted," Disney+ tweeted. "Get ready to see your favorite characters like never before." In a second tweet, they confirmed Muppets Now would be available in multiple markets, coming at the same time in the U.S., Canada, the UK, Ireland, Australia, New Zealand, and India.
The six-episode season will stream exclusively on Disney+ if Scooter can make his delivery deadlines and upload the series. The streamer did its part by getting in the series' original key art in time. Kermit the Frog, Miss Piggy, and the gang immediately put their own spin on it. "@TheMuppets causing mayhem in a thread," Disney+ asked on Twitter. "Tbh, we wouldn't have expected anything less."
Dr. Bunsen Honeydew, who was the resident scientist on The Muppet Show and the host of the "Muppet Labs" sketches, discovered the key to success is in the eye of the beholder. "My research shows that using this #MuppetsNow art would yield impressive results," he tweeted. "After all, it was created by Muppet Labs, where the future of key art is being made today!"
"Puh-lease," Miss Piggy tweeted. "We all know why people will watch #MuppetsNow, so why hide it? Ta-da! Some perfectly chic, simply stunning, positively MOI key art!"
It's not easy following Miss Piggy, but one of the first breakout Muppet stars isn't green in the business of show anymore. He is also ready for his close-up. "Good grief. Sorry about this," Kermit the Frog countered in a tweet. "Don't worry, we love the #MuppetsNow key art! Though, if you're looking for my suggestion, I was always partial to this one… I cleaned my banjo right before the photo was taken.
Disney+ is already filled with old Muppets content. Jim Henson-related content is spread across streaming services, including HBO Max. Muppets Now will stream exclusively on Disney+ starting July 31.