News
Motherland: Fort Salem Fears The Spree in New Clip (Exclusive)
The cast of Motherland: Fort Salem discusses pro-witch terrorist organization The Spree in this exclusive new featurette.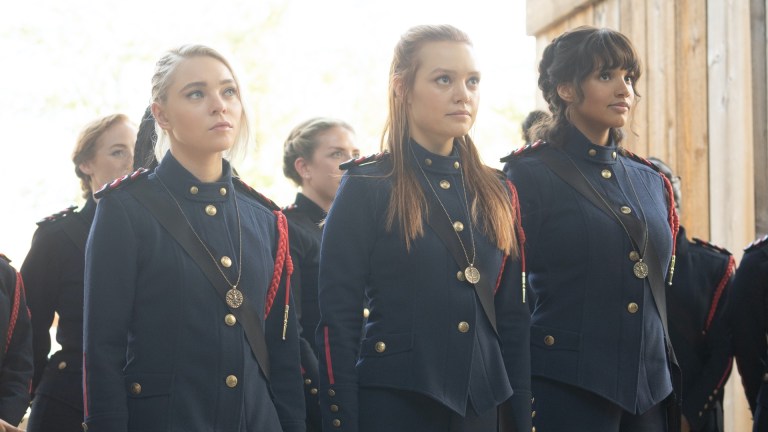 Some say a genre story is only as good as its villains. If that's the case then Freeform's military witch drama Motherland: Fort Salem might be onto something. 
The baddies in Motherland are a witchy terrorist organization known as the Spree. The Spree operate underground and use their magical powers to commit acts of mass violence in service of their pro-witch ideology. Like any fictional terrorist cell worth its salt, however, the Spree might actually have a point or two. Something is certainly off in a world where young witches are forced to enlist in the military to fight the U.S.'s wars.
"The stuff they're saying isn't that far from the truth," Motherland: Fort Salem creator Eliot Laurence told Den of Geek prior to the show's premiere. "The things they do, while horrible, are kind of beautiful too. They're kind of like propaganda of the deed in a way. They want to return to Eden. They want to reset."
In this exclusive featurette, several members of the Motherland cast discuss the Spree and theorize as to what makes them such terrifying…and at times appealing bad guys.
Right off the bat, some of Motherland's heroes echo their own characters' perspectives on the Spree.
"The Spree just want to kill…that's what we think. They're terrorists," Ashley Nicole Williams (who plays Abigail Bellweather) says.
"The Spree are willing to take any risk, kill any person to win," Taylor Hickson (Raelle Collar) adds.
Naturally, the actress who plays the mysterious (and perhaps Spree-adjacent) Scylla has a more nuanced take.
"They justify violence against the oppressor, who they say are the military or the Sara Alder-led government. Some would say the Spree have always been there while others say they're new. They're now doing mass destruction attacks," Amalia Holm says.
The Spree's preferred method of destruction thus far has been the very grim method of forced mass suicide. To accomplish this upsetting magic, the Spree captures their noisy spells in objects like balloons that unleash when punctured or popped.
"Could be a water bottle. Could be a balloon Could be anything you put air into. Because in this world we fight with sounds," Holm says.
Thus far the Spree has been content to kill civilians but now their terroristic acts have extended to their witch brethren. That level of escalation is sure to play a major role in the story still yet to come. As will the fact that the Spree can adopt other people's identities via fiery magic.
Abigail, Raelle, and Tally (Jessica Sutton) are on the case…but for now no balloon or water bottle can be trusted on Motherland: Fort Salem.