News
Moonbase 8 Release Date and Trailer for Showtime Astronaut Comedy
John C. Reilly, Fred Armisen and Tim Heidecker headline Showtime astronaut comedy series Moonbase 8.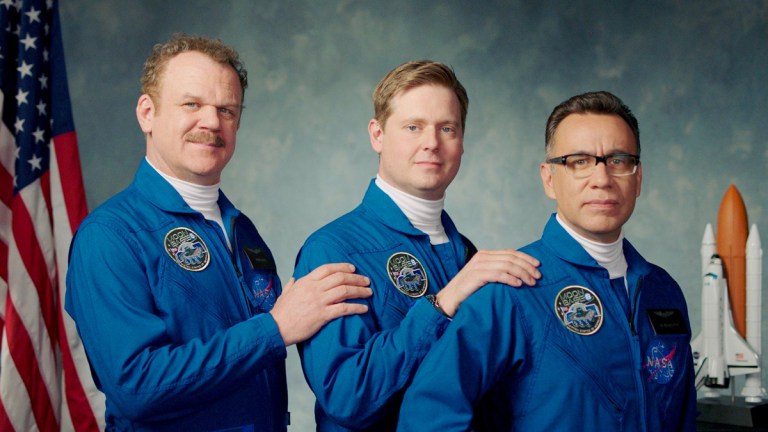 Moonbase 8 might, by virtue of its title, evoke imagery from unintentionally-funny early-post-Star Wars cash-in sci-fi from a bell-bottoms-brandishing yesteryear such as space base farce Saturn 3, but the comedy is assuredly intentional in the case of the Showtime series, which has just released its full trailer and a November release date.
Intriguingly, Moonbase 8 is a six-episode half-hour astronaut comedy series that's not even set in space, instead set in the final frontier of the Arizona desert, following the training exploits of bumbling NASA wannabees played by an auspicious comedy collective in John C. Reilly, Fred Armisen and Tim Heidecker. The onscreen comedic triumvirate also serve as co-creators along with Jonathan Krisel, who co-created and wrote for Armisen's Sundance Channel TV vehicle, Portlandia and did the same for FX Zach Galifianakis comedy Baskets.
On that note, check out the full trailer for Showtime's Moonbase 8 just below.
You can also check out the preceding brief teaser trailer for the series just below.
As Showtime's official synopsis for Moonbase 8 reads:
Set in the isolated desert of Winslow, Arizona at NASA's Moon Base Simulator, MOONBASE 8 follows eager astronauts Skip (Armisen), Rook (Heidecker) and their leader Cap (Reilly) as they attempt to qualify for their first lunar mission. While working vigorously to complete their training, a series of unexpected circumstances forces the astronauts to question their own mental sanity, trust in each other and whether or not they're cut out for space travel.
John C. Reilly, a wide-ranging comedy superstar and 2003 Best Supporting Actor Oscar nominee for Chicago, is the clear centerpiece of this cast as the team leader of these ineffectual (and unrealistically-aged) NASA trainees. However, the actor—who also voiced the title character in the Wreck-It Ralph films—is coming off co-headlining with Will Ferrell in recent movie dud Holmes & Watson, and moves on to this intriguing sitcom concept. Co-star Fred Armien, the former long-time SNL cast member and Portlandia co-star, comes into the series off a role in the August-released Netflix film, All Together Now. Rounding out the main onscreen trio, Tim Heidecker, the avant-garde Adult Swim legend of Tim and Eric Awesome Show, Great Job!, is coming off an onscreen role for the March-premiered Adult Swim sitcom, Beef House.
Moonbase 8 is produced by A24 and Abso Lutely Productions. The main visionary quartet of Armisen, Heidecker, Reilly and Krisel also serve as executive producers for the series, joined in that capacity by Dave Kneebone and (Heidecker's Tim and Eric partner,) Eric Wareheim, along with Ravi Nandan and Inman Young of A24.
Moonbase 8 Release Date
Moonbase 8 will assume standard orbit from the safety of terra firma when it premieres on Showtime on Sunday, November 8 at 11/10c.