Reviews
Monsters at Work Review (Spoiler-Free)
Monsters at Work doesn't have the same charm as its Pixar predecessors but there's room to grow at the company.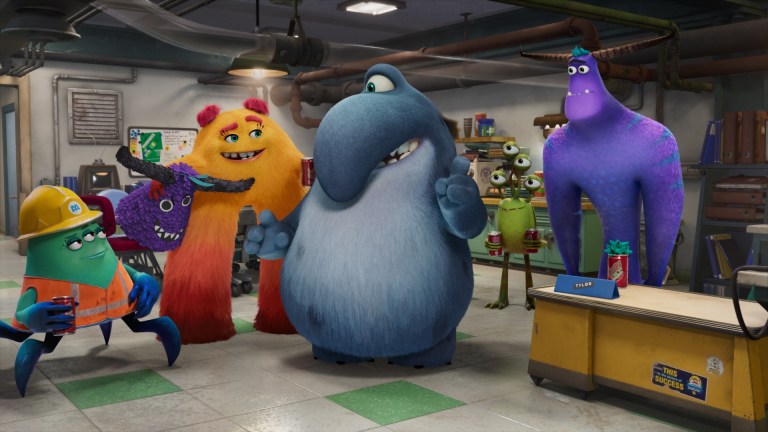 This Monsters at Work review contains no spoilers.
Disney+ launched with the promise of bringing many adored Disney franchises to the small screen, but with big picture ambition, storytelling, and production values. So far, that promise has mostly been met, with the Disney+ original series like Mighty Ducks: Game Changers and The Falcon and the Winter Soldier feeling like stretched out features diced into episodic instalments. However, Monsters at Work, Disney+'s new sequel series to Pixar's Monsters, Inc., feels more like traditional television than a "X-hour movie," for better or worse.
Monsters at Work takes place immediately following 2001's Monsters, Inc. After Mike (Billy Crystal) and Sully (John Goodman) discover that laughter generates ten times more power for the Monstropolis power plant than screams, Mike and Sully are put in charge. and tasked with helping the company transition from an organization of scarers to jokesters. 
Meanwhile, recent Monsters University graduate Tylor Tuskmon (Ben Feldman) arrives at Monsters, Inc. as the top scarer in his class, but finds that his skillset doesn't fit in with Monsters Inc.'s new corporate culture. He's assigned to the MIFT (the Monsters, Inc. Facilities Team) crew, a misfit group of monsters comprised of warm leader Fritz (Henry Winkler), over-enthusiastic Val (Mindy Kaling), down to business Cutter (Alanna Ubach), and threatened brown-noser Duncan (Lucas Neff). Tylor is torn between pursuing his dream of getting on the scare floor or falling in with his new whacky work family.
Despite a talented and more-than-game voice cast, Monsters at Work feels more like the TV spinoffs of popular Disney movies of yesteryear that used to populate the Disney Channel more than a proper extension of the Pixar property. This makes sense considering Pixar is not involved with Monsters at Work and the show is produced by Disney Television Animation and overseen by Bobs Gannaway, who previously worked on shows like Timon & Pumbaa, Lilo & Stitch: The Series, and The Emperor's New School. The new series looks cheaper than its predecessors and also lacks the sharp writing. While children may find more to laugh at, the average adult viewer will be charmed by, but not laughing at anything much in Monsters at Work.
Another thing that takes some of the excitement away from Monsters at Work is our familiarity with the Monsters Universe. After two films, the wacky character designs and world-building feel familiar and therefore are less likely to surprise. However, exploring the unsung heroes of Monsters,Inc., the maintenance folks and other day-to-day operational players is an intriguing idea with room for growth. In the two episodes screened for critics, it does appear that the show is presenting the idea that college isn't the only path to a fulfilling and meaningful career, which feels wildly different for kid's entertainment and a welcome, necessary message. 
Monsters at Work also looks like it will have fun playing with tropes of workplace comedies, taking aim at institutional businesses during transition. Anyone that has been through a company merger or a "culture reset" can find something recognizable in Mike and Sully's struggle to redefine what Monsters, Inc. is. There's also some lighthearted jabs at workplace burnout that are fun to see.
Monsters at Work does not feel like a genuine article sequel to Monster,s Inc. or even a "X hour movie," but it doesn't necessarily need to. While the writing is a bit underwhelming, every comedy series needs some time to gain footing. Monsters at Work will have to do more to surprise audiences who are already familiar with this world, but by looking at the unsung heroes of the workplace, it has an interesting and fruitful avenue to explore and a talented voice cast to really sell the whole enterprise should things really get cooking. Though it isn't Pixar, it still may end up being something serviceable.