Features
Midnight, Texas Season 2 Wants to Do Bad Things With You
After scoring a last second renewal, the cast and crew of Midnight, Texas worked to create a stronger True Blood descendant.
Midnight is fast approaching on the set of Midnight, Texas.
The mountain scenery surrounding the town is barely visible and the only lights are from Midnight, Texas, itself – or at least the staged approximation of Midnight in the desert just outside Albuquerque, New Mexico. The neon lights of Strong Angel Tattoo and Nails parlor are lit up with a second set of neon light lights unnecessarily announcing "Tattoo Nails." The Midnight Pawnshop's sign is lit up, promising entrance 6 days a week, 24 hours a day – but no one is inside. 
Instead, the cast and crew of NBC's adaptation of author Charlaine Harris' supernatural books are assembled inside the Crystal Desert Hotel & Spa, shooting an integral scene from Midnight, Texas' Season 2 two-part finale. 
Most of the central cast is gathered around the dinner table and describing the utterly insane of the events so frankly that the production seems to be all but daring the journalists in attendance to start revealing spoilers. Alas we, will not. Suffice it to say, however, it's been a rough season for the citizens of Midnight, Texas.
"I don't think I've ever cried so much on a TV show, man. Like, does Rick Grimes cry this much on The Walking Dead?" star Dylan Bruce (Bobo) says.
Some tears are to be expected from a show whose closest cousin is HBO's vampire drama, True Blood. True Bloodwas based on Harris' series of Sookie Stackhouse books that followed vampires and other mythological creatures in Bon Temps, Louisiana. Midnight, Texas is based on a trilogy consisting of Midnight Crossroad, Day Shift, and Night Shift.
Like its True Blood forefather,Midnight, Texas is largely about beautiful creatures doing ugly things. The town of Midnight, Texas, approximated convincingly here in the cool New Mexican desert, is a beacon for the downtrodden, disenfranchised… and weird.
In the show's first season, psychic/medium Manfred (Francois Arnaud) moved to the town to outrun his own shady past only to find himself welcomed by all manner of supernatural misfits. Manfred meets icy-eyed vampire Lem (Mensah), Lem's kickass assassin girlfriend Olivia (Arielle Kebbel), ascetic fallen angel Joe (Jason Lewis), and welcoming witch Fiji (Parisa Fitz-Henley).
"Sorry, I'm the Fiji of the group. Are you okay? Can I bake you something?" Fitz-Henley says after trying and failing to track down some electrolytes for a small group of journalists dealing with the mountain elevation.
Of course, there is also a boring old human being, Bobo (Dylan Bruce), who, in true Charlaine Harris-iverse fashion possess a sick six pack in lieu of paranormal powers.  
"I'm surprised I even have shirts in my wardrobe," Bruce says. "'Cause I literally do not wear a shirt all season. And it has been, it is such a pain in the ass, let me tell you. I just wanna eat a burger for Christ's sake."
Midnight, Texas Season 1 concluded with a now expected for the genre near world ending event headlined by literal demon Colconnar. Manfred dispatched the evil by accepting the souls of no fewer than six evil dead men into his body and harnessing their power. Now the town of Midnight is rid of hell and Manfred is able to settle in to a quiet life with new girlfriend, Creek. There's just the lingering matter of the creepy new moguls that have come to town to set up shop in the empty, massively haunted hotel, and the black demon goo occasionally dripping from Manfred's nose and ears. 
Now shooting on season 2 is entering the home stretch. It's going to be long nights until the end. The late night shoots are partly a necessity. Gothic supernatural thrillers like this oftentimes naturally need the cover of darkness for their occult misdeeds. More importantly, however, this season of Midnight, Texas has a particularly dark decree from the powers that be – and it harkens right back to that other Charlaine Harris property.
"Make it soapier, scarier" new co-showrunner Nicole Snyder says.
"More sexy, salacious – more along the lines of True Blood. Those were the marching orders." Snyder's fellow showrunner Eric Charmelo concludes. 
After a 10-episode first season, Midnight, Texas saw its life flash before its eyes in a manner of speaking. NBC waited until the very last possible moment to pick up the show for a second season, and announced in February that the decently performing drama was renewed for the 2018 fall season. In the process of the long renewal, Midnight, Texas lost its original showrunner, Monica Owusu-Breen, to the Buffy the Vampire Slayer reboot.
"She will slay it," Snyder says of her old boss, relishing the pun.
The delay also cost the show two cast members – Creek Lovell actress Sarah Ramos and Rev. Emilio Sheehan actor Yul Vazquez – though both will still appear in season 2 sparingly. 
That kind of near-death experience has a way of reaffirming one's priorities. The cast of Midnight, Texas wasn't even supposed to be here today – out in the perfectly temperate desert night. Perhaps that's why spirits (oh, another pun!) remain bright on set despite the late hours. 
"I think (uncertainty) is natural in this job," Peter Mensah (Lem) says. "You never know. Now we've got the opportunity so you dive in and do the best you can. I think this actually fits into the character of the show, and I think we can sort of find more people to enjoy this as a result."  
It's clear why NBC would want Midnight, Texas Season 2 to be sexier, soapier, and more salacious. The show has all the tools at its disposal to be a network-safe True Blood. Still, given the late start, abbreviated episode order (nine total hours of television spread out over eight episodes), and new stewardship it had to get the ground running. The cast believes that they have done just that. 
"I was sad to see (Owusu-Breen) go, but also thrilled to see Eric and Nicole coming on board," Arnaud says. "They've been really ambitious and they've pushed the envelope a lot for season two."
Read and download the Den of Geek NYCC 2018 Special Edition Magazine right here!
Season 2 of the show uses the second book, Day Shift, as a jumping off point before embarking on its own network-mandated soapier and sexier interpretation. For the new showrunners, pushing the envelope for Midnight, Texas Season 2 largely means delving even deeper into the emotional (and sexual) lives of its characters. 
Manfred must deal with the consequences of his selfless actions in the season 1 finale, which in turn jeopardizes his new relationship with Creek. 
"She's not thrilled with having to deal with a boyfriend who's sick with demon cancer," Arnaud says.
In fact, many of the characters have been officially paired off at the start of the show's second season and some of them have to deal with circumstances almost as dire as Manfred's "demon cancer." 
Olivia and Lem are newly married, have converted Olivia's already awesome crimson-decorated house into something even more vampire friendly, and are enjoying the benefits of the soul bond between them following Lem feeding Olivia's blood to save her life. Who wouldn't want a soul bond with a soul mate so that they can anticipate your every need? Of course even assassins and vampires need their space.
"It goes very quickly from, 'Oooh this whole psychic connection thing, how sexy!' to 'Oh my God, let me live my own life.'" Kebbel says. "It really starts to wear on both of us and then honestly, bless his heart, I think he feels bad, like, 'Well shit, what do I do?'"
Mensah, across the room from his TV wife hears her discussing their relationship and mutters, "Oh, she's going to kill me."
Joe, the fallen angel, will come to deal with relationship drama of his own. Joe lives in a sensible artist studio with his husband Chuy (Bernardo Saracino), though one can't help but notice in the casting announcements for season 2 that Josh Kelly is joining the cast for season 2 as Walker Chisum "an openly gay demon hunter who has an intense connection with resident angel Joe Strong."
"I think he kind of represents a touch of the old Joe and exploring a piece of an identity that's been forgotten and exciting that idea of self back into the forefront of my mind," Lewis says. "But, naturally without giving anything away I can add that he's at odds with a character who's been hiding and a creature that was made to be incredibly purposeful and dynamic in the universe. I wasn't made to sit on couches."
Walker Chisum isn't the only new interloper the denizens of Midnight, Texas will have to confront. In its pursuit to get bigger and badder, Midnight, Texas is bringing in plenty of new faces into the typically quiet and insular town. Chief among them are carpetbagging hotel operators and married couple, Kai and Patience Lucero, played by Nestor Carbonell and Jamie Ray Newman.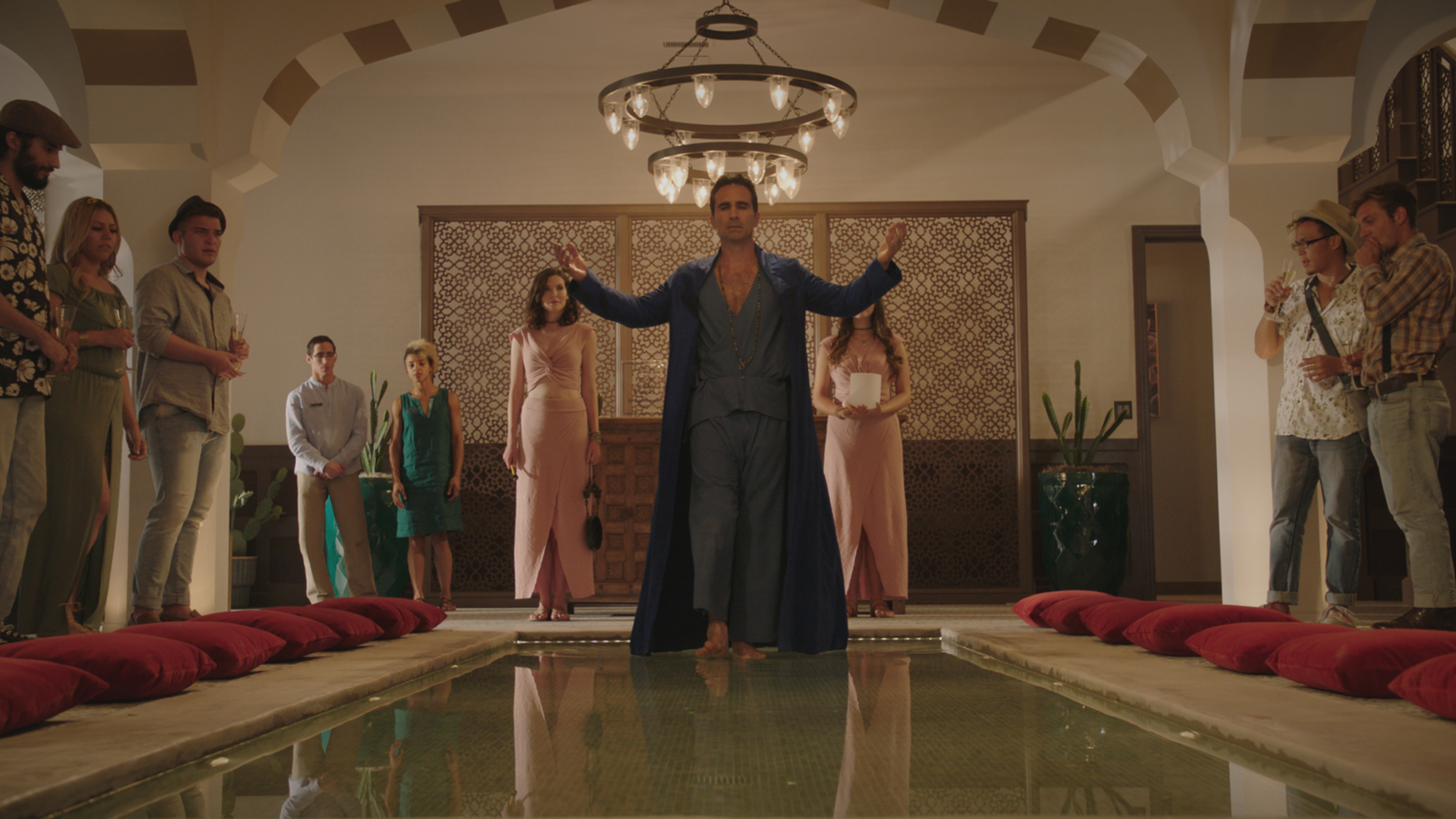 The Luceros have dreamt of opening a hotel and spa for years and find the perfect place to do so in Midnight. Kai is a healer, and like many supernatural beings before him finds himself inexplicably drawn to the tiny town.
The new actors are no strangers to the genre. Carbonell had prominent roles on Lost and Bates Motel and previously worked with new showrunners Snyder and Charmelo on the CBS Sarah Michelle Gellar vehicle The Ringer. Newman has appeared in Veronica Mars, The Punisher, and Eureka. That's undoubtedly helped them get ingratiated with the macabre world of Midnight. 
They're the nicest people, and so welcoming," Carbonell says of his new castmates. "They all take big swings, which I love, cause it's such a rich world, you kind of can't go halfway, or it just looks flat."
It must be easy to get along when there is so much going on. It's certainly not as though the actors have a lack of material to discuss. Harris published three novels in her Midnight, Texas series. Even though the path to renewal for this season alone was treacherous and the show has increasingly moved away from the novels' source material, it's clear that the writing staff has more in mind. 
"After we vanquish the big bad of this season, we kind of set something for next season and set up storylines for each of the characters for potential directions for next season," Charmelo says. "The Midnighters have the worst luck on the planet. Let's just put it that way."
It's still unknown if Midnight, Texas will get that third season or any beyond that. For what it's worth, however, NBC seems willing to experiment with its unusual property. The decision to move ahead with nine hours of television rather than the usual network 22-25 is seen by many on the cast and crew as a positive step, giving them the chance to craft a tighter story. The fact that the show is getting a Halloween season rollout on the genre-friendly Friday night is another good sign. 
Still, if this should be the end, the population of Midnight, Texas feels as though they delivered exactly what was requested. 
"We really pushed the envelope just in regards to relationships, sex appeal, gore, and scares," Charmelo says. "It was a marching order and I think we delivered in spades."
Midnight, Texas Season 2 debuts Friday, October 26 at 9 p.m. on NBC.
Alec Bojalad is TV Editor at Den of Geek. Read more of his stuff here. Follow him at his creatively-named Twitter handle @alecbojalad