News
Michael Keaton to Star on Hulu TV Series Dopesick
Hulu series Dopesick will star Michael Keaton, who makes his streaming television debut.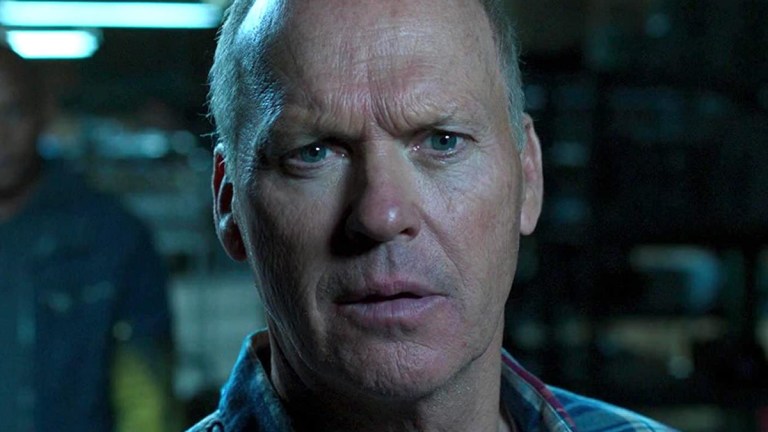 Hulu is moving ahead with Dopesick, an 8-episode limited series focused on America's opioid crisis, brandishing promising marquee names in headliner Michael Keaton, Oscar-winning director Barry Levinson, Emmy-winning writer/showrunner Danny Strong and veteran Emmy-winning producer Warren Littlefield.
The series, a production of FOX 21 Television Studios eyed for 2021, adapts author Beth Macy's 2018 journalistic book, Dopesick: Dealers, Doctors and the Drug Company that Addicted America. Hulu's series, like the book, will focus on the ordeal of a Virginia mining town, with Keaton starring as Samuel Finnix, who's described as "an old-school doctor who approaches his practice with kindness and compassion, but finds himself embroiled in Big Pharma's deadly secret." Yet, the series will also intersect "unsparing yet deeply human portraits" of families affected by the pill-pushing encroachment of monolithic companies, all while attempting to shine "a hopeful light" for the future. As Bert Salke, President, FOX 21 Television Studios states:
"Although we were sharply aware of and empathetic to the horrifying pain caused by the Opioid crisis for millions in this country, we were blown away when Warren Littlefield showed us Beth Macy's book Dopesick. Consequently, Danny Strong had been crafting his own telling of the opiate epidemic and in typical Danny form, it was mesmerizing. The fact that Warren and Danny are collaborating on this is a studio's dream. Together with Barry Levinson and Michael Keaton, we have every reason to believe this important story will be one of the tv events of the coming year."
With a straight-to-series order from Hulu in place, Dopesick will manifest under the creative stewardship of writer/showrunner Danny Strong, who, recognizable as an actor (notably from TV runs on Gilmore Girls and Buffy the Vampire Slayer), has become an offscreen creative force, having co-created Fox's recently-ended series, Empire, along with script work on films such as The Hunger Games: Mockingjay Parts 1 and 2, Lee Daniels' The Butler and Game Change (which yielded him two Emmy wins in 2012). As Strong lauds:
"I'm so thrilled to tell this story with a company as bold and as daring as Hulu. The opioid crisis is one of the most important stories of our time and I'm honored to not only pay tribute to its victims but to shine a light on the heroes that fought back. Laws were broken and many lies were told. The system failed us and Dopesick is going to show everyone how it all happened."
Of course, Strong will have as his director the legendary Levinson, a master of comedic drama who, in 1989, took his trade's top prize for Rain Man, winning the Academy Award for Best Director. After a hit big screen debut with 1982's Diner, Levinson would go on to field other classics such as The Natural, Tin Men, Good Morning, Vietnam, Bugsy, Toys, Sleepers and Wag the Dog, with more recent offerings in the Bill Murray-headlined Rock the Casbah and HBO TV movie Paterno, and is in post-production for Harry Haft, a biopic of a WWII-era boxer (Ben Foster). Dopesick will see Strong, Levinson and Littlefield joined in the creative coalition by star Michael Keaton, who is also onboard as an executive producer.
Dopesick will see Keaton—a superstar headliner of '80s hits like Batman, Beetlejuice, Mr. Mom, etc.—make a television return 13 years in the making, having last fielded 2007 TNT miniseries The Company. Yet, he's still riding a wave from his Oscar-nominated performance in the pathologically-bleak 2014 drama, Birdman or (The Unexpected Virtue of Ignorance), 2015 journalism drama Spotlight, 2017 actioner American Assassin, a Marvel villain turn—as Adrian Toomes/The Vulture—in 2017's Spider-Man: Homecoming (which he reprises in next year's spinoff, Morbius,) and appeared in 2019's Dumbo. Interestingly, Dopesick will see Keaton revisit the theme of addiction, which was central to his starring role in director Glenn Gordon Caron's 1988 film, Clean and Sober, in which he played a cocaine-addicted real estate salesman who, in rehab, engages in a whirlwind would-be courtship filled with relapses with a fellow addict (Kathy Baker).