News
Matt Smith & Orbital Closing Glastonbury 2010 With the Doctor Who Theme Was a Little Bit of Joy
After a chance meeting at a party, the Eleventh Doctor wrangled tickets to his first Glastonbury and the result was this joyful collaboration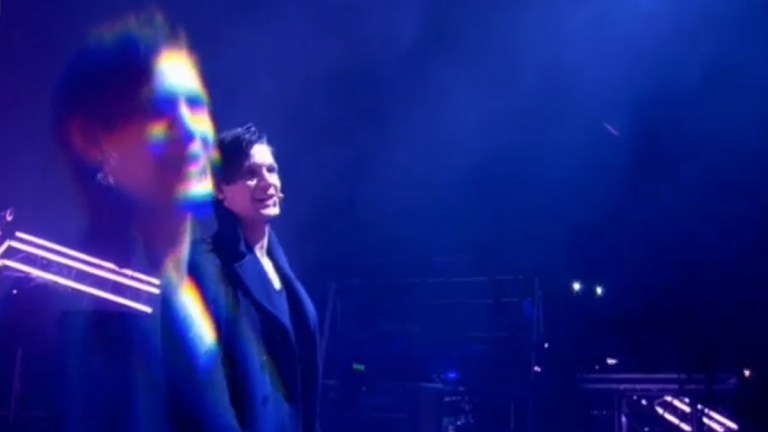 Think back to June 2010. The air was filled with the sound of World Cup vuvuzelas and Dizzee Rascal. UK cinemas were set to welcome Hot Tub Time Machine. The shine had only recently worn off everybody's crush on Nick Clegg. And beavers were being bred wild in Scotland for the first time in 400 years. Mad times. Mad times.
Into those mad times, came a mad man with a box. In April 2010, Matt Smith made his debut as Doctor Who's Eleventh Doctor, with new showrunner Steven Moffat in tow. There were cracks in the universe and Rory dying and Vincent Van Gogh and James Cordon and a Pandorica. The TARDIS exploded. A lot. Then just 24 hours after Eleven restored the universe in Series 5 finale 'The Big Bang', he also closed Glastonbury Festival.
It was an unusual moment, and a great one. Matt Smith certainly looked like he was enjoying himself. According to Orbital co-founder Paul Hartnoll speaking to Digital Spy, the collaboration came about after he ran into Smith at a Coachella afterparty in April 2010, just three episodes into Smith's run on the show. Recognising the chin investigating a fridge as belonging to the Doctor, Hartnoll struck up a conversation. Smith told him that Orbital's 'Doctor ?' remix of Delia Derbyshire and Ron Grainer's famous Doctor Who theme song was a big hit with cast and crew on set, and offered to introduce the band on stage at a future gig.
"Our lighting guy who was with us said, 'Why don't you come on at Glastonbury?' He sort of flipped out and said, 'Oh my god, I've never been to Glastonbury, that'd be brilliant'. So we just kept in touch. He said if you can get me and five friends into Glastonbury, I'll do it, so we did."
That's how the Doctor Who theme music ended up closing the 40th Glastonbury Festival on Sunday the 27th of June. Eleven's silhouette stepped out into the lasers on stage as Smith raised his arms and greeted the crowd before requesting a paid of Orbital's trademark light-up glasses while doing a bit of Doctor-y improv. This is the last song of the evening, he told the festival, so let's make it count, before conducting the crowd's cheers and roars.
"He had a great time. That was brilliant," Hartnoll told Digital Spy. "He was absolutely peaking." No comment on that last bit. What the Doctor chooses to do the day after he saves the universe is the Doctor's business. Relive it all courtesy of the BBC here.
In a 2014 'Me, You and Doctor Who' BBC video segment, Orbital's Paul Hartnoll described the Doctor Who theme as "one of the single-most influential bits of music on [his] career" in a BBC video in which he was shown the original master reel. "It's the one that I've grown up with." He's not alone there.