News
Manifest Season 2 Episode 13 Trailer and Return Date
Manifest season 2 continues to unravel the mystery of Flight 828, and we've got the latest trailer and information about the season.
Last year, Manifest emerged as TV's most-watched new series of the 2018-2019 TV season. (Check out our coverage and episode recaps for Manifest season 1 right here!) Season two isn't slowing things down at all with new twists on the central mystery of Flight 828's five year time jump and the strange prescient abilities of the plane's passengers.
As Lisa Katz and Tracey Pakosta, co-presidents scripted programming at NBC Entertainment, expressed in a statement:
"In just its first season, Manifest has answered many questions about the mystery of Flight 828 and, smartly, asks many more. Congratulations to [creator] Jeff Rake, our producers, cast and crew who have created an incredibly addictive series with compelling characters and complex relationships."
Here's what we know about the current season of Manifest, including the latest review.
Manifest Season 2 Episode 13 Trailer & Return Date
Manifest season 2 returned on January 6, 2020 in its regular Monday timeslot at 10/9c on NBC. The next episode is the finale and is entitled "Icing Conditions," and it will air on April 6, 2020. Here's the promo:
Manifest Season 2 Reviews & Episode Guide
Manifest season 2 has tweaked the formula a bit, and the reviews positively reflect the changes that were made. Here are the episode titles and air dates that we're aware of as well as links to reviews of each installment as they become available.
Manifest Season 2 Episode 1: "Fasten Your Seatbelts"
As the Stone family reels in the aftermath of a devastating shooting, they're hit with their most foreboding Calling yet, sending Ben on a mission to locate two Flight 828 passengers who have mysteriously gone missing. Grace grapples with her new pregnancy, the Major attempts to tighten her grip on the unwitting Saanvi, all while the clock on the lives of the 828ers continues to tick towards zero. (air date: January 6, 2020)
Read our review of "Fasten Your Seatbelts" here.
Manifest Season 2 Episode 2: "Grounded"
Ben forms a cautious alliance with an isolated college student from Flight 828, whose callings either uncovered a violent crime or helped him commit one. As Saanvi strives to further her research into the Death Date, Grace makes a startling discovery about her pregnancy, and Olive meets a kindred spirit. (air date: January 13, 2020)
Read our review of "Grounded" here.
Manifest Season 2 Episode 3: "False Horizon"
The Stone Family struggles to unlock their mysterious wave of frightening 828 callings, while the person who may be key to solving them is trapped behind bars. Meanwhile, a shocking and disturbing incident leads Grace to suspect a local mom is in danger. (air date: January 20, 2020)
Manifest Season 2 Episode 4: "Black Box"
Michaela is pushed into the midst of a high-stakes bank robbery perpetrated by a mystery assailant. As Ben and TJ piece together an arcane set of mythological clues, Adrian draws Olive further into the world of the Believers. (air date: January 27, 2020)
Read our review of "Black Box" here.
Manifest Season 2 Episode 5: "Coordinated Flight"
When Grace and Cal are involved in a suspicious hit-and-run, Ben is determined to get to the bottom of it. Michaela investigates a brutal attack at the Church of the Believers, but finds her efforts stymied by Adrian's refusal to cooperate. Zeke is tested when he tries to make amends with someone from his past. (air date: February 3, 2020)
Read our review of "Coordinated Flight" here.
Manifest Season 2 Episode 6: "Return Trip"
Ben and Saanvi work together to orchestrate a surprising family reunion for an emotionally closed-off Flight 828 passenger. Meanwhile, Olive drifts further away from her family, Jared learns more about a growing cabal of anti-828 sentiment, and Michaela finds herself out on a limb when baggage from Zeke's past threatens to destroy his tenuous new life. (air date: February 10, 2020)
Manifest Season 2 Episode 7: "Emergency Exit"
Tensions flare as the passengers of Flight 828 finally come to understand the meaning of their increasingly terrifying callings. Afraid of losing his daughter to the Church of the Believers, Ben confronts Adrian. Zeke challenges Michaela's trust, and Saanvi seeks help from an old flame. (air date: February 17, 2020)
Read our review of "Emergency Exit" here.
Manifest Season 2 Episode 8: "Carry On"
In the wake of a devastating tragedy, Ben tries to connect with a despondent Olive. Michaela questions Jared's loyalties, and Saanvi shares a medical breakthrough that could change the course of all their lives. (air date: March 2, 2020)
Read our review of "Carry On" here.
Manifest Season 2 Episode 9: "Airplane Bottles"
As a storm rages outside the Stone home and anxieties boil over inside, Olive frantically searches for meaning in a centuries-old text. Meanwhile, Michaela faces unexpected scrutiny at work, and Zeke comes to Saanvi's aid when her lab research takes a dangerous turn. (air date: March 9, 2020)
Manifest Season 2 Episode 10: "Course Deviation"
When Grace's pregnancy complicates the pursuit of a calling, Ben finds himself working alongside an uneasy new ally. Michaela tries to make amends with Jared, and the X'ers set their sights on Zeke. (air date: March 16, 2020)
Read our review of "Course Deviation" here.
Manifest Season 2 Episode 11: "Unaccompanied Minors"
As Zeke's condition worsens and the clock ticks towards his Death Date, he must confront his past while Saanvi tries to secure him a future. A pair of connected callings lead Ben and TJ to a surprising loved one, and Michaela faces a moral dilemma when her own calling instructs her to let a criminal go free. (air date: March 23, 2020)
Read our review of "Unaccompanied Minors" here.
Manifest Season 2 Episode 12: "Call Sign"
Ben is drawn to help absolve a passenger of his guilt, while Saanvi enlists help in protecting herself from the Major. Jared and Drea attempt to extract a confession from a trio of ruthless meth dealers who would do anything to exact revenge on Michaela. (air date: March 30, 2020)
Manifest Season 2 Episode 13: "Icing Conditions"
Michaela and Ben put everything on the line to attempt a daring rescue. As the final hours of Zeke's life approach, Saanvi and Vance make a last-ditch effort to appeal to the Major, who may be the only person who can save him from his Death Date. (air date: April 6, 2020)
Manifest Season 2 Cast
The second season of Manifest added some new players to the fray.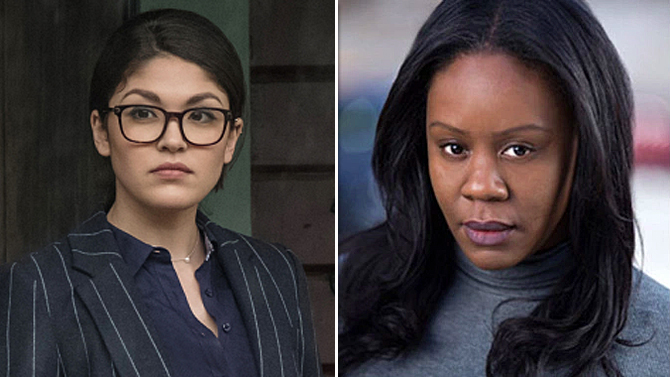 Revealed via Deadline for recurring roles are the following:
Ellen Tamaki (Charmed, We Only Know So Much) plays Drea Mikami, "the bright and confident detective assigned as Michaela's (Roxburgh) new partner."
Andrene Ward-Hammond (Claws, The Righteous Gemstones) plays Captain Kate Bowers, "the newly appointed captain of Michaela's (Roxburgh) precinct. From a long line of cops, she's direct, by the book and doesn't suffer fools."
They were preceded by the first recurring newcomers, also reported via Deadline: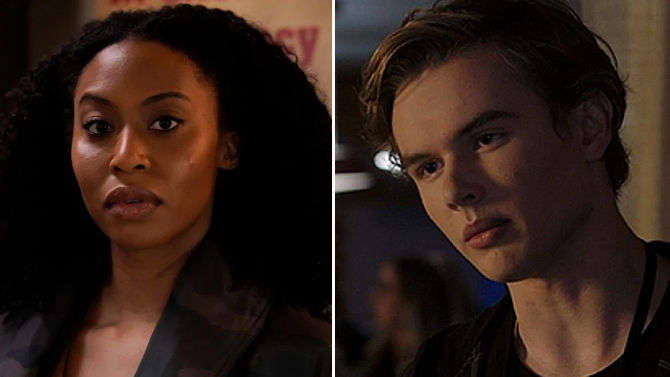 Yasha Jackson (Blue Bloods, Ray Donovan) plays Suzanne Martin, "a Dean at Astoria University and Ben's (Dallas) ex-girlfriend. They happen to reconnect after running into each other on campus."
Garrett Wareing (Pretty Little Liars: The Perfectionists, Independence Day: Resurgence) plays TJ Morrison, revealed to be another passenger from the fateful Flight 828, in this case a college student who was onboard for a Jamaican vacation, returning five years later to a changed world. However, he has been taken under the wing of Ben (Dallas).
Of course, the main ensemble are back, consisting of Josh Dallas, Melissa Roxburgh, Parveen Kaur, Jack Messina, Athena Karkanis, J.R. Ramirez and Luna Blaise. Creator Jeff Rake will continue to serve as writer and executive producer, joined by executiver producers such as Robert Zemeckis, Jack Rapke, Len Goldstein and Jackie Levine. Manifest is a production of Warner Bros. TV, Universal TV and Compari Entertainment.
A crucial factor for Manifest's secured renewal was the first impression made with its September 24, 2018 debut, which topped the numbers of any other series premiere this past season, and quickly earned the show a backorder that expanded its inaugural season to 16 episodes from its original 13. Moreover, NBC touts the show's status as TV's #1 new scripted series of the season (and #6 overall,) by citing how Season 1 averaged a 2.8 rating in adults 18-49 and 12.6 million viewers overall according to "live plus seven day" ratings from Nielsen Media Research.
The season 1 finale left plenty up in the air, but the story moving forward will most certainly have to deal with the chilling supposition introduced in the finale: that there's a deadline, so to speak, on the returnees time left on Earth. In addition, with the Major honing in on Saanvi, pretending to be her potential therapist, the antagonist of Manifest is bound to make inroads in season 2.