News
Luke Cage Season 2 Release Date and Time, Trailer, Cast, Episodes, Story, and News
Marvel's Luke Cage Season 2 is almost ready to drop on Netflix! Here's everything you need to know.
"Always forward."
Marvel's Luke Cage Season 2 will be on Netflix before you know it. This shouldn't surprise anybody, considering the strong viewership and positive critical reaction the show received. In fact, the show about the man with unbreakable skin managed to "break" Netflix during its opening weekend.
Luke Cage Season 2 Release Date
Luke Cage season 2 will premiere on June 22 on Netflix. Expect it to drop around midnight Pacific Time, and 3 am EDT.
Luke Cage Season 2 Trailer
While the Hero of Harlem has settled comfortably into his role as a bulletproof urban legend, we see that he's about to be taken down a peg with the introduction of a new nemesis. Indeed, the classic Cage comic book villain (and Serpent Society member), Bushmaster (Mustafa Shakir), is seen making a viral debut, using his own enhanced powers and killer capoeira skills to seriously hurt Luke. Thus, he'll require a bit of help, and a returning – robot-arm-rocking – Misty Knight might be the partner he needs this time around.
This Misty Knight and Colleen Wing clip is here to make you wish for another spinoff series…
And check out this clip, too…
Meanwhile, if you want to relive season one, we have a complete breakdown of every single Marvel reference and easter egg right here.
Check this out, too…
We wrote more about Luke Cage's chances in the NFL right here.
Luke Cage Season 2 Review
Luke Cage Season 2 not only feels like a big step forward from its own first season, it's a reminder that there's still a lot of life and potential left in the Marvel Netflix format.
Read our full spoiler free review here!
Luke Cage Season 2 Cast
There will be some new characters this time around, which shouldn't surprise anyone. We expect every major supporting character who survived season one to return for this year. But the big casting news comes on the villainous front.
Annabella Sciorra (The Sopranos) will play Rosalie Carbone, "a dangerous downtown criminal underworld power player with an eye, and an agenda, toward Harlem." Interestingly enough, the character of Rosalie is best known as a character from Punisher history. It will be interesting to see if there are any further connections down the line.
Gabrielle Dennis (Insecure, Rosewood) is Tilda Johnson, "a brilliant, holistic doctor with a complicated history in Harlem where, as much as she tries to stay far from trouble, it seems to always find her." Comics fans may recognize Tilda Johnson's name as the minor supervillain known as Nightshade.
Mustafa Shakir (The Deuce, The Night Of) will play John McIver, "a natural leader, brimming with charisma, whose mission is focused on Harlem and vengeance." In the comics, McIver is known as the supervillainous Bushmaster.
"I can't wait for audiences to see the compelling paces we put both Mustafa and Gabrielle through," Luke Cage executive producer and showrunner, Cheo Hodari Coker said in a statement. "From the moment you see each of them on screen, I feel they will be powerful additions to the world of Marvel and Harlem's Luke Cage."
Also on the villain front, we know that Theo Rossi will also return as Shades, telling Parade that "Luke Cage is going down [in] season two." Good enough for us!
Luke Cage Season 2 Episodes
Once again, each episode of the season will be named after tracks from a particular group. This time it's Pete Rock and CL Smooth.
Luke Cage Season 2 Episode 1: Soul Brother #1
Luke Cage Season 2 Episode 2: Straighten it Out
Luke Cage Season 2 Episode 3: Wig Out
Luke Cage Season 2 Episode 4: I Get Physical
Luke Cage Season 2 Episode 5: All Souled Out
Luke Cage Season 2 Episode 6: The Basement
Luke Cage Season 2 Episode 7: On and On
Luke Cage Season 2 Episode 8: If It Ain't Rough, It Ain't Right
Luke Cage Season 2 Episode 9: For Pete's Sake
Luke Cage Season 2 Episode 10: The Main Ingredient
Luke Cage Season 2 Episode 11: The Creator
Luke Cage Season 2 Episode 12: Can't Front on Me
Luke Cage Season 2 Episode 13: They Reminisce Over You
Lucy Liu, who among other directing credits has helmed four episodes of Elementary, which she co-stars in, will direct the first episode of Luke Cage Season 2.
"What a thrill to collaborate with Marvel and Netflix, two industry titans, who paint our world with inspiring stories and beguiling characters," Ms. Liu said in a statement (via Variety). "It is such an honor to work with such a passionate and fearless team."
"When you're dealing with a bulletproof man, it helps if you have a bulletproof director," added Marvel's Jeph Loeb. "Lucy brings a keen eye, a superb sense of story, and an obvious love of actors. She is rocking Luke Cage 2."
Luke Cage Season 2 Story
And while The Defenders Season 2 doesn't appear to be happening, we are going to get a Power Man and Iron Fist reunion on Luke Cage Season 2.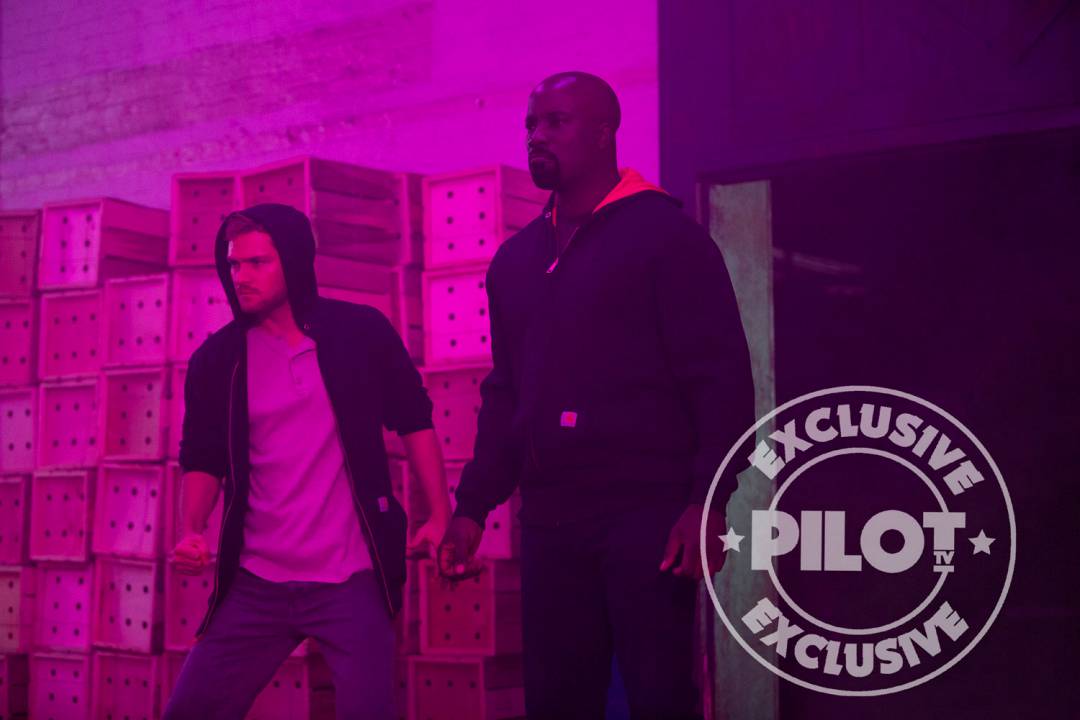 "Danny helps Luke channel his chi," Showrunner Cheo Hodari Coker told Empire. 
The Defenders' epic conclusion was packed with consequential occurrences for the titular team of Marvel Netflix heroes. Yet, it was especially costly for Simone Missick's police detective Misty Knight, whose right arm was severed by the sword of the revived Hand co-founder Bakuto (Ramón Rodríguez). However, a preview image from Luke Cage Season 2 (arriving via EW,) shows that – as hinted in The Defenders finale – the resources of Danny Rand/Iron Fist will help Misty fulfill the destiny of her Marvel Comics counterpart.
Gentlemen, we can rebuild her! Seen walking with friend/old flame Luke Cage (Mike Colter), Misty sports a black robot prosthetic arm that apparently yields articulation that's precise enough for it to serve as her gun-wielding hand.
The Defenders showed Misty in hot water with her boss and it's not quite clear if this robot-hand-wielding version is still with the police force. However, she does seem close to pursuing her Marvel Comics destiny to join Colleen Wing (Jessica Henwick) in a heroic femme-fatale team-up known as "Daughters of the Dragon." Indeed, the two had some scenes together in The Defenders that hinted sparks of a potential bond. The partnership debuted in 1977, later featured prominently in the pages of Marvel Team-Up, Iron Fist and the merged Power Man and Iron Fist series.