Reviews
Luke Cage Season 2 Episode 1 Review: Soul Brother #1
With spoilers, we look at the opening episode of Luke Cage's return...
This article comes from Den of Geek UK.
This review contains spoilers.
Luke Cage Season 2, Episode 1
I'll say this for Luke Cage: there's nothing timid about this show either politically or narratively. The first season ended with Luke being thrown into jail, and the second season picks up with the full expectation that you watched Defenders and know exactly why he's free to walk to streets and where Misty's other arm is. It's a bold stroke, I'll give it that, especially since lots of people felt that Defenders wasn't worth starting, let alone finishing.
Still, if audiences skipped that series it won't be long before the status quo is apparent: the show opens with Luke busting up a drug operation, having become so popular in his own right that they're branding the drugs with his name. In fact, Luke's popularity working against him is a big theme of this episode. Everyone knows who he is and what he's doing, and that means there's no such thing as a quiet life for him or those around him.
Luke's allies are back too – Claire Temple is trying to remind Luke she's his backup, not just his woman, while Misty Knight (or nine-tenths of her) is ready to clear up the mess left by Scarfe's exposure as a dirty cop and the subsequent quashing of convictions. And everyone, from the soon-to-be-gentrified Barbershop to Claire and Misty are talking about why Luke deserves to get paid for what he's doing. Maybe he will be a Hero for Hire after all.
As it stands, the cast is small and the characters tightly-written, their concerns are well-defined, and each of their stories holds a deeper thematic resonance with the social themes of the show. Coker's episodes last season were always the smartest and this is a strong foot forward for him too. People telling Luke he deserves to get money for the work he's doing could come across as greedy or exploitative, were it not for the theme of money and power that runs through the show – and in particular the implication that legitimate wealth is something society tries to keep from Black people.
Indeed, as Luke denies himself an honest wage because he doesn't want to appear self-interested, Mariah and Shades are attempting to go straight. Quite wisely, Mariah wants to parlay her ill-gotten inheritance into something less hot, no laundering required. Shades, her confidante, lover and personal enforcer, is less convinced, and possibly outright sabotaging her attempts to get on the straight and narrow because he wants to trade it all for a little more.
After the creative misfire that was the second half of Luke Cage season one, this episode's big twist – that Luke's father is alive and back in his life (for some reason) – is perhaps the one thing that fails to excite. We've got family drama with the Stokes/Dillard clan – do we really need it from the Lucases too?
That aside, there's not a lot to complain about here. It even closes two fairly big plot holes/inconsistencies, explaining why everyone isn't going straight to the Judas bullets that can injure Luke, and why people insist on shooting at Luke even though everyone knows it won't hurt him. As the sort of nerd who mentally asks those questions, I appreciate the consideration in Coker giving us an answer.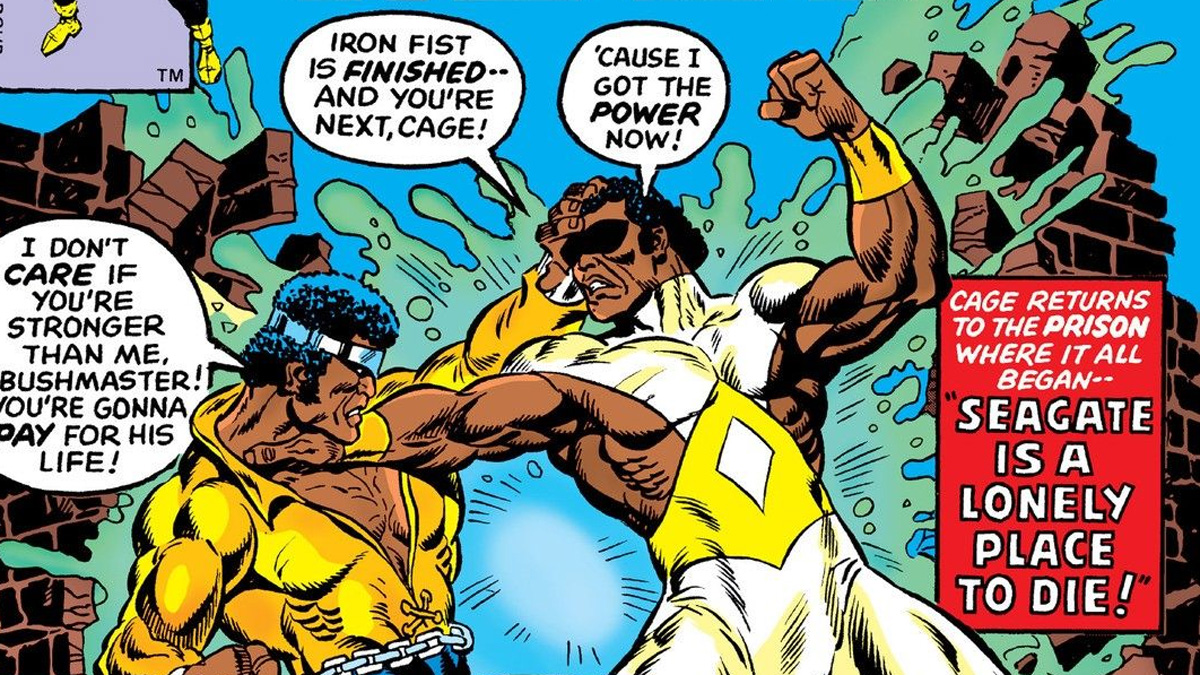 And aside from the usual comics references we've covered before – Power Man, Sweet Christmas, Matt Murdock – this episode had a couple of big ones.
The first is the introduction of Bushmaster, aka John McIver. He first appeared in Iron Fist #15 (1977) and was a crime boss – though another Bushmaster, Quincy McIver (John's brother) also had bionic powers, which might explain why bullets aren't a problem for him. Let's keep an eye on this guy.
The episode also features Dontrell Hamilton, aka Cockroach, who first appeared in Power Man #28 (1975). In the comics he's a hitman who has got a six-barrelled shotgun (more like shotfun). He's also played by Simone Missick's real-life husband, Dorian Missick.
Finally, just in case you didn't catch it, the song that plays while Luke and Claire are dancing? Gregory Isaacs' Night Nurse. Cute. Real cute.
Luke Cage season 2 is available now on Netflix.