News
Eric Andre Show Season 5: Lizzo To Guest Star on "Bird Up"
Bird Up? More like Lizzo Up. Season 5 of The Eric Andre Show features a very special cameo from Lizzo.
In the four-year gap between seasons of The Eric Andre Show, hundreds of bad television shows have come and gone. Some are still airing. When Adult Swim's manic riff on the talk show format returns on Oct. 26, there's one title that Eric Andre hopes to maintain: the "Bird Up" segment remaining the worst show on TV. "I hold that trophy high," Andre says with a laugh in an interview with Den of Geek promoting the new season.
In an effort to keep that trophy on his mantel, Andre added some starpower to his fan-favorite man-on-the-street segment, "Bird Up." He revealed that music superstar Lizzo appears alongside him for a green suit adventure in season 5.
"We got Lizzo in the Bird Up outfit this season," he says. "We did Lizzo up. She was really good at it. She may be much better at it. She flourished. She got in that outfit, she brought her flute."
The singer joins distinguished Bird Up green suit alumni Hannibal Buress and Chris Rock. It turns out that signing on to what's billed as the "worst show on TV" took precious little convincing for the rapper and singer, who earned eight Grammy nominations in 2020, including Album of the Year for Cuz I Love You.
"We were friends with her before she was famous, so she's good friends with my director." So Lizzo being famous is crazy to us. So we just texted her: 'Lizzo, come do the show' and she was like, 'Cool.' That was probably the easiest casting."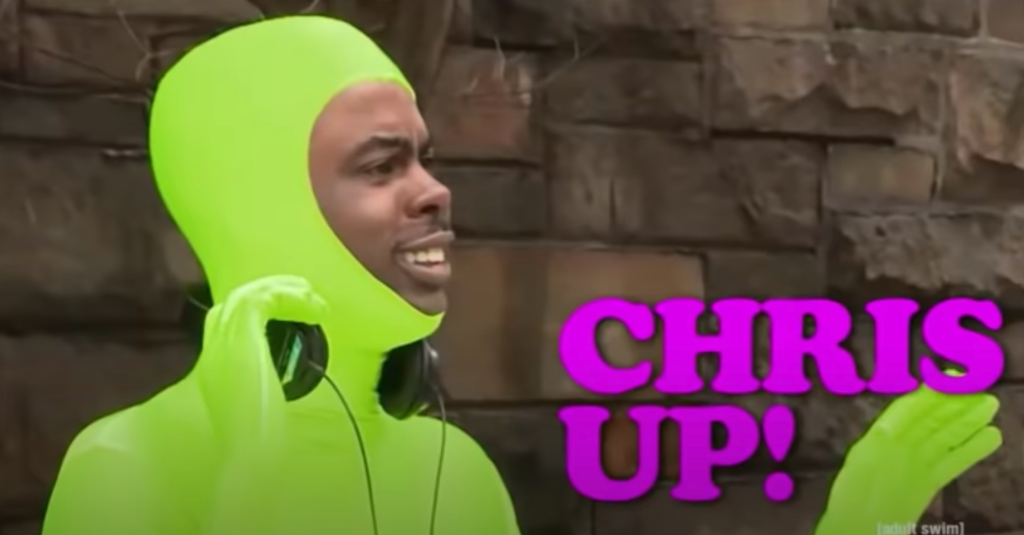 Musical guests have been a staple on The Eric Andre Show since its inception in 2012. More often than not, they're tortured instead of playing their hits. It's still unclear if anyone has seen Rick Springfield since his 2015 appearance on the show. Other musicians who have endured what Andre called a "haunted house" of a set include Tyler The Creator, Wiz Khalifa, Chance The Rapper, Henry Rollins, and T-Pain.
Like each season before it, season 5 of The Eric Andre Show sports a new set and wardrobe for its host. This time, Andre went for the complete opposite look of the grimy season four setup.
"So the previous season, I lost weight. I got pale, I grew out my hair. I didn't brush or wash my hair. I didn't wear deodorant. I got really stinky. I didn't wash my suit once, I grew out my fingernails. And the set was really ratty and disgusting and gray, it was like a Soviet prison," Andre says.
"And then season five, I wanted everything the opposite. It was a ritzy and rich set, I wanted the set to be Liberace inspired. And I got rid of all my body hair, I waxed my pubic hair, I shaved my armpit hair, I picked my head bald. I would tan every day outside, in a tanning bed. I bleached my teeth. I got my fingers and nails manicured, pedicured. I would put on a ton of brute cologne every morning. I gained weight."
You can watch our full interview with Andre below as he recalls some of the craziest moments on set during season 5.
Landing a Lizzo cameo is another highlight in a huge year for Andre. He premiered his first stand-up special, "Legalize Everything," in June on Netflix, and the streamer picked up his prank comedy feature film, Bad Trip, which was originally going to premiere at the since canceled SXSW 2020. No release date has been set for Bad Trip. The Eric Andre Show returns at midnight on Oct. 26 on Adult Swim.