Features
Live TV Streaming Apps 2018: A Cord-Cutting Guide
We've updated our Live TV Streaming Guide for 2018 with DirecTV's Apple TV offer and some new entrants into the field.
Editor's note: This story originally ran in December 2016. Information has been updated to reflect new announcements and pricing changes.
Amid more competition for your entertainment dollars than ever before, The Great Cable TV Exodus of 2016 failed to manifest.
The number of TV households in the United States rose for the fourth-consecutive year to 118.2 million, but the data shows that cable and satellite companies have little to worry about in the immediate future. For all the media coverage and empty threats by your friends and neighbors, people are hesitant to trade box tops for laptops at rates that are going to drastically alter the television landscape in the short term.
People still want the option of TV live for news, sports, or the comfort of old habits. They are also fed up with their cable providers for any number of customer service reasons, and they're technically paying into subscriber fees hundreds of channels they'll never watch. A GfK report in early 2016 found that only 6 percent of households say they have opted for streaming services like Netflix, Hulu or Amazon in lieu of cable or satellite TV. "Pay TV" households are hovering around 100 million people in the U.S. and, by conservative estimates, is only expected to slightly dip below that mark in the next few years. That's only a two percent increase year over year. A movement this is not, but 2017 may begin to move the needle for the internet TV market.
A-la-carte internet TV was still plentiful and affordable by the end of 2017. Over-the-top internet TV services (OTT) were a hot trend for companies angling for a slice of the cable TV pie. Google (YouTube), Hulu, and Amazon announced plans to enter a field already occupied by AT&T (DirecTV Now), Sling, and Playstation Vue. The market will soon be crowded. Now may not be the best time to cut your cord, but we'll get you educated on the options out there so that you can watch TV in the easiest, most affordable way in 2018.
In the previous installment in our series on cord cutting, we analyzed current cable and satellite deals and the hardware and devices necessary if you wanted to cut out "Pay TV" entirely. Many of the devices we detailed in that article are compatible with OTT internet television services we'll talk about below.
Sling Television
Dish Network has long been the underachieving little brother to DirecTV, but the company got out in front of the internet TV market when they launched Sling in February 2015. Head starts in the tech industry only last you so long. Estimates have Sling TV growing steadily, with around 1 millions subscribers after a strong Q3 in 2016. By Q4 2017, Sling's subscriber base had grown to 2 million. Sling TV's position as a leader in the industry (and arguably creator of the industry) is likely safe for now. 
But it will continue to be viewed as the "discount" option at $20.
Cost and Channels
Sling is the lowest cost option for internet TV. Sling's "Orange" package is $20 per month for 31 channels. It nets you a basic mix of sports (ESPN), news (CNN), and cable networks (AMC, Comedy Central, IFC, A&E, Food Network, Travel).
The "Blue" package $25 per month and consists of 45 channels, including a deeper selection of cable networks (Syfy, FX, TruTV), sports (NFL Network, Fox Sports 1 and 2), and broadcast networks (NBC, Fox). A big addition to the "Blue" package for 2017 was a select number of regional Fox sports networks so users could watch their local teams.
"Orange" and "Blue" can be combined into one package for $40 a month.
The biggest value to Sling when it comes to package selection is the ability to add-on bundles to either package. There's a "sports extra," which includes NHL Network, NBA TV, ESPNU, and more. A "comedy extra" with TVLand, Spike, MTV, Logo and GSN, "Hollywood Extra" for film buffs and a "News Extra" if that's your thing, and international channel extra packages as well. Those add-ons run you $5 each.
Premium add-ons include: HBO ($15), Cinemax ($10), Starz ($9).
Where To Stream
Computer, Smart TV, Mobile Phone App, Roku, Apple TV, Amazon Fire, Google Chromecast
Bottom Line
Sling is the sports fan's ideal guide to the streaming galaxy and a value play for cord cutters. The "Orange" package leaves something to be desired, but mixing and matching the add-ons could land you a satisfying bundle for $30-35 per month. Throw your favorite premium channel package in there and you'll have live TV ready to stream on multiple devices for about half of your cable bill.
Buyer beware: The "Orange" package allows for streaming on only one device at a time. The more family-friendly "Blue" package allows for up to three devices at a time.  
DirecTV Now
DirecTV is the leader in the satellite realm and the company is poised to corner the internet TV market. AT&T, the mega company still trying to finalize a deal to buy Time Warner, is making an aggressive push into the video streaming market, so much so that they rolled out their product in November 2016 to a flurry of glitches and malfunctioning features.  
AT&T boss Randall Stephenson is still giddy about AT&T's prospects in this new frontier. "This is the most exciting thing I've been a part of in a long time, and I can't wait," Stephenson said during the initial announcement for DirecTV Now. "I border on the evangelical about it."
Cost and Channels
Customers should reciprocate Stephenson's excitement. DirecTV Now rolled out a $35, 100-plus channel introductory offer. That's the kind of deal that keeps Verizon Fios and Cablevision execs up at night. It didn't last.
On Decemeber 30th, 2016, AT&T announced that DirecTV Now would terminate its introductory offer on Jan. 9th 2017. DirecTV Now still has a $35 per month offer, but it's for 60 channels. So far this $35 for 60 channels model has extended into 2018.
DirecTV Now offers tiers: $35 (60+ channels), $50 (80+ channels), $60 (100+ channels), and $70 (120+ channels). The latter tiers start to move you into the cable box price range. However, HBO/Cinemax can be added to any package for only $5, a huge boon to DirecTV Now's arsenal compared to the $15 cost for just HBO on Sling TV.
CNET compiled a full channel list for DirecTV Now's tiers, which you can compare to Sling TV and Playstation Vue.
Apple TV 4K Offer
For a limited time DirecTV Now is offering a deal in conjuction wit Apple. Users who purchase four months of DirecTV now upfront will receive an Apple TV 4k for free. All in all a decent deal as Apple TV 4K is the best of the streaming device options. 
Where To Stream
Computer, Smart TV, Mobile Phone App, Roku, Apple TV, Amazon Fire, Google Chromecast. What sets DirecTV apart is that wireless streaming does not impact cell phone data.
Bottom Line
DirecTV Now only allows two streaming devices at a time, making it incredibly difficult for families to make the switch. Accessing live programming (like local news) from broadcast networks Fox, ABC, and NBC depends on what market you're in. DirecTV Now, like Sling TV, does not currently have a DVR function like its competitor Playstation Vue (we'll get to that next). DirecTV is most famous for being the rights holder to NFL Sunday Ticket. You won't be able to get Sunday Ticket on DirecTV Now.
Many observers claim that DirecTV is the best and most versatile of the streaming options. For sports fans or just thriftier consumers with different needs, however, it's not as strong a choice.
PlayStation Vue
PlayStation Vue rolled out to limited major media markets in 2015 before the OTT service launched nationwide in March 2016. Sony's entry to the internet TV market earned praise at its launch and continues to update and improve its product.
Cost and Channels
PlayStation Vue has a pricing tier as follows:
The "Access" plan is $40 per month for 50 channels. That includes a strong sports stable in ESPN, ESPN 2, NBC Sports Network, Fox Sports 1 and Fox Sports 2 and the broadcast networks including CBS.
The "Core" plan is $45 per month and includes "Access channels," plus more regional sports networks and NFL network, and a larger cable network offering.
The "Elite" plan is $55 per month for 90 channels.
The $75 per month  "Ultra" plan includes all of the above plus HBO and Showtime.
Adding on HBO to the other plans will run you an extra $15.
Where To Stream
PlayStation 3 and 4, Roku, Amazon Fire, Apple TV, Google Chromecast, Moblie Phones, Tablets.
Bottom Line
PlayStation Vue is the best total package on the market thanks to its cloud capabilities. Sony's product has a 28-day cloud DVR feature that has its competitors scrambling to catch up. DirecTV Now has cheap HBO and a better channel lineup at the moment, and SlingTV has a lower overall price point and the value of ESPN3 for sports fans, but PlayStation Vue is the most dynamic of the internet TV products on the market. It's costly, you're going to want either the "Core" or "Elite" plan, but it feels like the best alternative to a cable box right now. The "Core" plan in particular is a boon to sports fans with the additon of regional sports networks to go along with a much larger package of channels than Sling.
YouTube TV
Google and its subsidiary YouTube unvelied their now streaming TV option, YouTube TV in 2017. It was announced in February that the live TV service would be named YouTube TV and would feature some key elements that set it apart from its competitors. The final result was well-received with one of the most user-friendly interfaces in the business. What else does it offer to set it apart from the pack though?
Cost and Channels 
YouTube TV costs $35 per month. That cost gets you the four broadcast networks–ABC, FOX, CBS, and NBC–and roughly 35 cable channels. Among those cable channels are the ever-important ESPN and Fox Sports packages. A big boost for YouTube TV is the inclusion of local sports channels included without any add-ons. 
The Cloud And YouTube Red Bonus
YouTube TV is the first OTT to offer an unlimited DVR cloud. Another bonus to YouTube TV is the inclusion of YouTube Red, giving you the peace of mind of an ad-free YouTube experience and original video content. 
Where To Stream
Computer, Mobile Phone, Tablet, Smart TVs. Device accessibiity is perhaps YouTube TV's biggest drawback thus far. YouTube TV is not available on any of the traditional streaming devices like Roku and Apple TV. Though YouTube has said those should be available sometime in 2018. 
Bottom Line
YouTube Red's original content has failed to make a major impact in the streaming TV world, but YouTube TV is going to be a big time player in the streaming game. At an affordable price and armed with an unlimited DVR cloud, YouTube TV is an excellent option for consumers who don't want to have to bother with extensive "add-ons." The service is as simple as its interface but DirecTV Now and PlayStation Vue may carry more bang for your buck.
FuboTV 
H/T to CutCableToday for tipping us off to fuboTV, a live TV streaming service that initially started as a soccer streaming vertical. The company received a windfall from Sky and 21st Century Fox in early 2016, raising $15 million. With 40,000 plus subscribers, it appears the sports-centric streaming service is undergoing a major overhaul.
Cost and Channels
fuboTV launched completely in 2017 and the early results are promising. Originally the subscription cost was $9.99 for mostly soccer offerings. After cutting a deal with Fox Sports and some other subsidiaries, fubo's sports offerings are among the most complete in the streaming world.
The subscription cost has now been bumped up to $20. With that price increase, however, comes the most complete offering of sports streaming in the business. That basic subscription comes with most 70 cable channels with enough of a sports focus to ensure that it's unlikely subscribers will miss an NFL, MLB, NBA, NHL, or soccer game. 
Still, fubo is going to need to find a way to confront the missing ESPN elephant in the room.
Where to Stream
Mobile device, Tablet, Roku, Apple TV, Google Chromecast
Bottom Line
Most major sports networks outside of ESPN, DVR functionality, and some quality cable channels have fuboTV as a potential hidden gem in the Live TV streaming world. 
Hulu Live TV Streaming Service
If you go back to 2013, when Hulu was humming along as a promising challenger to Netflix's streaming empire, the company made a future-minded hire by tabbing Mike Hopkins as its next CEO. Previously at 21st Century Fox, the group that owns 20th Century Fox studio and the Fox television network, Hopkins helmed the distribution department, where he was, according to Variety, known for his negotiation skills with "pay-TV distributors that provide the conglomerate's biggest revenue source."
At the time, the trade called his previous gig important, but not in a way that would help a brand like Hulu chart new territory in the new streaming world. Three years later, Hopkins stood on stage at Hulu's 2016 upfront presentation in New York and confirmed that his company is ready to defy conventional television business partnerships and bring live TV to cableless streaming.
In announcing their version of a "skinny bundle," a cheaper live TV package without excess channels, Hulu–owned by Fox, Disney, and NBCUniversal/Comcast–is showing the ability to adapt to the demands of the market and challenge the major cable companies head on. Where Hulu in the pre-Hopkins era was looking to distance itself from its majority shareholders and the cable industry, the company sees a path to distinguish itself from rivals like Netflix and Amazon and convert cable refugees to the Hulu Live TV model.
Specifics on the Hulu Live TV model are sparse, but Hopkins has revealed some insight on the project's status in recent interviews. The service is expected to launch "early next year," according to a feature in Crain's New York.  
"We're not targeting pay-TV customers to switch," Hopkins told Crain's New York. "But for the people who are going to shut off cable anyway? We'll be there."
Now with Disney owning an even bigger stake in Hulu, the future looks even brighter. 
Cost and Channels
All four of Hulu's major investors Disney, Fox, and Time Warner (Turns Entertainment Networks, Warner Bros. Television), and NBCU (the fourth investor) have agreed to give Hulu access to live television. That, of course, could change now that Disney and Fox are the same entity and Time Warner could soon have an investment in DirecTV Now via AT&T.
Hulu Live has a similar subscription model to YouTube TV. It's a $40 cost per month service with no available add-ons. This simplifies matters quite a bit, meaning that Hulu Live users (which is still technically in beta) will get access to 50+ live channels and the entire Hulu library. 
Hulu's channel offerings is similar to that of Sling "Blue's" offering but added benefit of that soon-to-be even bigger Hulu library is a solid selling point.
There are HBO, Showtime, and Cinemax add-ons all at the industry standard prices of $15, $9, and $10.
Where to Stream
Mobile devices, Smart TVs, Tablets, Roku, Apple TV, Google Chrome, Amazon Fire
Bottom Line
Something about Hulu Live has the air of the perfunctory. It's still early in the beta but as of right now it's not clear what the service offers that something like Sling does not. Well, that's not entirely fair. The Hulu subscription is a pretty important part of the package. And the future looks bright with Disney being the biggest investor. It may still be worth waiting to see what the final form of Hulu looks like.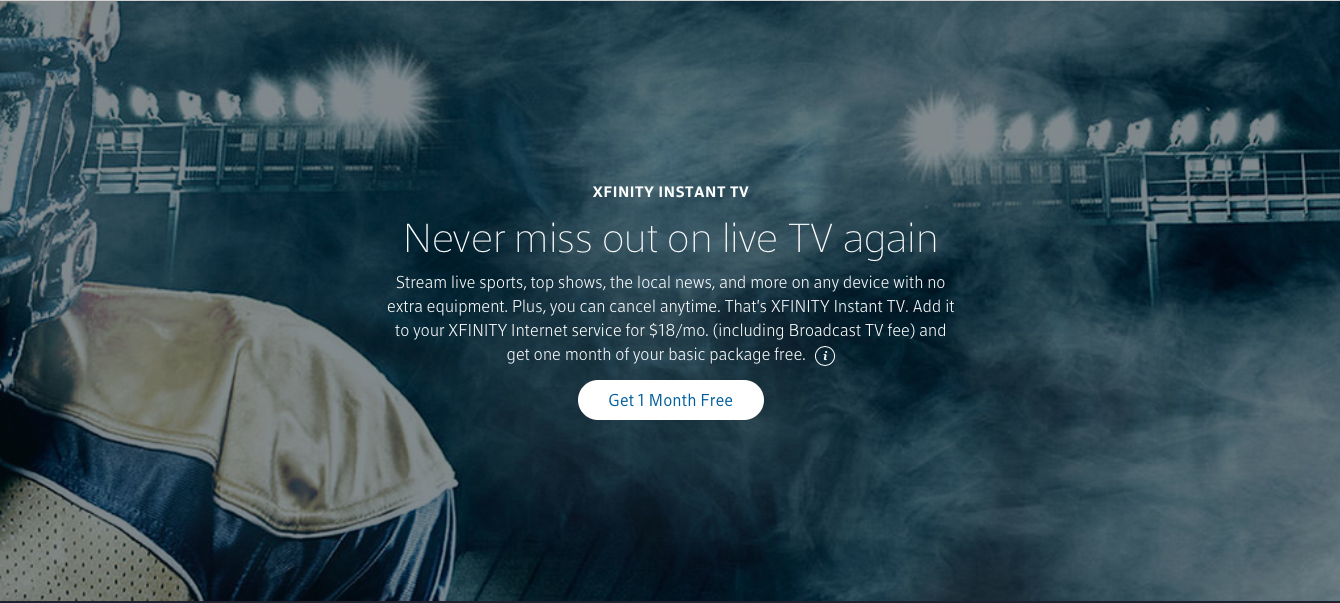 XFINITY Instant TV
XFINITY's barebones Instant TV beta is the perhaps the strongest evidence yet that streaming TV is the way of the future. It reaks of a cable company, in this case Comcast, begrudgingly admitting that streaming TV has to be a viable option in your business model. 
It's not fair to assess Instant TV just yet as it's still in Beta and Comcast won't even reveal what markets it is available in yet. Still, these seems like the next evolution of streaming television where traditional cable companies try to add in streaming as a complimentary service option and not an innovative package to compete with industry mainstays like Sling or Hulu.
Cost and Channels
XFINITY when launched will be available to only Comcast users. Costs start at $18 a month to receive the traditional networks. There will also be a $35 option for a Sports and News package that features the original traditional networks along with live sports through ESPN, and Fox Sports
Where to Stream
Mobile Device, Tablet, Smart TVs, Roku, Apple TV Google Chromecast, Amazon Fire
Bottom Line
Comcast users should keep an eye on INFINITY Instant TV as it may end up being a solid deal for internet users who just want to cheaply, easily, and legally add on some live viewing. For everyone else, however, it's not clear where Instant TV's value will lie yet.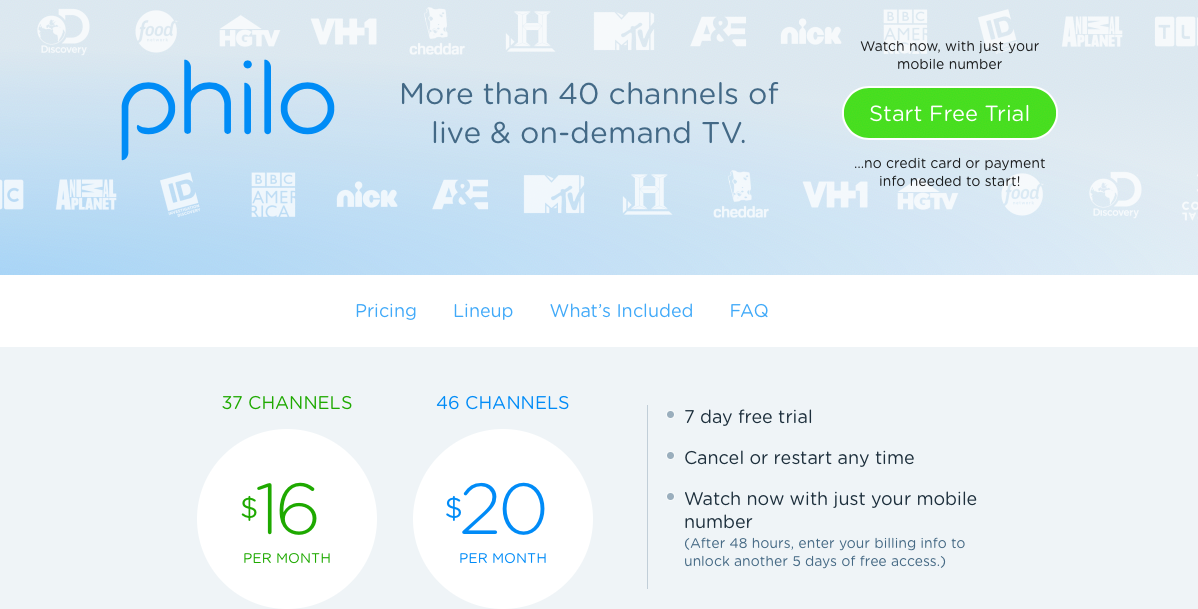 Philo
Despite the fact that you've likely never heard of it, Philo can technically lay claim to being a streaming television founding father. It was started at Harvard University back in 2009 by two students who experimented with using aluminium foil to pick up television signals and deliver them to a laptop wirelessly. 
Suffice it to say, the business model has changed a bit since then. Philo puttered along as a company for almost a decade, picking up funding here and there, including a sizable investment from Mark Cuban in 2013. Now in November of 2017, Philo has pivoted to being a pretty straight-forward streaming service. 
Cost and Channels
Philo is a service targeted almost exclusively at non-sports fans. There are two subscription options: a $16 a month package that gets you access to 37 channels (including AMC, BBC, Food Network, and Travel Channel), and a $20 a month package that offers 46 channels (BET, Logo and Nicktoons). 
Users get 30 hours of DVR space, are able to stream on three devices simultaneously, and gain access to a modest library of content. 
Where to Stream 
Mobile Phones, Tablets, Roku
Bottom Line
Philo doesn't have any agreements with ESPN or Fox Sports so this will likely be a non-starter for most consumers. But for those who are completely uninterested in sports and just want a modest cable package, it's hard to imagine a better deal than Philo's $16 a month option. 
Amazon Live TV Streaming Service (TBD)
Did you really think Amazon wouldn't find a way into this market? The online retail giant is pumping money into its video streaming service to compete with Netflix and Hulu, so it's natural that they're going headfirst into another crowded market. Details are limited on Amazon's live TV streaming service, but a report from Wall Street Journal indicates that they're looking into a premium sports package.
We're not sure how far along the project is, but it's been rumored for almost two years.