Features
Kate Mulgrew's Best Sci-fi Role Yet Isn't in Star Trek
In The Man Who Fell to Earth, Kate Mulgrew has broken new ground. Here's why she loves plotting with Jimmi Simpson and what she thinks about that Star Trek Nemesis cameo 20 years later.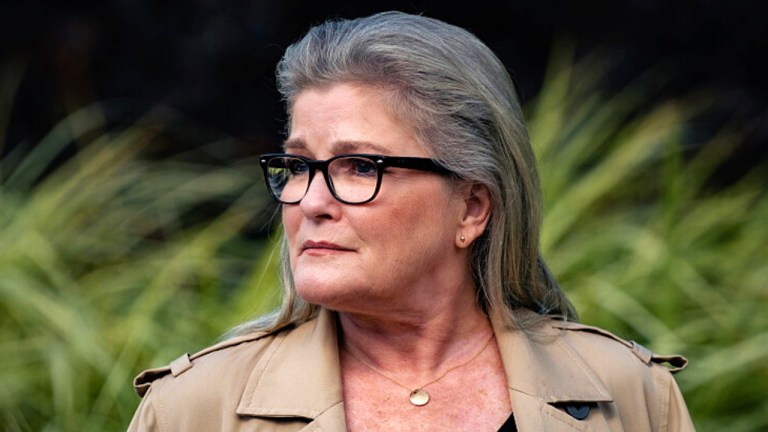 This article contains spoilers for The Man Who Fell to Earth.
If you're not watching The Man Who Fell to Earth, you're missing out. Not only is it one of the most inventive science fiction TV series currently airing, it also blends dark drama with whimsical science fiction optimism. And while the titular men-who-fell-to-earth, Chiwetel Ejiofor and Bill Nighy, might be taking up the lion's share of attention, there's another science fiction stalwart doing some of the most interesting work of her career: Kate Mulgrew.
Yes, you might know her as Captain Janeway in Star Trek: Voyager, or as Red in Orange is the New Black, but with The Man Who Fell to Earth, but these days, Mulgrew is doing something unexpected and gripping.
As CIA mastermind Drew Finch, Muglrew has created something new: an alien-hunting anti-hero with an incredible amount of layers. In the narrative of The Man Who Fell to Earth, Drew Finch is tracking down aliens among us, but, along with Jimmi Simpson as Spencer Clay, Mulgrew has spun a version of The X-Files where you're not rooting for Mulder and Scully. Although she's already a massively important figure in science fiction, with this series, Mulgrew has proven she's capable of creating characters nobody saw coming.
Ahead of the finale of The Man Who Fell to Earth on Showtime, we caught up with Kate Mulgrew and talked about how she created Drew Finch, her unique partnership with Jimmi Simpson, why she thinks executive producer Alex Kurtzman is a visionary, why Star Trek endures…and…what it was like to film that Admiral Janeway Nemesis cameo 20 years ago.
You're great and terrifying in The Man Who Fell to Earth. Drew feels like a new kind of character for you. Neither a hero nor villain. How do you see her?
Aside from her adopted son in the form of Jimmi Simpson, I think that Drew is a woman whose emotions run to the ambitious. She's seldom lost at her game. She can be ruthless as we see at the very beginning of the season. She conversely can be curiously warm with Spencer Clay. But that is largely due to the chemistry that Jimmi Simpson and I share. It's very rare and remarkable. We tried to add a darker dimension. Which I think we succeeded in doing. We never really know where they stand in their love for one another. Like what is it? Is it familial? I think that tension is fascinating.
How much of this flippant relationship was in the script or an invention between you and Jimmi?
I think it was very much our own little invention. But, thanks to Alex Kurtzman — who is the visionary behind the entire project — I think he hired key actors with the idea that they would know where to go. So, I had an outline for Drew. It was clear where she was to go. Her objective was pretty clear. But the underbelly, or so Kurtzman said, was pretty much up to me.I think that people in the CIA are dark. They are shadowy figures. That's who she is, nothing but shadow and light. And, if the character ever flattened for any reason, then I've made a mistake, because that prism should be refracting light at every turn.
So your chemistry with Jimmi Simpson basically created that aspect of the show?
Our chemistry is ineffable. I mean, you could be thrown into a scene with any number of very fine actors and not find it. With Jimmi there was an immediate sense of…oh I know you, from before my life. Now, of course I'd never met the man before. But it was a sense, a deep sense of the familiar that allowed for a certain kind of trust. You just don't stumble across it very often.
This feels like a new kind of role for you. Something that utilizes everything you're capable of.
That's true. I think it's because it's all about what she is missing. That kind of accounts for the wariness one would feel around her because she's filled up by her job. And by this man, this boy-man in her life. And should either be pulled from her, that would be very threatening indeed. That would be character assassination for Drew.
The Man Who Fell to Earth to Earth is this unique, original show. But of course, it's spun-off from something else. Then again, you know how that goes…
Again, I have to refer to Alex. I think he's doing something that has not been done before with this. It's nuanced. It's a different story. And it's a much more fleshed out story. It's really unique. I've never seen anything quite like it.
Along with Jimmi Simpson's voice as Drednok, you're back as Admiral Janeway in Star Trek: Prodigy. It's been 20 years since you've played Admiral Janeway in Star Trek Nemesis…
Yeah, that was a strange cameo. I was just alone in the studio on the sound stage. It was done very fast. I think it was immediately after Voyager, if not in the final week of Voyager.
And now you're back as two Janeways: Admiral Janeway and Hologram Janeway.
Actually, it's three: Captain Janeway, Admiral Janeway, and Hologram Janeway. You may stand down, ensign. [Laughs.]
What's that like though? It's gotta be weird?
No, it's fun. It just never ends. I think Star Trek is enjoying a grand resurgence. Again, I have to tip my hat to Kurtzman because he's assumed the mantle. He took it from Rick Berman and he's done an amazing job. One could argue a really remarkable job. I think he's a visionary. It was his idea to do the animated show [Prodigy], and at first I was a little trepidatious. But only very briefly. When I checked with my trusted colleagues, everybody said, well you're absolutely a fool! This is going to be great. It's for children — the one demographic that Star Trek has somehow managed to avoid.
[Doing Prodigy] is deeply satisfying. To be able to do it and give it to children who are sitting next to their mothers who watched Star Trek: Voyager. It really speaks to the grandness and truth and magnitude of Star Trek.
What is it like when you talk to your Voyager family now?
We're always talking. I mean my great friends are Robert Picardo and John de Lancie. We're always touching down and crossing paths. And when we do talk about Star Trek, all of us are just so amazed that it constantly is reinventing itself. I think that fact only speaks to its sort of undying virtues. I know Jeri [Ryan] loves doing Picard. And I know that all of us — all of us — would love to continue and when the opportunity presents itself, we'll always do more Star Trek. 
All 10 episodes of The Man Who Fell to Earth are streaming on Showtime as of Sunday, July 3. Star Trek: Prodigy returns sometime in late 2022.