Jurassic World: Camp Cretaceous Trailer Previews Netflix Animated Series
The Jurassic franchise hits Netflix in animated form with Jurassic World: Camp Cretaceous, which delivers dinos in familiar form.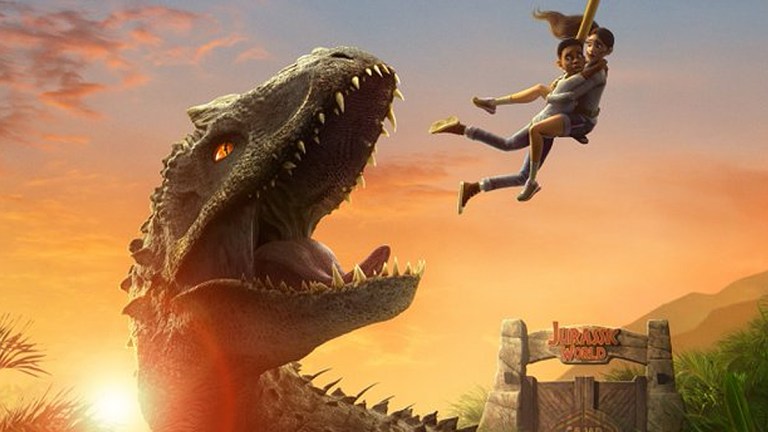 Netflix is set to bring the Jurassic Park film franchise to the animated small screen streaming arena with Jurassic World: Camp Cretaceous, which will manifest on the platform with eight episodes in September.
The series centers on the ordeal of six teens who have been awarded what seems to be the experience of a lifetime at a new adventure camp situated on a very familiar island, Isla Nublar, on the opposite side of a certain failed theme park filled with dangerous live attractions. What could possibly go wrong?
With that "when will they ever learn?" premise now set, check out the first trailer for Jurassic World: Camp Cretaceous just below.
As you can see, Camp Cretaceous is going all out when it comes to iconic elements from the Jurassic Park/World film franchise, with an obligatory T-Rex chase, a tour ride made bumpy by a Triceratops, a dark boiler room pursuit from Velociraptors and even a close shave with the sea-dwelling gigantic maw of a Mosasaurus. Indeed, the inevitably pear-shaped survival experience involves dinosaur expert Darius (Paul-Mikél Williams), social media magnate Brooklynn (Jenna Ortega), pretentious tag-alonger Kenji (Ryan Potter), outgoing Sammy (Raini Rodriguez), bookworm Ben (Sean Giambrone) and uber-athlete Yaz (Kausar Mohammed).
A production of Universal Pictures, DreamWorks Animation and Amblin Entertainment, Camp Cretaceous is clearly aiming for a younger audience than the typically PG-13-rated film franchise from which it was spun. The series arrives from showrunners/executive producers Scott Kreamer and Aaron Hammersley, auspiciously joined in the latter capacity by film franchise heavies like Steven Spielberg, Colin Trevorrow and Frank Marshall. The series was developed by Zack Stentz, who also serves as a consulting producer.
Of course, the series is a demographic-expanding supplementary offering for the buildup to the upcoming third film in the current franchise trilogy, Jurassic World: Dominion, which will see the aforementioned Trevorrow return to the director's chair, which he occupied for 2015's trilogy-launching Jurassic World, which was followed up by 2018's Jurassic World: Fallen Kingdom, for which J.A. Bayona stepped in to direct. Yet, Camp Cretaceous is clearly an aesthetically bright homage to the overall film franchise in the manner akin to a Universal Studios theme park attraction, also bearing various nods to 1993's Jurassic Park, 1997's The Lost World: Jurassic Park and 2001's Jurassic Park III.
Interestingly enough the film for which Camp Cretaceous whets appetites, Dominion, is currently scheduled to hit theaters on June 11, 2021; a date that may be safely away from the current health crisis by almost a full year, but could still become interrupted by the fallout of 2020's industry-wide release date shifts—even in the event of a COVID vaccine's proliferation. Indeed, a report from last month revealed that Dominion is the first major Hollywood movie to resume production after the onset of the pandemic, and tabloid-aggregated paparazzi photos (which we will not link,) do affirm the notion that star Chris Pratt is currently back in L.A. shooting the film.
Jurassic World: Camp Cretaceous Release Date
Jurassic World: Camp Cretaceous, however, won't have to worry about post-pandemic fallout, since it's set to premiere on Netflix on Friday, September 18.