News
Inside No. 9: the 'Simon Says' Scene That Almost Went Too Far
Reece Shearsmith jokes that filming one scene in series six episode 'Simon Says' left him fighting for his life…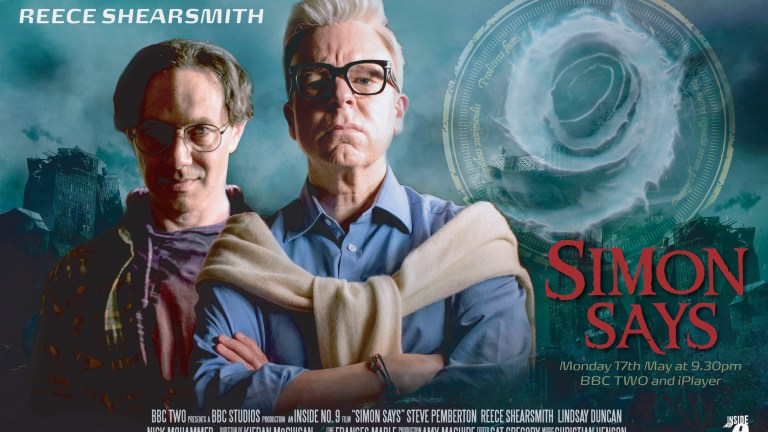 Warning: contains spoilers for Inside No. 9 series 6 episode 2 'Simon Says'.
From exsanguination to decapitation, Inside No. 9 episodes have never shied away from grisly murder, and so far, series six is no different. Opener 'Wuthering Heist' was a bloodbath, while follow-up 'Simon Says' gave us a total of four deaths – two faked and two real.
One of the real 'Simon Says' deaths was made to feel all the more authentic for filming choices made by director Guillem Morales. After Simon (Reece Shearsmith), the scheming fan of a fantasy TV series, blackmails its writer Spencer (Steve Pemberton) into remaking the show's unpopular finale, a misunderstanding leads to Spencer smothering Simon to death.
Speaking on the weekly BBC Sounds 'Inside Inside No. 9' podcast, which also includes great insights from the show's musical composer Christian Henson, the co-creators describe Morales' intention with the smothering scene. To contrast with the heightened, lavishly scored fake murder that precedes it, all the music was taken away and the suffocation was played in a long held shot with no cutting away. "It's that Hitchcock thing of seeing how long it takes to kill someone," says Shearsmith, "it's actually quite a long time."
The suffocation scene was supposed to be longer, explains Pemberton on the podcast. "But we were aware that, because [Morales] didn't want to cut away, we'd have a nightmare in the edit." To Shearsmith he jokes, "You were just talking about how you nearly died?"
"You were just on top like a tonne of bricks!" Shearsmith tells Pemberton, who'd been told to press all of his weight onto his co-star's face through the pillow.
Through shared laughter, Shearsmith describes filming the scene: "It was absolutely hellish and it was quite frightening. Of course, I could control it, I could get my mouth to the side and you were shoving with all your might – you had to for the acting – but there was one point," he laughs, telling Pemberton, "you managed to get my mouth covered, properly suffocating me, and I thought, actually 'I don't quite know what to do now. I can't say a safe word.' I think we had a thing where I would try and bang your legs or something but I was doing that anyway! I was, at one point, fighting for my life, but it's effective."
Pemberton agrees, "It's worth it! It's worth it," concluding, "It's a horrible, horrible scene." One of many in Inside No. 9's delightfully twisted universe.