Features
Inside No. 9 Halloween special: "this one is definitely in the horror genre"
In a London graveyard, Steve Pemberton and Reece Shearsmith tell us what to expect from the Inside No. 9 live special…
On one unseasonably warm October afternoon, a strange sight will have befallen the dog walkers of Stoke Newington. Two men in black, standing among the headstones of Abney Park Cemetery, holding a lighted pumpkin engraved with a number nine.
If the photoshoot for Inside No. 9's live Halloween special takes place somewhere suitably atmospheric, the venue for the press meet and greet afterwards is much more in the way of a Portakabin. With a door that shrieks upon opening as if being operated by a lab assistant named Igor, this particular Portakabin, on the cemetery grounds, has risen to meet the challenge of its surroundings. As four series of Inside No. 9 prove, Portakabin or train carriage, wardrobe or art gallery, there's nowhere Steve Pemberton and Reece Shearsmith can't lend a chill. 
Halloween special Dead Line involves a churchyard, hence the choice of interview venue. Even if it didn't, the foremost London cemetery for dissenters practising their religion outside the establishment feels like a fitting place to talk about Inside No. 9. Not just because its creators have an affinity with the macabre ("Doing a photoshoot in a graveyard with a pumpkin, I've died and gone to heaven!" says a delighted Shearsmith), but because they're dissenters too. From League Of Gentlemen to Psychoville to Inside No. 9, Pemberton and Shearsmith's work falls outside of the establishment. Comedy-horror-drama, or drama-horror-comedy, it's hard to categorise. Its sole constant is surprise. You never know what you're going to get.
We know very little about what we're going to get with Dead Line. Mid-October, rehearsals have yet to start, costumes have yet to be fitted and the studio is yet to be finalised. As a live episode, it won't be filmed on location. "It'll be a multi-camera set-up," explains Pemberton. "But it won't be like The Devil Of Christmas!"
"Hopefully it won't be like [2016 festive special] The Devil Of Christmas," agrees Shearsmith, "we're not doing an ironical take on something being filmed badly. Dead Line is a contemporary-set episode. "It should just be a good episode of Inside No. 9 that happens to be live as well, we've tried to make it as detailed as any other episode."
In the episode, which goes out on Sunday the 28th of October at 10pm on BBC Two, Pemberton plays Arthur Flitwick, a man who finds a mobile phone in a churchyard and endeavours to trace its owner. Shearsmith will play local vicar Reverend Neil, and the pair will be joined by their only guest star this time around, Stephanie Cole, playing parish member Moira. 
Writing on the episode began in the summer, before the pair went on the road with comedy collaborators Mark Gatiss and Jeremy Dyson for the League Of Gentlemen Live tour. "It's just slowly coming together now," says Shearsmith.
No strangers to the Halloween special, having made one for Psychoville in 2010, the idea of performing a live Inside No. 9 came from the BBC. 
"When someone puts that challenge down it is really impossible to ignore," says Pemberton. "Especially as we have done other things like a whole silent episode, a musical episode and one set entirely in a wardrobe."
Shearsmith explains, "It harks back to the ethos of No. 9 which is Play for Today and Armchair Thriller, which feel like they were filmed live, obviously they weren't, but that sort of telly-making suits the storytelling."
"It's an unusual prospect for us," says Pemberton. "We've never done anything like this before. It's much more like how they used to do it in the old days – a lot of prep, a lot of build-up and one chance to get it right on the night."
The need to get it right on the night is familiar to both from their time in the theatre. As is the experience of 'drying' on stage. Pemberton describes the first night of She Stoops To Conquer at The National Theatre and having to pour a glass of wine on stage while his hand was shaking uncontrollably. "It's not necessarily nerves though, it is adrenaline," he says. 
"I did The Producers for a year and about ten months in, I suddenly thought 'I don't know the first line of this thing, what am I doing!?'" says Shearsmith. 
"You just get this look in your eyes of 'I don't know what to say next'" laughs Pemberton. "I remember when we did Art, Mark [Gatiss] helped me out a couple of times when I'd completely forgotten my train of thought!" 
"We'll just have to watch each other's backs," says Shearsmith, "and try to muddle through." After forty-seven dates on the League Of Gentlemen tour, he's not that nervous. "As long as we rehearse it well enough we will be alright. We're confident about it." It's only a half-hour, adds Pemberton. "It's not like a two-hour play, so we should be okay."
Anyway, Pemberton laughs. The commotions of a live episode, such as the mishaps during 2005's The Quatermass Experiment—one of Dead Line's rare predecessors as modern live TV drama—are "what people want to see!"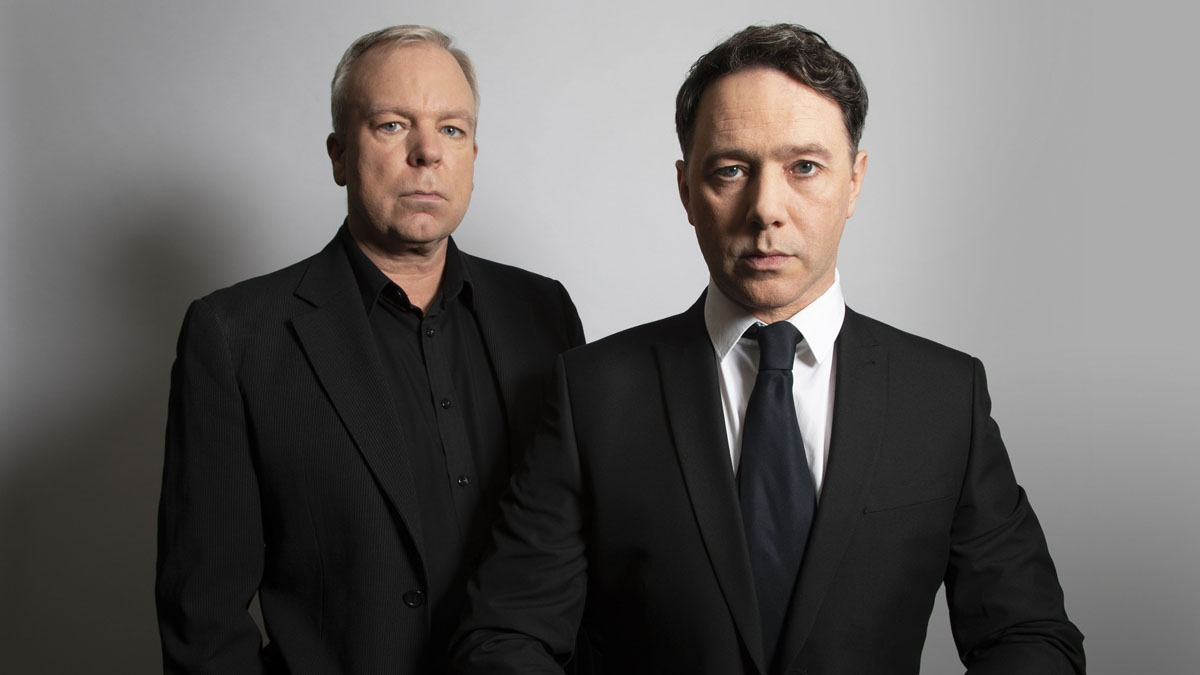 People also want, especially with an Inside No. 9 episode, to be scared. They can expect that from Dead Line. "With it being a Halloween episode it is quite a spooky story," promises Shearsmith. "And funny as well, so a bit of both. It's not a comedy romp in the way that some of the others are a bit more farcical. This one is definitely in the horror genre."
"We wanted to draw on the lovely Halloween special creepiness of EC Comics and Tales From the Darkside."
Shearsmith loves Halloween. If he could, he says he'd have it every day of the year. For a birthday present, Pemberton once took him to a haunted house event. "You go and you spend six or seven hours all through the night and they do table tipping or scrying. We found a face in a mirror, didn't we? But then it turned out to be a bit of wax that hadn't been rubbed in properly." 
Neither has had any actual supernatural experiences in real-life. A few years ago for BBC Radio 4, they held a ghost vigil in a reputedly haunted house called The Ram Inn in Bristol. "There were some spooky goings-on," says Shearsmith, "but it was all in our minds."
"It was Mark [Gatiss]!" says Pemberton. "We did a séance and there were some tappings under the table and at the end Mark said 'yeah, that was me'!" he laughs. "I was all set to believe it and then he confessed it was him all along."
As part of the spooky celebrations, Shearsmith often goes to Jonathan Ross' famous Halloween party. His costume of choice? "I try and think of things that are a bit leftfield. One year I went to Jonathan's with my son. I played Anthony Hopkins and my son was dressed as the dummy 'Fats' from the film Magic. I walked around carrying my son all night, but he weighed a tonne!"
Pemberton prefers to stay in for Mischief Night, taking the kids out trick or treating. He's had to rethink putting out one particular decoration though. "I had a Pumpkin made of my head in the Psychoville Halloween special, so I sometimes put that out, but it is genuinely terrifying," he laughs. "The whole face is cut up and the eyes are cut out so you don't really want to have that outside your house so a load of eight-year-olds see it…"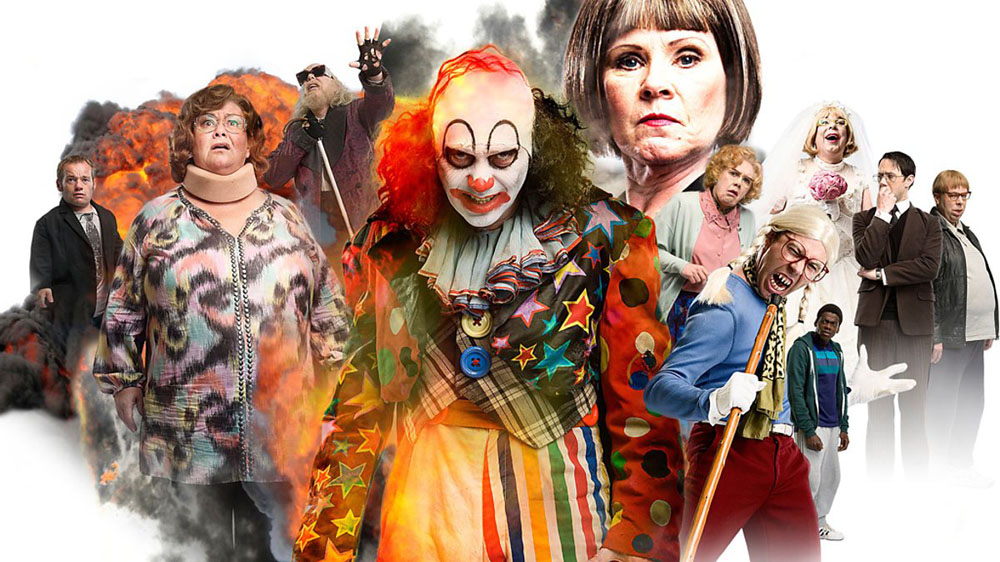 Psychoville provided a valuable experience to help preparations for this seasonal special. One episode filmed in a single long take meant that the effects all had to happen in camera, "so we're used to doing that," says Pemberton. In that episode "we had to hang a body on the back of a door and the door had to open and the body had to be stabbed, and it all had to happen in real time with no stopping, so there's always ways and little tricks and theatrical tricks you can use." 
Prior to rehearsals starting, Dead Line has been planned to the last detail. "Until we get in and get in that rehearsal room with all the equipment and with all the crew and everybody who has to work with us—it's  like a ballet between us and the crew, as they're moving around and you're moving around into different positions—it's going to be a really exciting evening," says Pemberton. "Let's hope it is scary in the right way!"
A couple of elements in the live episode promise to be technically challenging. "Until we get in the sets and physically do it, you can't know," says Pemberton. "But we've gone through it in our heads and we think it's going to work well, but we shall see. It'll be alright on the night!"
Dead Line airs on Sunday the 28thof October at 10pm on BBC Two. Be there and be scared.