Features
In 2020, The Deutschland Series is As Relevant As Ever
The critically acclaimed spy drama Deutschland 83, 86, and 89 may be set in the 1980s, but it is also very much about now.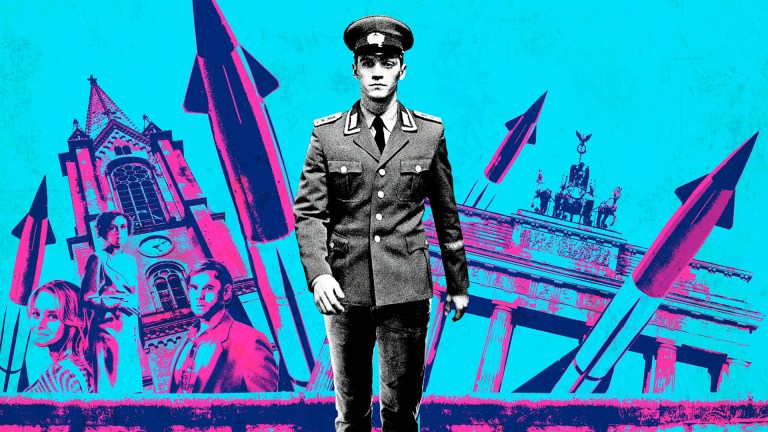 The final season of the Deutschland spy series begins with an ending. In the opening episode of Deutschland 89, the Berlin Wall falls, giving East German citizens free movement to West Germany and beyond for the first time in decades. What follows in the eight-episode final season is a social study in how different people react when their reality is suddenly and fundamentally altered. In the year 2020, as the world continues to reel from the seismic changes COVID-19 has wrought, it's an unexpectedly relatable experience.
"Deutschland 89 is really about how people have to reinvent themselves during a crisis," says Deutschland series co-creator Joerg Winger. "So I think, in that way, it does reflect today, but that was not intentional."
From the beginning, the Deutschland series—which launched in 2015 with Deutschland 83, continued in 2018 with Deutschland 86, and just concluded with Deutschland 89—has used history as a metaphor for contemporary politics. Because of this and because, as Faulkner famously wrote, "The past is never dead. It's not even past," it has never been hard to find topical parallels in the Deutschland story, especially when the world skews unfortunately closer to the historic tensions depicted.
"I still remember when Joerg and I first started working on Deutschland 83, thinking, 'Maybe we'll have to remind people of the Cold War. Maybe they won't remember any of this,'" says co-creator Anna Winger (who also co-created Netflix's 2020 German-American drama Unorthodox). "And then the tension with Russia began again, and there was this sort of egocentric writer moment where you're like, 'Did I write it and make it happen? Why is this happening again?' … Certainly, we couldn't have predicted tension with Russia coming back, but I think that the polarization definitely, the idea that you're on one side or you're on the other side, and that there is this kind of way in which the world has become divided, we were definitely exploring that."
Deutschland 83 follows East German kid Martin Rauch (Jonas Nay) as he is forced by his HVA agent aunt Lenora (Maria Schrader) and his estranged father Walter (Sylvester Groth) to become a spy in West Germany. Using the real-life Able Archer incident (which some historians believe is the closest we've come to nuclear war since the Cuban Missile Crisis) as setting, the first season is a fast-paced yet complex cautionary tale of what can happen when we lose track of the bigger picture in favor of political allegiances. 
On a more character-driven level, Deutschland 83 is the story of a young man caught between a desperation to stay alive so he can return home to his ill mother and pregnant girlfriend and a desire to keep the world from erupting into nuclear disaster. Because of this, much of the success of that first season and moving forward relied on the casting of the overwhelmed yet capable Martin. When Nay read the script for the Deutschland 83 pilot, he knew he wanted the part.
"I think that the first episode of the whole series is a masterpiece in throwing you directly into something," says Nay. "I think, dramaturgy-wise, it's really brilliant. For me, as a reader, I was so addicted. I immediately wanted to know where it went and I so deeply wanted to play that part of Martin."
Later, Nay would find out that Anna Winger had his picture on the wall during the writing process, imagining him as Martin, but Nay didn't know that when he went for the part.
"I hadn't played something of that genre, or anything comparable to that before," says Nay. "So I don't really know where she had the impression from that this could be a part for me, actually. The things I shot before were more like society drama, feature films. It was really, really, really different."
Joerg Winger says that Nay was always their first choice.
"There was a discussion we had at a later point with the directors in 83, who were thinking, maybe we need someone who's more of a conventional hero, like a young James Bond kind of actor," says Joerg Winger. "But I think, for us, it was really important that he has something vulnerable since one of the tweaks of the spy genre in Deutschland 83 is that it's a spy show combined with a coming-of-age drama, and Jonas has the vulnerability and almost the boyishness and innocence. He's a very good, solid person. And that translates also, I think, into his performance."
The initial idea for the series came from Joerg Winger's own military service experience during the 80s as a conscripted Bundeswehr soldier in West Germany, intercepting messages from Russian troops in the German Democratic Republic. But, for many people watching the series who were born after 89, a divided Germany may be hard to imagine.
"With young people, it's almost like what you learn in school ends with World War II, and then you never really got to the Cold War," says Anna Winger. "So, for a lot of young people, at least in Germany, they would say to us, 'This is like science fiction.' It's like, 'Imagine a world, and there's a wall that goes down the middle of Berlin, and West Berlin is cut off from supplies, and you can't get across it.' And you know, if you were to describe all that to anyone who was born in Berlin since 1989, it would sound absurd. It's like, 'And the dinosaurs roamed the earth.' It's very crazy to them. So, in a funny way, I've always thought the show is a little bit like the past as science fiction."
Nay, who was born in 1990, days before the reunification of Germany, is one of those people.
"I think there's actually a lot that changed my awareness of close German history, in particular the 80s, of course," says Nay. "I remember that when I read the first series, the first question that came to my mind was: 'Were we really so close to a nuclear war? Would anybody have told me if it was so close? Isn't that crazy that nobody told me before? Is it real or is it just made up, to increase attention?' I was like, 'OK, it seems a little odd to me that we were close before to a nuclear war and I never heard that before.' I'm really curious now what is going on behind closed walls, what I don't know about nowadays."
While all three seasons of the Deutschland series explores many of the same themes, the three-year time jump built into the fabric of the show means each season gets a soft narrative reset for its characters and setting. When asked about the choice to have three-year time jumps, Joerg Winger said it was somewhat incidental. Because of Able Archer and some of the Neue Deutsche Welle music circa 1983, the Wingers knew they wanted to start their story in 1983. They also knew that they wanted to do a trilogy and that it should end in 1989, with the fall of the Berlin Wall. Because of this, of the three settings, 1986 is the most random.
"I think it's a little bit like the Buddhist wisdom: wherever you dig, if you dig for long enough, you'll find something," says Joerg Winger of the 1986 setting. "We were a little bit nervous about the 86 question. When we started 86, we were like, 'OK, so what are we going to find in '86?' But then there's just so much."
When we catch back up with Martin in Deutschland 86, he has been exiled from East Germany for three years, living in Angola where he teaches English at an orphanage. While the other two seasons in the story keep their focus relatively tight on East and West Germany, Deutschland 86 expands its Cold War scope to visit places like Libya and Paris, where geopolitical tensions are manifesting in different ways but are still part of the same global story.
"We started writing 86 the day after the Trump election," says Anna Winger, "and I remember feeling really focused on looking at capitalism, because the story of 86 is kind of about the capitalist core of the engine that kept the communist regime going. And you see all these guys who are holding on to what they've managed to build at all costs, even though it's all really coming apart."
The Deutschland storyline comes to fruition in Deutschland 89. Three years following the events of Deutschland 86, the East German government is in even more dire straits. They are out of money, and the people are protesting. The final season is set against the backdrop of the collapse of the East German government.
"People didn't know what was going to happen for a few months, and that is a very unusual situation," says Anna Winger of the time period. "And also, for all these spies, they were really good spies, and suddenly, they had no country, the goals were completely unclear, and they were in the same place. The crazy thing about people in Berlin who live on the East side is they haven't gone anywhere, but everything else has changed. It's as if their country completely changed, and they're still living on the same piece of earth, and that's wild."
The Deutschland series may explore East German life in the 1980s at different stages of Communist collapse, but the parallels to the experience of living in today's crumbling capitalism are striking.
"I think as we came towards the end of the arc of the trilogy, certainly we got deeper and deeper into exploring late-stage capitalism and how that's the patriarchy holding onto power in any sort of regime," says Anna Winger. "We're writing a show about late-stage communism or socialism, but it still has a lot of parallels to late-stage capitalism."
In the midst of it all, is Martin Rauch, an audience surrogate for an everyday person just trying to live a good life with the people he loves amidst political and social turmoil. By Deutschland 89, Martin is understandably much more jaded than his 83-era self, but he has also somehow held onto his humanity.
"What Anna and Joerg always told me was that when they created Martin and how they wanted him to succeed, he should always have this moral compass that he's following," says Nay. "In a big contrast to all the people around him, like [his aunt] Lenora or [his father] Schweppenstette, that they are following rules given from somebody else or they're following their idealism, their socialist idea. Martin had the chance of getting a pretty uncolored picture of East and West, of both the states and both the sides. He had to find his own [way]."
Martin's ability to hold onto his humanity, to maintain some kind of admirable moral compass despite all of the things he has been through, is where much of the optimism in the Deutschland series ultimately lies.
"I always saw it like Martin being in the middle and people from left and right trying to pull him in directions and he's always trying to see or weigh out which is best for him and also for people around him," says Nay. "He's like, yeah, it's a hero thing I guess. I don't know. Yeah, Joerg and Anna wanted Martin to keep that. So it was kind of a challenge to, of course, let Martin grow up and let him harden and let him be very, very suspicious, more and more, not trusting anybody because what he learns is that, if he trusts somebody, he's going to be betrayed so he has to keep it in himself. That is the development that he goes through through all the seasons. Then, given this little lovable touch of hero-ness and moral compass, not losing that. It was kind of a balance act I would say. I gave my very best."
Ultimately, the Deutschland series ends as it told its story: thoughtfully, and with a fundamental empathy that doesn't guarantee a happy ending but rather something better. The possibility of holding onto one's humanity through pain and suffering and amongst forces so much larger than any one person. In 2020, that may be the flavor of happy ending we need most of all.
"In 89, the shit's hit the fan, and it's really over, and people are scrambling to redefine themselves," says Anna Winger. "But I suppose, if there's a message to the whole thing, it's that there are possibilities in chaos. And this is truly something I think we can learn from Germany: is that maybe there's the possibility of reinvention that is positive, that there's hope in reinvention, and that maybe when things come apart, there's a chance for something good to come out of it."
The entirety of the Deutschland series is now available to watch on Hulu.