News
Impractical Jokers Dreams Up a Star Wars/Star Trek Crossover
In this exclusive new clip from the Impractical Jokers season 9 return, the boys break some sacred sci-fi nerd laws.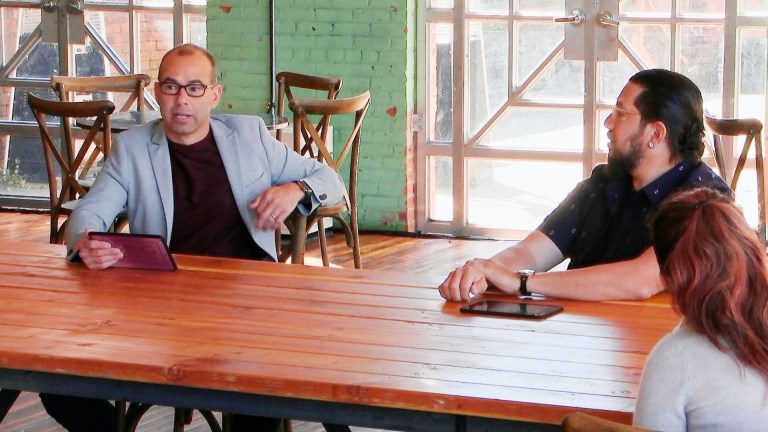 The boys of truTV's Impractical Jokers have been tasked with many humiliating punishments in their search for candid cringe comedy. Sal once had to perform as the "mean judge" of a children's talent show. Q was forced to turn down a woman's marriage proposal in a crowded stadium. The acrophobic Murr had to jump out of a freaking plane!
In the Impractical Jokers season 9 premiere, however, two jokers will be tasked with something truly unthinkable and unforgivable. Murr and Sal have to mix up the details of Star Wars and Star Trek. Check out the harrowing footage, exclusively provided to Den of Geek, below.
For anyone who is wondering how the Tenderloins a.k.a. the Impractical Jokers can still go unnoticed in public, this clip is Exhibit A as to how not everyone has a cable subscription. Though Sal is given the bizarre nom de plume "Prince Herb", Murr goes by his full Christian name, James Murray. Network exec Murray then introduces his idea for a new slate of programming: "Kirk & Darth".
"Imagine, if you will, 'Commander' Kirk from Star Wars and Darth Vader from Star Trek have to work together to save their home planet Earth. Live long and may the force prosper."
Sal understandably looks like he's absolutely dying inside. There are simply too many laws of popular science fiction violated here to endure. Surprisingly, however, the focus group is pretty into it. Bring on Commander Kirk swinging his lightsaber, please! In fairness to the crew assembled, Kirk & Darth is a legally impossible but still totally rad idea.
When copyright laws are finally enforced again and Captain Kirk and Darth Vader enter the public domain, that had better be the first new series commissioned.
Impractical Jokers has been the jewel of truTV's programming since it premiered in 2011. The hidden camera series follows four New York-based friends and comedians Brian "Q" Quinn, James "Murr" Murray, Sal Vulcano, and Joe Gatto as they do their best to embarrass one another in public. The show is an inspired take on the traditional hidden camera format in that the performers are almost always the butt of the joke and not the unwitting citizenry.
The show's ninth season first premiered on Feb. 4 2021 and wrapped up its first run of episodes on April 29 as part of its filming last year was interrupted by the coronavirus pandemic. Impractical Jokers season 9 begins a new run of 16 episodes Thursday, July 8 at 10 p.m. ET. The first eight seasons of Impractical Jokers are available to stream on HBO Max.