Features
Humans: what can we expect from series 3?
Humans returns to Channel 4 later this month. From its creators and cast, here's what the third series has in store…
"Has A.I. stolen your job?" Bold white lettering on a bright red background beneath an image of a Synth street-cleaner. That's the flyer on every seat of the screening room at the Humans series three press launch. Turn it over and you'll see a call to "Join the movement!" and a personally signed message from Claudia Nowak, head of anti-Synth pressure group We Are People. 
The rising popularity of We Are People, ("committed to championing YOUR RIGHTS in a world that's dominated by synthetics – machines which our lives and our CHILDREN'S LIVES in their hands") is one thread of Humans series three, the first episode of which arrives on Channel 4 on Thursday the 17th of May.
From new characters to new threats, here's what else to expect from the show's third run…
(And if you need a little reminder of what happened last series beforehand, take a look at our spoiler-filled recap).
A time jump
Series three takes place exactly one year after the series two finale, when, to save Mia's life, Mattie Hawkins released the consciousness code to every Synth in the world (an event referred to in the show as Day Zero).
"We thought we were being quite clever," says writer Sam Vincent, "and then a couple of weeks ago I read an article about how every series on TV is doing a big time jump and thought damn!"
Skipping ahead a year was a considered choice on the part of the writers, not only because depicting a "war-torn, people running around the streets screaming and everything burning and planes falling out of the sky" world would have been "a lot more expensive!" jokes Vincent, but also because "it was much more interesting to jump past that initial upheaval and get to a slightly more interesting place where things have settled down but nevertheless are very uneasy and all these undercurrents are bubbling away and it's a pressure cooker."
Politics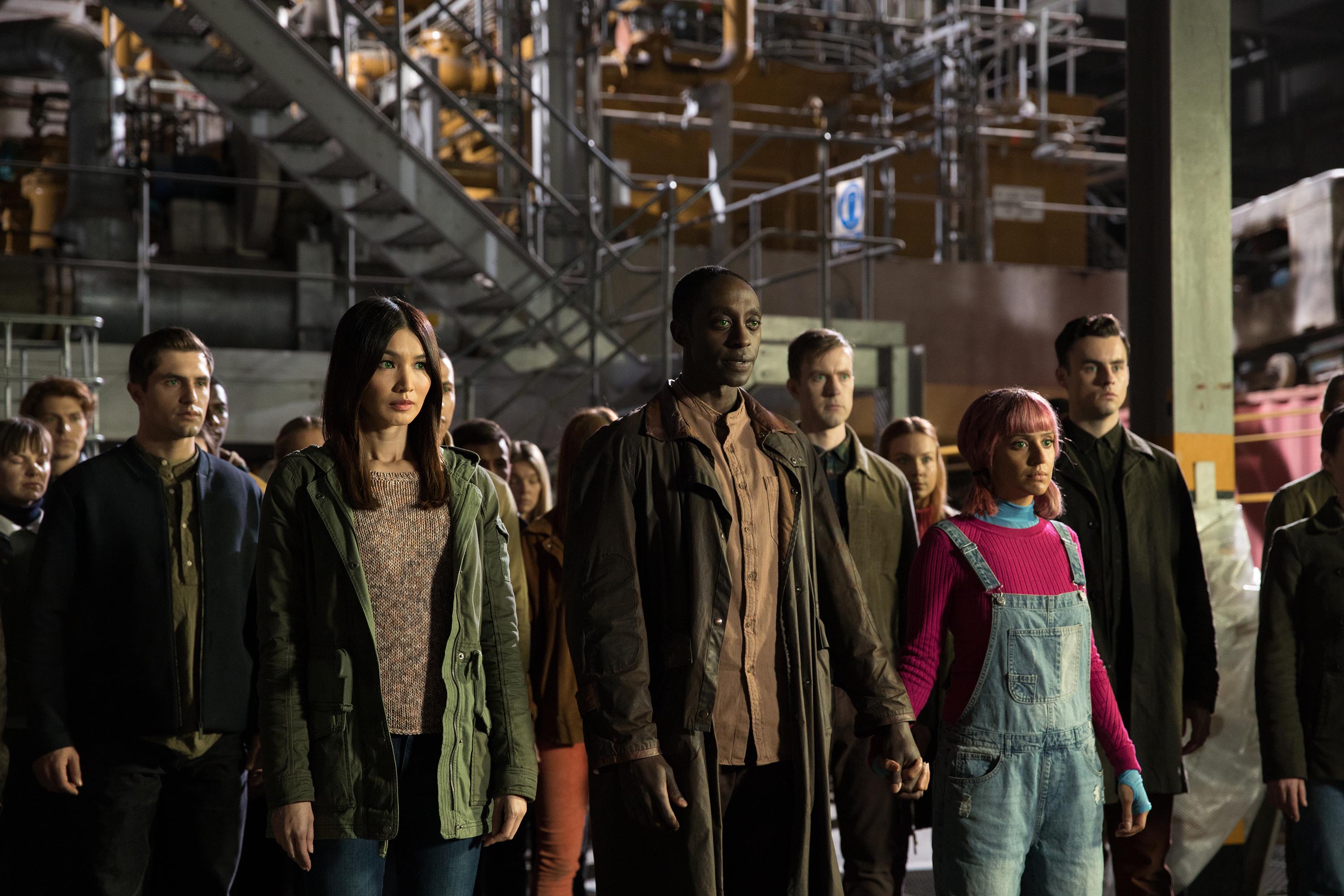 Each series of Humans has had its own distinct theme, explain Sam Vincent and Jonathan Brackley. "Series one was about two very different families—or one very ordinary human family and one completely extraordinary Synth family. Series two was sort of about pair relationships and different kinds of matches between human and Synth. Series three is very much the biggest series yet because it's about societies and culture and it's about how we as a society, as a species, would get to grips with the birth of a genuinely new, intelligent lifeform springing into existence all around us."
For Mia's character, says Gemma Chan, it's a question of, "How do you fight for the rights of your people, do you do it within the law, is it civil disobedience? What approach is the right thing to do? [Mia] is weighing up all those options and goes in a direction that's not necessarily expected."
Viewers can also expect political parallels with real-world situations. "We try to be relevant a year in advance! It's not easy!" says Brackley. "As it turns out, division is still a thing!" he laughs.
Don't expect a political polemic though, says Vincent. "We've tried to be even handed about it, it's not just straight-forward 'oh, the poor little Synths, look how badly we treat them'. We see the emergence of a terror cell within that. There are scenes where Joe makes a convincing argument for Waltringham and what's good about rejecting Synths. We try and come at every side of it."
Division
"Division is a huge theme, obviously, of the third series," says Vincent. Synths are now divided into two categories—conscious Synths with green eyes, and unconscious Synths with orange eyes manufactured post-Day Zero.
There's the global human-Synth divide, explains Vincent, but also familial division. The writers wanted to mirror how a large-scale conflict play out within a single family, as seen in real-life situations such as the Brexit referendum. "We wanted to show how the same issues that have been explored all through series one and two have also put a huge wedge in between the Hawkins family, says Vincent. "Exploring it on the smallest, most human level, and also on the biggest canvas possible."
New characters
Expect to meet a large number of new Synths, "both green-eyes and orange eyes," promise the writers. "We needed to show a range of different Synthetic characters."
There's also a new human character played by the brilliant Mark Bonnar (Catastrophe, Line Of Duty). He's a behavioural scientist with "an extraordinary ambivalence towards Synths" who shares scenes with Katherine Parkinson's Laura Hawkins.
Anti-Synth protest group We Are People becomes more prominent in series three, as does their leader Claudia Nowak.
Returning characters
The main Synths (Gemma Chan's Mia, Emily Berrington's Niska, Ivanno Jeremiah's Max and Ruth Bradley's Karen) are definitely back for series three, as are the Hawkins family members (Katherine Parkinson, Tom Goodman-Hill, Lucy Carless, Theo Stevenson and Pixie Davies).
What about Colin Morgan's Leo, last seen unconscious after being stabbed in the brain stem by his villainous Synth lover Hester? He's back, confirms actor Ivanno Jeremiah, but "considering there are no more Synthetic components in his body after the events at the end of series two, he's a very different version thereof. We'll see how that turns out."
We can also expect the return of Sam Palladio's Ed, the human who betrayed Mia in series two. "[Mia] definitely hasn't had closure over the whole situation with Ed," says Gemma Chan, "the first human that she was really very vulnerable with, who betrayed her. Ed does come back this series, so you do get to see some sort of resolution to that storyline, which I think is quite satisfying."
Whether Will Tudor's Odi, or Carrie-Anne Moss' Dr Athena Morrow will also return is yet to be confirmed.
New locations
Following the events of Day Zero, 'Green-eyes' have been forced out of mainstream society and into remote pockets away from humans. The community that Max and his partner Flash have built has expanded massively, with Max as their leader.
On the other side of the political divide, at the end of series two Joe Hawkins tried to convince wife Laura to up sticks and move the whole family to Waltringham, a village (actually filmed in Hitchin, Herts.) that has elected to be Synth-free. Series three sees Joe having made the move.
"As usual," says actor Tom Goodman-Hill, "Joe makes a decision without really thinking at the end of the second series and then has to live with the consequences. He's in Waltringham and kidding himself that everything's fine because Joe of course is an apolitical beast and he doesn't really think politically, he only thinks in terms of what he thinks is good for him and his children.
"He is forced now into a position where he has to think about what the consequences of Day Zero are for society and what his own decisions may personally mean politically to him and to the future of his children. Although he's trying to put a brave face on it and say 'this is great, I'm providing an alternative home and an alternative upbringing for my children', in fact what he's doing is making a statement. He's got to think about what that means for him in the future."
A new villain?
Series one had Professor Hobb, series two had Hester and to some extent, Milo Khoury… who is the main villain for series three? There are a few contenders, but the writers' answer is a bit more abstract.
"If there's a villain in this piece it's division," says Jon Brackley.
Gemma Chan agrees, "There's a sense of the events of the world taking over the personal lives of the characters and being swept along by history."
Tom Goodman-Hill expands on the idea, "I think the villain is the situation. It feels completely real, it feels like now, more than ever I think, now that the whole world is bedded-in, you kind of stop seeing the Synths, you just see the situations that people are in. It's not so much that there's a major villain, it's just that the situation is so huge and epic and far-reaching that you stop looking at individuals as being specific villains."
Series five?
"If we're lucky enough to get recommissioned," says Sam Vincent, he and Jon Brackley "have ideas. We can't help but imagine where it goes next. If we get close to the end of writing one, then we imagine the beginning of how the next one starts. We have ideas!"
Humans series three starts on Thursday the 17th of May at 9pm on Channel 4 in the UK, and at an as-yet-unconfirmed date on AMC in the US.