Features
How Avenue 5 Keeps the Legacy of Gene Roddenberry Alive
HBO's sci-fi comedy Avenue 5 has a commitment to diversity both behind the scenes and in front of the camera.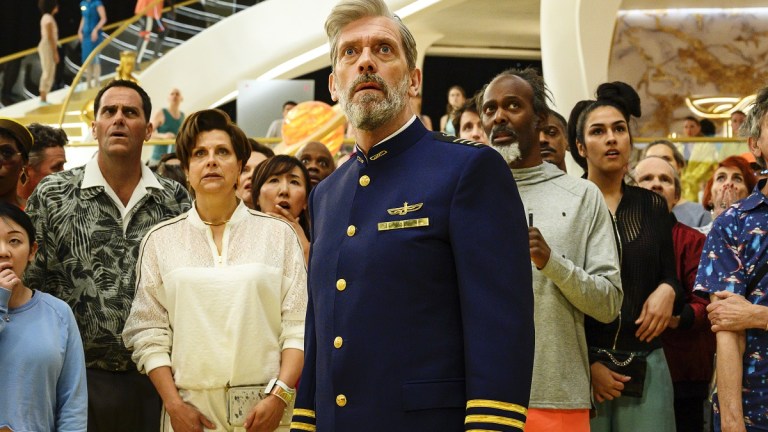 Over his decades long career Armando Iannucci has crafted a catalog of incisive, biting, and often crude satire. From the scarily prescient takedown of salacious news coverage, The Day Today, all the way to the British political comedy in The Thick of It and its multi-award winning American reimagining Veep, Iannucci has been at the forefront of making scathing satire hilariously funny. His newest project, Avenue 5, takes his caustic brand of humor and propels it into the future where a sterling cast of character actors led by Hugh Laurie (House) and Lenora Crichlow (Being Human) have to deal with an interstellar disaster that leaves them stranded in space on board a massive, luxury galactic cruise liner. 
Though at first the slow burn series might not seem quite as scathing as his previous works, Avenue 5 is filled with commentary about modern life and the bleak realities of corporate culture. Like any ensemble piece set in the wilds of the universe, the shadow of Star Trek hangs heavy on the big budget comedy, and in one of the show's most exciting and pleasant surprises, Avenue 5 picks up on one of the most vital parts of Gene Rodenberry's beloved series. Whereas many creatives who take it upon themselves to imagine the future can't seem to imagine picture other than a white, predominantly male society, Avenue 5 is refreshingly inclusive, which–despite the show arguably being about human error–offers up what Susie Nakumura explained as "a glimpse of what the future of making television will be like." 
Over the last few years the ongoing conversation about on-screen equity has become a lightning rod as marginalized creators and critics have begun to express the realities of trying to work within a system that has long ignored them. For Iannucci, the reasoning behind his impressive and surprisingly well balanced cast was simple. "I just want to work with great people. You know, I just want to cast around anywhere and everywhere. And I want it to reflect society." 
When Den of Geek pointed out that the concept of working with "the best people" is usually used as an excuse for a lack of diversity rather than an explanation for good examples of it, Iannucci shared somewhat of a personal revelation that he had after finishing his time on Veep and returning to the UK. "I was affected by that in a good way, the years I spent filming in Baltimore, which is a predominantly African-American city and was reflected in the crew. When I finished and came back home to London it made me realize how white and male our crews were really, and also our representation on screen. It just struck me as a kind of, 'Oh, actually, I'm as bad as everyone else' when I was looking back at my previous projects. So I just wanted to make sure that everyone was mindful of that and also if you're making a commentary on today it's got to reflect and look like today." 
Nikki Amuka-Bird who plays Head of Mission control Rav agreed, adding, "It was in all aspects of the environment, because it's also behind the scenes as well and it just feels very normal." The actor's character was one of two who were written without any gender or race assigned to them, but both of whom ended up being played by Black actresses. You may know Amuka-Bird from her brilliant turns in shows like Luther and Inside No. 9 or eclectic performances in films Jupiter Ascending and The Personal History of David Copperfield. 
In Avenue 5 she turns her talent for playing the straight woman on its head as she takes on the role of the level-headed and competent leader of the Judd Corporation's Earth base. There's something to be said that both of the most capable and intelligent people in the show are Black women, but what drew Amuka-Bird to the role was actually under the composed surface of the complex character she and Iannucci ended up crafting together. 
"I do often play these characters, these great, strong, officious women who definitely know what they're doing, what they're all about," she says. "Here I'm kind of playing with that because I got to bring my experience to it, because I've played it quite straight. But it was really lovely to kind of chip away at that and get to the fact that she actually can't handle it. She's really struggling and she can't show that, she can't tell anyone. That felt very human, which I loved. I found that really exciting. I've played a lot of characters where you have to be very straight and you have to really play it exactly as it's written, but we did a lot of improvisation and collaboration and we got to find the part that was uncomfortable, which actually felt uncomfortable because I didn't know what was happening next, and that felt really real." 
read more: Avenue 5 Spoiler Free Review
While Rav navigates the disaster from the dreary terrain of our planet, Hugh Laurie's Captain Ryan Clark is tasked with dealing with the ramifications of an extended stay on the ship in space. Although, as Iannucci assured us, this was always going to be a Hugh Laurie show, the central character is far from alone in shouldering the disaster or the show. Though Laurie wasn't available at the junket we attended, Lorena Crichlow, who stars as Billie, had some kind words to say about her co-star. "I have to give props to Hugh, he's very self aware and is really conscious of being generous. I felt seen, I felt valued, and it's just not something I take for granted as a woman. I wish I could, particularly on a set with careers of that caliber. But I came away feeling really like I get to expect that next time."
Billie is the ship's hyper-intelligent Second Engineer who might just be the hero that the 5000 passengers and crew needs. Crichlow is no stranger to genre fare but she was surprised when it came to Iannucci's deft hand at making the show and its set feel quietly radical. 
"When you ask what it was like… I want to sing," Crichlow says. "I have no words what it's like to walk on to set and have the second unit director be a woman, and to be surrounded by all of these people from different backgrounds, people of color. And the small things, the appreciation and celebration of different shades, accents, shapes and sizes, hair textures. I just think that what Armando is doing on a representation level… I feel indebted to him to be honest."
"I love that the industry is waking up to a lot of these things, but I think someone like Armando, it feels like he does it effortlessly and authentically," she continues. "I know what it feels like to be shoehorned into something but here I felt like I was chosen because I was good, not because I was being tokenized or fetishized. These are not things that are wasted on me as a person." 
The entire cast was effusive about their experiences working with Iannucci but for Crichlow it was nothing less than a profound experience. "With Billie, I went on a personal journey of stepping up to the challenge because you've got Hugh Laurie on your right and Armando on your left and you think, 'Me?' But by the end I felt very comfortable in my seat which was really cool. I think that it was really down to the way that everybody works and creating the kind of environment that was created." 
Crichlow's enthusiasm is shared by Suzy Nakamura who plays a stern corporate handler, Iris, who's charged with keeping tabs on the company's eccentric and awful CEO, Herman Judd. The actress has starred on series like Curb Your Enthusiasm, According to Jim, How I Met Your Mother, and many more, but there was something about the way Iannucci crafted his sci-fi romp that inspired her.
"What was great for me was that it's set in the future but the working environment that Armando created gave a glimpse of what the future of making television is going to be like, that's inspiring and hopeful to me," Crichlow says. "And it was everything: the departments that worked on– even the background actors and what they wore and what their hair looked like and what the, you know, what are the gender norms in the future? What are people going to wear?"
Nakamura spends a lot of her onscreen time with Frozen star Josh Gad who plays the terrible tech-bro-nightmare that is the Judd Corp. CEO and the actor had his own view on Iannucci's talent for casting. "I just thought it was so brilliant, like forget the fact it was a diverse cast, I think that needs to not be the exception but the norm. I think we need to stop patting ourselves on the back for that. To me this was just exceptional casting, in terms of the absolute right person and the right role even down to someone who just had like two lines." 
Creatively, Nakamura even used Avenue 5's progressive ideals to avoid having to alter her own looks in a wonderful little move that subverted the usual expectations placed on women in Hollywood. "Iris has white in her hair because I said, 'I don't think women are gonna cover their grays, because it's gonna be a sign of maturity and wisdom and something that you boast about, that you show off.' Also, Suzy Nakamura didn't want to dye her hair again. But, you know, I justified it by saying you know what in the future women aren't going to dye their hair."
Avenue 5 has its fair share of genre stalwarts but Star Trek: Voyager's Ethan Phillips is one of the core cast's funniest characters as the hard living ex-astronaut Spike. He too was blown away by the forward thinking way the show was made but he also had some ideas that could be explored if the show gets picked up for a season two. 
"There were more women directors than men," Phillips says. "Something else that was interesting that we were talking about was that everybody on the ship is wealthy. You know, otherwise they couldn't afford that trip. But then again, maybe 40 years from now everybody is wealthy? Maybe there are no poor people anymore? We didn't talk about that yet. We don't know really what society is like outside that ship." 
We'll be interested to see how the unexpectedly kind and thoughtful Avenue 5 hits with fans of Iannucci's darker work especially as the first four episodes are a decidedly slow burn experience. Whatever the reception Avenue 5's cast and crew are clearly passionate about using the show to propel the conversation around representation into the future.