Features
House of the Dragon Cast Break Down THAT Shocking Birth Scene
Exclusive: The House of the Dragon cast speak of the bloodiest scene in the Game of Thrones prequel.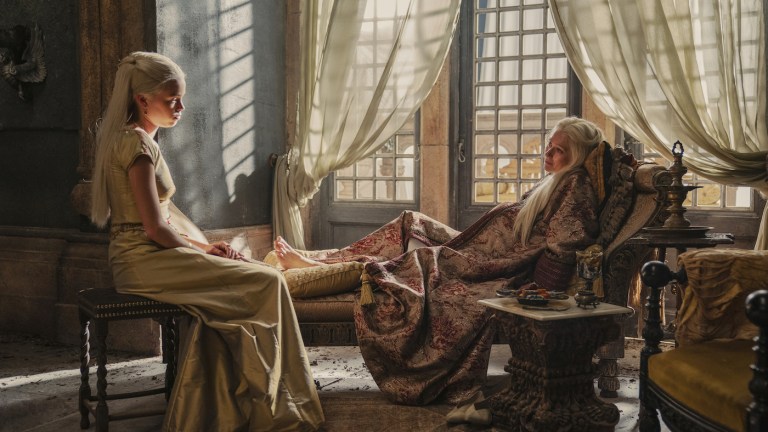 This article contains House of the Dragon episode 1 spoilers.
There have been many death scenes from Game of Thrones lore depicted onscreen. But none like this. Aemma Targaryen (Sian Brooke), the queen and wife of Viserys Targaryen (Paddy Considine), is in her seventh labor. The king's consort has already provided the monarch with a healthy and happy daughter named Rhaenyra (Milly Alcock), who is more than ready to rule. However, Viserys is determined to have a son, even after numerous miscarriages and stillbirths have left his wife's health on a precarious edge.
 That edge finally collapses near the end of House of the Dragon's first episode when during a difficult labor, a maester informs His Grace that they can save either the mother or the child—who is apparently male. Up to this point, Viserys has been depicted as a kind, even loving man who dotes on his wife and daughter. Still, it's no choice at all for a king wishing to perpetuate a dynasty through a son. Often in history, we read "she died in childbirth." But in a way more heinous than almost any death scene on Game of Thrones, we actually see what "death in childbirth" can mean when Aemma's labor becomes a forced birth, and her demise takes on the connotations of a murder.
Emma D'Arcy, who plays Rhaenyra as an adult in upcoming House of the Dragon episodes, doesn't dispute that description when we mention the scene to them.
"I think it's sort of fundamentally important [to show that] honestly," D'Arcy says. "We're in a context where an unborn child, if it might be male, is more valuable than the woman bearing that child. And it's not like this stuff's been made up. Historically, women going into childbirth would write goodbye letters to loved ones because the mortality rate was so high that you didn't know if you were going to come out the other side."
It also adds to the unexpected timeliness of House of the Dragon, both for the viewers and the cast. On paper, it would be easy to dismiss the new HBO series and Game of Thrones spinoff as just more high fantasy—a chance to live in a fictional realm divorced from reality. But as D'Arcy is keenly aware, the series' burgeoning conflict over whether male lords in a patriarchal society will accept Rhaenyra Targaryen as their ruler has echoes in our times. And they're getting louder.
Says D'Arcy, "Women in this context are associated with motherhood, with amenability, with duty, with incapacity, and I think one of the questions that the show is raising is how do you start to undo those labels and how does a woman who is looking to rule convince a male electorate that she is not Other? That is a really important question to be floating today."
They even add while discussing the birth scene that "in the States, we've just seen the Roe vs. Wade ruling overturned, women's right to bodily autonomy continues to be questioned, and those rights are receding with incredible rapidity. I don't think there is anything in that scene that's gratuitous. I think what it is, is describing a context where men consolidate power and women are incubators, possibly for more men."
It's a notion that their co-stars, including those who play the same character, would seem to agree with. When we speak with Milly Alcock, who actually shared scenes with Brooke as mother and daughter, the performer notes how angry Rhaenyra is after being told her mother died in childbirth, and yet how unable she is to articulate this.
While discussing Rhaenyra's feelings toward her father by the end of the episode, Alcock says, "I think she's conflicted, because ultimately you love certain people in your life, the family in your life whether they're chosen or biological. So she's conflicted with understanding that her father made her mother get pregnant numerous times, but also she isn't afforded the privilege to understand that it could've been different because she accepts the reality that's presented to her, which is men are more valuable than women. She doesn't know that's not right, but we do as a modern audience."
The irony that House of the Dragon appears poised to explore is that perhaps our modern understandings of patriarchal systems are still not that far removed from the medieval realm George R.R. Martin's Game of Thrones lore fictionalizes. For instance, the book Fire & Blood, on which House of the Dragon is based, is written as a medieval historical text from the perspective of a male maester. Martin intentionally creates ambiguities and contradictions for the reader to interrogate and speculate on. However, when Emily Carey, who plays Alicent Hightower as a teenager in the new series, told San Diego Comic-Con that the series would present a more complicated portrait of her character than the villain insinuated about in the text, she got blowback on social media from presumably male Fire & Blood readers.
"I will say transparently that I got a huge amount of backlash from saying at the panel that Alicent is not the villain of the story," Carey reveals when we sit down with her and Alcock. "I think people are expecting her to be this scheming woman, and I haven't seen the episodes that [Olivia Cooke's] in, but the Alicent I play, when we meet her, is a young girl, a product of the patriarchy being pushed and pulled by these men around her, and she's confused. She's often lost, and she's just trying to make her way in this world."
Indeed, much of the first House of the Dragon episode is centered on the friendship of Rhaenyra and Alicent, who seem preternaturally close. And one of the most useful creative tools for Carey during the making of the show is how she began creating a journal written from Alicent's perspective about the events in the series. When we ask what is written there about Rhaenyra during the events of the first episode, Carey says:
"I think something we explored within the relationship between Alicent and Rhaenyra is their closeness, and sort of toeing the line between platonic and romantic—in the sense that these young women, girls even, are confused by their closeness but also blissfully unaware… so I definitely wrote a huge amount about her feelings toward Rhaenyra, this overwhelming adoration and love that she couldn't quite fathom or put into words."
And yet, both Alcock and Carey note the seeds of that relationship's destruction are also laid in the first episode. Alcock describes this as due to an "internalized misogyny" that is already threading a line of jealousy between the pair. But the road to perdition becomes explicit at the end of the first episode. For Rhaenyra it is perhaps due to her father picking an ill-fated unborn child over her mother, and for Alicent it is because of her own father, Ser Otto Hightower (Rhys Ifans), beginning to push Alicent toward the grieving and widowed king as a form of temptation.
"We kind of leant into the confusion," Carey says of developing that scene with Ifans and director Miguel Sapochnik, including how they filmed it four different ways. "Alicent doesn't know what the implications are. Maybe she does; maybe she doesn't; she's not quite sure. But if she does understand, she definitely can't comprehend them. So journaling for me helped lay that out."
While Alcock and Carey may not play the eventual fruit that internalized misogyny and confusion bears, their counterparts, such as Olivia Cooke who plays Alicent as an adult, can follow that thread from the first episode.
Says Cooke, "I think she is a product of incredibly bad parenting. She's been indoctrinated since such a young age. She's been groomed to be a consummate woman, a little girl of the court, and she has no idea that she's a political pawn in her father's ever growing ambitions. And when we see my version of Alicent, she's beginning to understand the relationship between father and daughter just hasn't been a healthy one, it hasn't been a loving one…. it's been completely self-serving and she's trying to reckon with who she would be if it wasn't for her father. What does she actually want from life in the kingdom and what are her pure ambitions?"
But then there is much reckoning to go around, onscreen and off.
House of the Dragon is now playing on HBO and HBO Max.