News
House of Cards Season 6: Release Date, Trailer, Cast, News, and Story Details
House of Cards Season 6 is coming, whether you're ready for it or not. But hey, the focus is on Robin Wright's President Claire Underwood.
The departed, but not so dearly missed, President Frank Underwood once said on House of Cards, with Southern homespun sleaze, "the road to power is paved with hypocrisy and casualties." How apt that turned out to be, given the impeachment that soon followed for Frank Underwood actor Kevin Spacey. House of Cards Season 6 will be the show's last season… without the disgraced former lead. Yet when one door closes, a window opens, and Robin Wright's Claire Underwood is seizing that entrance.
"We were really excited we could get to an agreement… for the conclusion of the show," chief content officer Ted Sarandos  told UBS's Global Media and Communications Conference in New York. The final eight episodes will still star Robin Wright as Claire Underwood, the 47th and current President of the United States. Hail to the chief, y'all.
House of Cards Season 6 Trailer
A new House of Cards Season 6 trailer has arrived.
Much like in the previous trailer (immediately below), the tone of the Claire Underwood presidency is prevalent. While it goes without saying that she and her (late) husband, Frank, have left a long trail of blood and personal destruction during their amoral rise, we see the now-president, Claire, trying to obscure those sins behind the façade of feminism. However, it appears that the Underwood chickens will most likely come home to roost in an epic way in this final season.
In this previous trailer, we first learned the final fate of the show's former star and main character in Kevin Spacey's Frank Underwood. Our emphasis on final is quite purposeful, since the trailer reveals the show's post-Spacey strategy of killing off Frank. (It's not a spoiler if the show is promoting that narrative.) We see Claire standing over Frank's grave throwing figurative and literal shade, almost like a demented Machiavellian reversal of the scene in Forrest Gump at Jenny's grave. – Good stuff.
Here's a previous teaser featuring quick message from the new President:
Here's the first trailer for House of Cards Season 6:
House of Cards Season 6 Release Date
House of Cards Season 6 will premiere on Netflix on November 2.
With Netflix's reveal of the release date comes the first official poster for the final season, evoking imagery from the show's Season 1 poster, which depicted Kevin Spacey's Frank Underwood sitting on the Lincoln memorial's throne-like chair.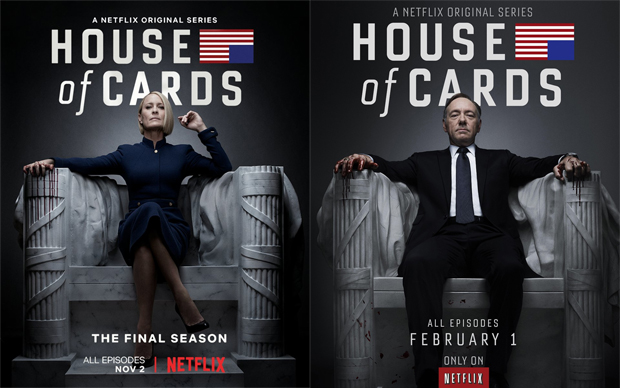 House of Cards Season 6 Cast
House of Cards' attempt to rebuild itself for one last season around Robin Wright's Claire Underwood occurs amidst the fallout from the Kevin Spacey scandal(s) will see the series showcasing new supporting cast members in addition to the returning Claire Underwood and Michael Kelly (Doug Stamper) in lead roles.
Cody Fern has joined House of Cards Season 6, reports TV Line. The up-and-coming Aussie actor will reportedly join the cast as a series regular. Fern was rumored to join the cast earlier as a potential love interest for Kevin Spacey's Frank Underwood before the star's own proverbial house of cards collapsed. However, other than the role's "modified" regular status, no other details have been revealed about Fern's character. Thus, it will be interesting to see if the previously rumored dynamic sticks, only minus Frank, obviously.
The show recently nabbed some star power, casting Oscar-nominated actors in Greg Kinnear and Diane Lane.
While most of the details about the duo's characters have yet to be revealed, it is said that they will play siblings, an idea that could lead to anything when put through the lens of the show's dark Machiavellian power-seeking themes.
Amongst the array of returning regulars, House of Cards Season 6 will also see the return of Constance Zimmer's jaded journo, Janine Skorsky, who proved to be a crucial figure for Season 1's Zoe Barnes (Kate Mara), whose murder at the hands of Frank Underwood continues to be colossally consequential five seasons later. Also returning is Jayne Atkinson as the Underwood's eternally tormented (former) Secretary of State, Catherine Durant. Derek Cecil also returns as Seth Grayson.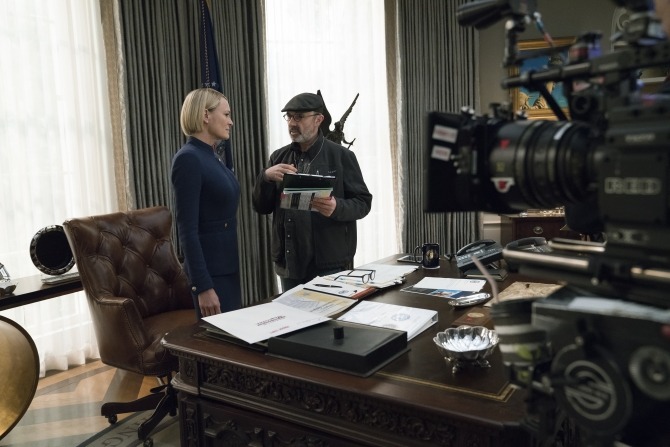 House of Cards Season 6 Story Details
"It only takes ten seconds to crush a man's ambitions," the recently elected President Underwood said in season 3. The announcement that  House of Cards season 6 will be its finale was made within 24 hours of Star Trek: Discovery actor Anthony Rapp's allegations that Spacey made a sexual advance at him when he was 14 years old more than 30 years ago. According to published reports, the cancellation notification had already been planned a month ago and was not a response to the claims.
House of Cards creator Beau Willimon called Rapp's story "deeply troubling." He said he never "witnessed nor was aware of any inappropriate behavior on set or off." He added that he takes "reports of such behavior seriously and this is no exception."
"Media Rights Capital and Netflix are deeply troubled by last night's news concerning Kevin Spacey," Netflix announced in a statement at the time of the first allegation. "In response to last night's revelations, executives from both of our companies arrived in Baltimore this afternoon to meet with our cast and crew to ensure that they continue to feel safe and supported. As previously scheduled, Kevin Spacey is not working on set at this time."
Spacey's first PR-conscious response to the initial allegation was that he was "beyond horrified to hear [Rapp's] story. I honestly do not remember the encounter, it would have been over 30 years ago. But if I did behave then as he describes, I owe him the sincerest apology for what would have been deeply inappropriate drunken behavior, and I am sorry for the feelings he describes having carried with him all these years."
Spacey's statement also addressed his own sexuality. "I have loved and had romantic encounters with men throughout my life, and I choose now to live as a gay man," Spacey said.
The actor was criticized for using the apology as his platform for coming out.
"Coming-out stories should not be used to deflect from allegations of sexual assault," GLAAD president and CEO Sarah Kate Ellis said.
Following more allegations, Netflix quickly suspended production on House of Cards season 6 and undertook a self-assessing evaluation of the House of Cards set following a bombshell CNN report that alleged eight current and former members of the House of Cards cast and crew underwent harassment on the set. Describing Spacey as "predatory" and the set as a "toxic" workplace, the CNN report helped pave the way for Netflix severing all ties with Spacey on Nov. 3, 2017. In addition to removing him from starring or producing in the final season of House of Cards, it also means the streaming service will not release Spacey's Gore Vidal biopic, which was already in post-production.
While speaking about President Claire Underwood with The Hollywood Reporter, Pugilese said, "Now that she's become more ambitious, or actually just more pronounced with her ambitions openly about what she wants, her complicity is going to be different than Francis' complicity. How does she manifest her ambitions in that complicity that she's looking for in the audience and eventually the voter?"
Robin Wright also spoke with the trade about Claire in a potential new season, saying she imagines Claire will be the best president ever depicted on House of Cards. With that said, Wright added, "How she gets there and achieves that is a whole other thing regarding the opera of the show."
Showrunner Gibson meanwhile told TV Line: "We were trying, in a disciplined way, to navigate that shift at the end of last season [when Claire first talked to the camera] and not overplay it [this season]. But I think it's inevitable that that will need to be explored further [in season 6]."
Culture Editor Tony Sokol is an old school geek who cut his teeth on the wire services and also wrote and produced New York City's Vampyr Theatre and the rock opera AssassiNation: We Killed JFK. Read more of his work here or find him on Twitter @tsokol.
Joseph Baxter is a contributor for Den of Geek and Syfy Wire. You can find his work here. Follow him on Twitter @josbaxter.
Read and download the Den of Geek NYCC 2018 Special Edition Magazine right here!