News
Homeland Series Finale Release Date Details
Carrie Mathison and Saul Berenson are in the endgame now. Here's when you can find out their final fates in the Homeland series finale.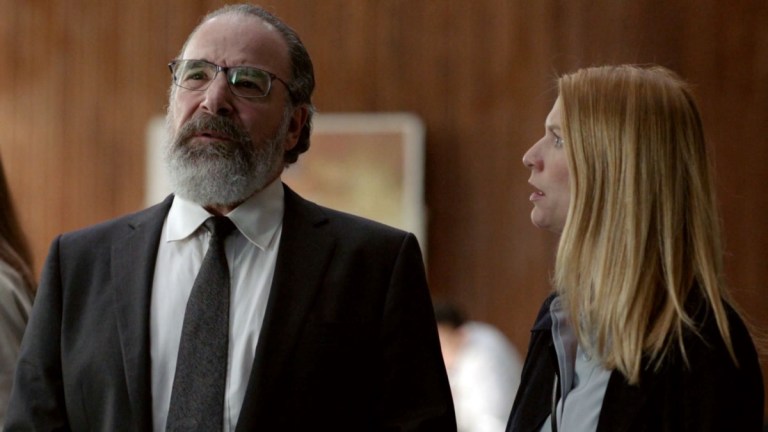 Things are looking bleak now. Carrie Mathison is in proverbial handcuffs and on a mission that requires her to betray her mentor in order to save the country. Saul Berenson, meanwhile, is pretty much on the complete political outs with a warmongering neocon administration that in less than a fortnight is eagerly starting a third Middle East war.
All of this leaves viewers precariously on edge for the Homeland series finale. So in case you haven't been keeping count here's the score: there are two episodes left of Homeland Season 8, including next Sunday's "The English Teacher." But the finale episode of the season, and the finale of the series, does not air until Sunday April 26, 2020. It has no current synopsis, but there is a heck of an evocative title attached to it: "Prisoners of War."
If you recall the whole series began because Carrie learned via an asset in Iraq that there was an American prisoner of war who al-Qaeda had brainwashed and turned against his country. Shortly after that, Nicholas Brody was "rescued" from seeming death. Carrie's suspicion of the prisoner of war turned into an obsession, all while the apparent war hero saw his lot rise and rise. In many ways, proving the truth about Brody cost Carrie everything, even though she was right. And Carrier has now herself been a political prisoner, if not officially a "prisoner of war." At the end of season 7, Carrie was arrested and tortured by the Russian GRU as the victim of an unofficial Cold War that apparently has never ended.
So by ending the series on a title like that, we can expect things to turn at least partially full circle in the final episode of Homeland, although it is hard to imagine it will actually end with Carrie yet again in the custody of her enemies. Not unless you count the CIA, which used her and is now ready to dispose of her freedom forevermore, as the greatest foe she's ever faced.
The finale is written by staff writers Nick Leith Baker and Jonathan Redding and is directed by Lesli Linka Glatter, who's directed 25 hours of Homeland, including the episode where Carrie broke Brody in season 2, "Q&A." That was her first, in fact. In addition to series regulars Claire Danes, Mandy Patinkin, and Linus Roache, we also know Russian master spy Yevgeny and Pakistani agent Tasneem Qureshi will also appear in the finale as cast members Costa Ronin and Nimrat Kaur are credited.
To borrow an old Showtime slogan, brace yourself.