Reviews
Harvey Birdman, Attorney General Review (Spoiler Free)
Birdman's back, baby! One of Adult Swim's first and finest returns to take down a corrupt presidency in what's an A+ reunion special.
This Harvey Birdman, Attorney At Law review contains only light spoilers.
"I'll take the case?"
"Ha Ha Ha, you CAN go home again."
Harvey Birdman, Attorney At Law was a flagship program that was instrumental in helping Adult Swim establish its alternative brand in their early days. Programs like Harvey Birdman, Space Ghost: Coast to Coast, and Sealab 2021 all took classic cartoon properties that were gathering dust and slathered them with a new inventive coat of paint. It's been ten years since Harvey Birdman, Attorney at Law ended back in 2007 and Adult Swim has become a lot more ambitious during this decade. It could be very easy for this surprise return of the character to act as a welcome dose of nostalgia but still feel like a product of a simpler time. Fortunately, it's the exact opposite with Harvey Birdman, Attorney General. This return is as hilarious as any of the best things recently aired on Adult Swim. It's so perfect that the worst thing about it is that we're not getting a full season of more Birdman to aid us during these troubling times that we live in.
This special revolves around Harvey getting Phil Ken Sebben (who is now president) out of office and stop some missiles that are headed towards Earth, but honestly, that's really not important. Just laugh at this madness. Harvey Birdman, Attorney General addresses the absurd situation around the premise itself and how it probably came to be because of a stupid joke between series creators, Michael Ouweleen and Erik Richter. It also addresses the fact that Harvey appeared to be dead at the end of the series finale, "The Death of Harvey." Again, not important. Just drown in this hilarity.
Harvey Birdman, Attorney General flies around with a relentless pace and provides an onslaught of visual gags that never allow it the opportunity to slow down. Harvey Birdman is a laughter shark and if it stops moving, it will die. This one-off special captures the magic of the original series in every single way. One incredibly Birdman-esque tangent features a fictitious book that snowballs out of control and nearly destroys the nation. It's a surreal non sequitur, but the special somehow loops it back into the narrative with surprising efficiency.
further reading: Daredevil Season 3 Spoiler Free Review
A lot of this installment feels like a fever dream that often wants to overwhelm and disorient you. It's a glorious feeling that's really not consistently found anywhere else on Adult Swim right now. Hundreds of visual things get crammed into these twenty-two minutes. If you do a drinking game that involves taking a shot for every dig that the special makes at Turner Broadcasting, you're likely to end up in the hospital. Harvey Birdman hasn't missed a beat from when it left the airwaves eleven years ago.
Whether it's Harvey, Phil, Birdgirl, or Potamus, every character is used flawlessly in their new roles and they all play into their strengths just enough that this doesn't feel pandering or derivative. It's surprising how natural these cabinet positions fit their existing character traits. This special uses our terrifying political climate in an impressive way that actually improves upon its material, rather than become distracting. A lot of vehicles have shoehorned in political storylines, but it's something that feels so natural for this show's skewed perspective.
The show remains very cleverly written. It doesn't struggle in its new playground. It finds smart applications for the show's established cast. There's even a diegetic way this story plays into the series' beloved title sequence. Harvey Birdman, Attorney General offers up something new with its presidential-sized problem, but it still knows when to pay homage to some of the series' most beloved episodes, such as a brief stylistic nod to the "Sebben & Sebben Employee Orientation" episode.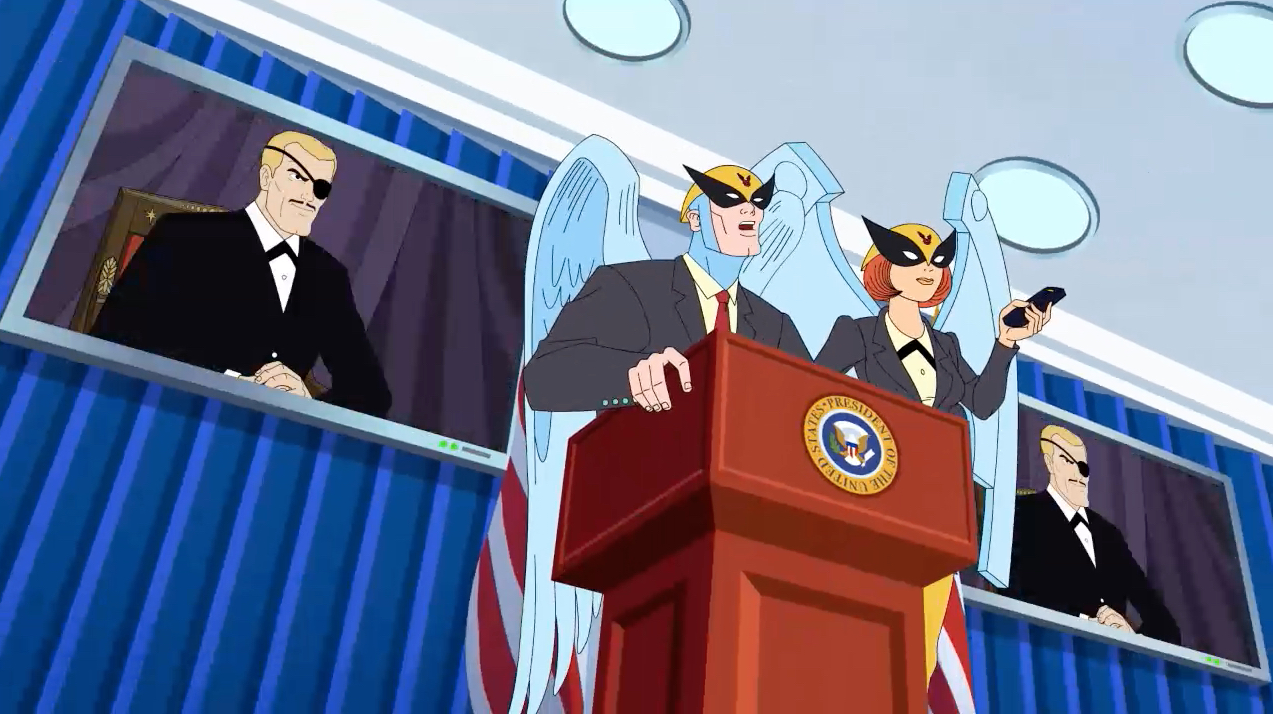 It's great to have Gary Cole and the rest of the cast back as these strange characters, but a lot of this episode feels like it's a showcase for Stephen Colbert. The "inaugurpeachment sequence" is fucking nuts and sees Colbert engage in a musical suet with himself. It's clear just how much fun Colbert is having here. Even if this whole return was just an excuse to get Colbert back in this bonkers role, that's fine. He's unleashed here and his performance is so passionate. Meanwhile, while plenty of the Birdman staples are present here, fan favorites like Mentok, X the Eliminator, Black Vulcan, and Ernie Devlin show up in limited capacities. It'd be a lie to say that the episode doesn't feel crowded, but it feels crowded from frame one. It at least still shows some restraint when it comes to its casting call.
Harvey Birdman, Attorney General could perhaps feature more courtroom scenes and riffs on classic Hanna-Barbera characters to be truer to the original series, but that really seems like splitting hairs when there's so much fan service at work here. What's important is that this return is funny as hell and it will hopefully have many new viewers seek out the brilliant original series that helped put Adult Swim on the map in the first place. This special is what every Harvey Birdman fan has been waiting for, and then some.
Hopefully this isn't the last time that Peter Potamus sends us that thing, but if it is, then it's the perfect homecoming for this series.
Ha Ha! Coming!
The half-hour special, Harvey Birdman, Attorney General premieres Sunday, October 14th at midnight (ET)
Daniel Kurland is a published writer, comedian, and critic whose work can be read on Den of Geek, Vulture, Bloody Disgusting, and ScreenRant. Daniel knows that the owls are not what they seem, that Psycho II is better than the original, and he's always game to discuss Space Dandy. His perma-neurotic thought process can be followed at @DanielKurlansky. 
Read and download the Den of Geek NYCC 2018 Special Edition Magazine right here!