Reviews
Harley Quinn Episode 8 Review: L.O.D.R.S.V.P
The latest episode of DC Universe's Harley Quinn takes us to Atlantis.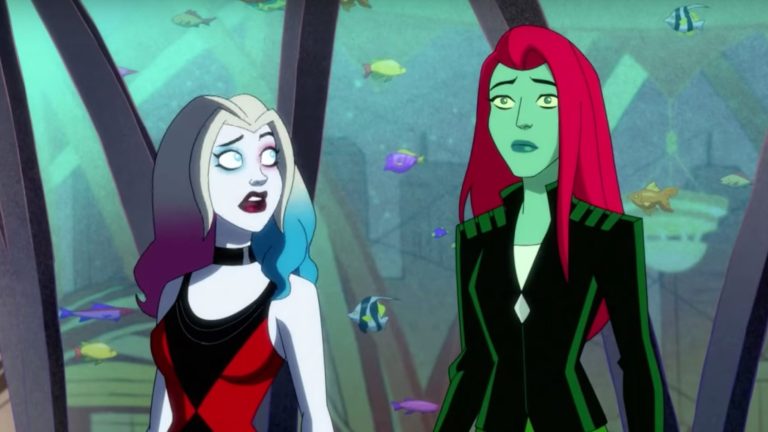 This Harley Quinn review contains spoilers.
Harley Quinn Episode 7 Review
Aqua-fans rejoice! If you'd been feeling like DC Universe's Harley Quinn had been far too concerned with what's going on in the dusty terrain of the surface world then you'll enjoy the eighth episode of the series which begins with a trip into the watery world of Atlantis. Of course, this is all part of Harley's plan to join the Legion of Doom which… [Spoiler Alert] seems like less of a pipe dream and more of an unrealistic but maybe possibly achievable hope for the (anti-)heroine as the events of this week's entry unfold.
But back to Aquaman. The cheery king of the ocean is always ripe for a good riffing and until the recent James Wan helmed movie was almost always DC's first go to for some ridiculous self-deprecating humor. That's all changed though and despite the fact that we get some solid silliness in a more Shakespearen version here it strays from the Jason Momoa version which seems like a missed opportunity, but was apparently by Warner Bros. design as showrunner Jason Halpert revealed in an interview with Metro last year. "[In the film] Jason Momoa is kind of a bro type, like fraternity type and so we dialed that up to like one thousand, and I think it made the character too ridiculous – even for them. So then we put a new take on the character."
After Ivy (Lake Bell) makes quick work of Aquaman in her super cool bikini combo—which seems like a surprisingly underused showdown in the world of DC heroes and villains—with the help of some Kelp things are looking up for Harley (Kaley Cucuo) and the crew. And after two months of trying the titular finally gets her invite to join the Legion of Doom. That in itself should be a hint at the kind of rad rogues gallery fun that you're going to get here. If the thing that you love most about Harley Quinn are the moments when the creative team dig deep into the back catalog of the DC Universe and have fun with it then this will likely be a highlight of the later episodes as Harley, Ivy, King Shark (Ron Funches), and Clayface (Alan Tudyk) embark on a journey into the bowels of the notorious Hall of Doom.
read more: Birds of Prey Movie — Everything We Know
"L.O.D.R.S.V.P" offers up some good meta-nods for fans of the animated world of DC Comics *wink* keep an eye out for Lex Luthor *wink* it's fun to see Halpert and co. push the boundaries of what they can make canon and change without getting into trouble with the keymasters at W.B. It could be said that DC's selection of villains is more impressive than its heroes and this episode really leans into that with appearances from comic book bad guys like Killer Croc, Black Adam, The Riddler, Bane, Sinestro, Calendar Man, Captain Cold, Solomon Grundy, Scarface, Man Bat, Gorilla Grodd, Two-Face, KGBeast, Black Manta, Kite Man (Yawn) the Scarecrow and more. But there's something murky going on at the Legion as it turns out that Lex has zero interest in Harley joining his crew and is using her to get to Ivy, who has been invited and (rebuffed the organization) over 100 times because she's just that freaking cool.
Harley and Ivy's relationship has been put on the backburner in recent episodes so it's nice to see it brought back to the forefront right here as Ivy struggles with whether her hatred for the Legion and what they represent is stronger than her love for her best friend. We don't get too deep into that though as Harley gets too showcase her own skills for taking down a good guy when Aquaman returns for revenge but gets waylaid trying to save his fishy brethren. Shockingly Lex Luthor is up to no good as usual and his machinations lead to a big bust up between Harley and Ivy that looks like it might be the end of the clown-faced one and her crew when Sy Borgman's CIA experiment sister who lives under the mall goes mad and unleashes her tentacled wrath on the landlord and his tenants. Luckily, Dr. Psycho is there to connect the two psychically and heal their proverbial wounds but that doesn't fix Harley's Ivy issue.
Of course, this whole series has been about Harley extricating herself from Joker's grasp and Lex's maniacal machinations are revealed as we get our first real cliffhanger of the season… Yep, Joker has dropped into the Hall of Doom and wants to talk to his beleaguered ex! What will Harley do? Will she have the strength to turn down the Clown Prince of Crime without her BFF there to help her? Will she finally kill the Joker? You'll have to tune in next week to find out.
You can stream Harley Quinn on DC Universe right now.