Reviews
Harley Quinn Episode 7 Review: The Line
Harley Quinn breaks out another deep-cut character in an ep that showcases the talented cast and introduces the first true flaw in the show.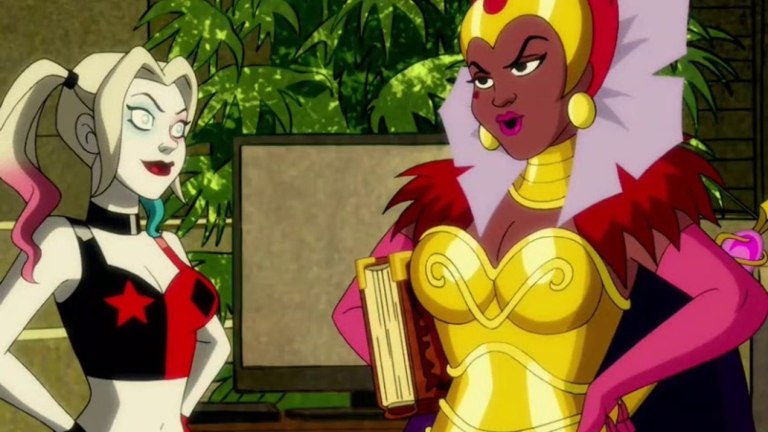 This Harley Quinn review contains spoilers.
Oh, DC, what are we going to do with you? Harley Quinn is seven episodes in and has so far been an entertaining take on the titular anti-heroine. But this week DC Universe's flagship mature animation demonstrates where the creative team's imaginations stop, which is apparently when it comes to already established, canon, same sex relationships. 
With Harley (Kaley Cuoco) still on her quest to join the Legion of Doom she chooses to help break out Wanda Sykes' Queen of Fables who was briefly featured in an earlier episode. The villainess is quickly out of control as she slaughters an entire family reunion with the Big Bad Wolf and then sends the Three Little Pigs to eat the bodies, as Ivy (Lake Bell) reminds her bad choice making friend "you're like Broadcast evil, she's Cable evil." Sykes is great as the hard talking, chain smoking, totally batshit villain who tries to teach Harley what she needs to make it in the Legion whilst teaching her the more important lesson… she's not actually evil. 
It's a solid little setup which is entertaining enough even if it does slightly feel like what it is… half-season filler. Despite that, though, Harley Quinn is good enough that even filler episodes are totally palatable. But it's not the slightly thin story which drags this episode down, it's the totally unnecessary subplot which sets up a serious romance between Kite Man and Poison Ivy. Now,why does that matter? Well, aside from the fact that Kite Man's entire character is "he's annoying" which means we get stuck with him for an entire episode, there's also the fact that Harley and Ivy have a canonical relationship that's ripe for more screen time and comedy. 
Ever since it was announced that DC would be launching a series set on a post-Joker Harley moving in with her roommate Poison Ivy, fans have been expecting that the show would likely at least reference their comic book relationship. There's little queer representation in the world of Big Two superhero comics so when Amanda Conner, Jimmy Palmiotti, and Chad Hardin confirmed a fan favorite relationship, making Harley and Ivy (shortlived) romantic partners, it was huge. Not only were the pair brilliantly matched but it makes a lot of sense looking back at their years of shared history. Though it wasn't forever, it was a powerful moment that spoke to fans and fitted with the established canon, which is why many fans thought we might see it explored in Harley Quinn. Alas, that was too much to ask and instead we got a weird Ivy / Kite Man thing.
Aside from the obvious missed opportunity it also takes Ivy away from the main group as they embark on one of their bloodiest adventures yet. From the outset, Lake's sarcastic and cynical take on Ivy has been one of Harley Quinn's highlights and it would have been great to see her take on Sykes' machiavellian monster, especially as Ivy has a penchant for murder and mayhem herself. Instead we got a strange B-plot that centered on how Ivy was embarrassed to be seen with Kite Man (which is–even in this fictional world–totally fair) and how she realized that wasn't "nice" so she had to go and apologize before self-identifying as his girlfriend. Ivy's emotional self-flagellation didn't just make for boring watching but it felt utterly separate from anything that we've seen from the character and the show before.  
Honestly, the strangest thing about this choice is the fact that there wasn't a need for any explicit romance at all. Asking for Harley and Ivy to be openly queer doesn't seem to be too big a suggestion in a show that seems to have no boundaries when it comes to what they show on screen. This episode literally sees Queen of Fables put out a cigarette in the eye of bloodied, potentially decapitated head, but for some reason the idea of the two women being together is out of the realm of possibility. But, even if you chose you didn't want to pursue that route, then it would be easy enough to just function as a violent, edgy, team-up show where a ragtag group of baddies commit crimes and go on a fun journey together. And for the most part that's what Harley Quinn is, but by making Ivy Kite Man's girlfriend and having her repeatedly talk about the "dudes" she's dated in the past, it feels like the show is making a statement. 
Let's hope that Ivy's sad relationship with Kite Man won't take up too much of the rest of this season. Bell and Cuoco are great together and the show shines when the pair are getting up to mischief or helping each other kick the shit out of some foes. If Harley Quinn focuses on that it'll be easy to ignore the Kite Man shenanigans. But if that becomes the most important part of Ivy's story it'll be a huge shame and will likely be a detriment to the overall quality of the show. 
You can watch Harley Quinn on DC Universe now.