Reviews
George Carlin's American Dream Is Seriously Funny
HBO continues its loving devotion to an anti-establishment comic institution in George Carlin's American Dream.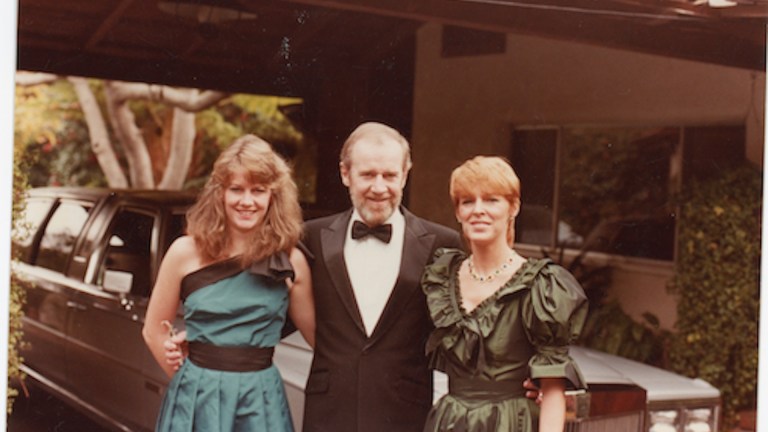 George Carlin's American Dream presents George Carlin as standup comedy's greatest wordsmith. Seven of these words made him infamous and earned him a place in legal history. Directors Judd Apatow and Michael Bonfiglio's two-part documentary highlights how Carlin's brain-droppings started conversations which carry on today.
The "Seven Words You Can Never Say on Television" bit defines Carlin in ways which go beyond comedy routines. The documentary shows how language, subterfuge, and identity are chosen, carefully selected to create a body of work which defies classification. Carlin had an elastic face and a knack for funny noises, but words are at the bottom of it all. When Carlin was a young comedian, he couldn't embrace the counterculture commentator lurking beneath the surface on television. The documentary points out how he had to use code words. The Hippy Dippy Weatherman didn't only forecast darkness at night, his morning highs were pure delight.
Carlin's career took a few turns during the half century he performed. The documentary offers some surprising evidence of some of his roads less traveled. As a boy growing up in Morningside Heights, or "White Harlem" as he calls it, he wanted to do what Danny Kaye did, and could mimic almost everything about the Brooklyn-born performer's many talents, but Carlin was no actor. He says it himself. While this is a profound professional revelation, the chosen scenes from Carlin's few 1960s TV series appearances provide fun nuggets of possibility. The variety show guest spot clips are perfectly chosen. Some of the images may barely be recognizable, vertical holds flip frames in accidental foreshadowing of a changing face, but the words are all still there. Clear, concise, silly, and timeless.
The first part of the special tracks Carlin's rise, including some surprising revelations about his childhood in New York City. Even long-time Carlin fans will learn things which were always in plain sight, obscured by the clarity of the words. Every era of Carlin's career is proven prophetic under the documentary's selective archival placement. A found snippet of junkie stage banter between Carlin and his comedy partner Jack Burns covertly foreshadows things to come, even as it overtly accentuates exactly what it is Lenny Bruce sees in the duo.
The archival material, some of it never shown before, is uniformly fantastic, but ultimately frustrating, because they tease at longer footage. The documentary shows Mike Douglas to be a life-long supporter of Carlin, a clip of John Lennon and Yoko Ono interviewing the comedian on his change of direction is an anointment. It is also very revealing how comedy legend Flip Wilson did more than just endorse Carlin, he made sure there was a platform where the comedian could say things he could not get away with on TV. The war on words is fought over Carlin albums released on Wilson's label.
The only classic bit which is excluded is Carlin's "The Hair Piece," but we're all aware of the hair. The documentary offers a wealth of photos, which capture the lesser-known, cleaner-shaven period, and never lets Carlin put it down.
In an interview for the documentary, Bette Midler says she was there, booked on the same night as Carlin, when he threw himself into the opposition, appearing as a counterculture comedian for the cultured crowd. She makes the transitional scene feel utterly thrilling. Richard Pryor isn't interviewed, but the pair appear together in a few snippets of early footage, before either had made their transformations. So, when he is directly referenced by Carlin on stage in a bit much later, the directors let the audience fill in so many gaps for themselves. There was rivalry, it was friendly, both comedians broke rules and character, and it is better left in the spaces between the words.
Apatow really knows how to present his heroes in a purposefully representational, nearly definitive light. His 2018 documentary The Zen Diaries of Garry Shandling was an immersive emotional catharsis masquerading as a loving tribute. All the best stories about a person come out at their wake. Carlin is remembered as more than merely influential, but essential. Jerry Seinfeld is called to do what Carlin did, Steven Wright sees a modern Michelangelo, and Stephen Colbert reappraises his own faith. Chris Rock spreads the word. Jon Stewart finds a place to put his stuff, and learns it isn't shit. Paul Reiser's recollection of how his sister's college radio station interview with Carlin led to a family outing is priceless. It brings out the man, the performer, and the treacherous paths of success in the most human way.
In one archival clip, Carlin explains the art of telling social truths in comedy is to do it unflinchingly. Apatow and Bonfiglio examine the dark sides of the Carlin family life with a deft judicial lens. George Carlin's American Dream doesn't sidestep addictions, or accidents caused by them. George's daughter Kelly Carlin is as honest about anger as she is about her joys, which far outnumber any of her sadder stories. There are no blame games, just truths which lead to greater understandings. The documentary explores roots to the problems fairly and clearly, so it is understood when the solutions come.
Fans may find it incongruous that the enlightened comic insisted his wife Brenda not work, because they had a baby. The same baby who sleeps on the stage while her dad performs, and not much later will chide him publicly for being a "hippy freak." Between the stories about Brenda writing his most important press release or producing his HBO specials, the whirlwind romance story carries twice its weight.
Stand-ups all mine society's problems for timely material. Carlin's problem was with society, the documentary shows. Individually, as people, he shows great empathy, unless they wear their baseball caps backwards. But as any unit, the documentary paints a downward arc of contention. The more people in on a gag, the more chance some kind of collusion is afoot. George Carlin's American Dream makes it clear that that only works in comedy. Carlin's second wife, Sally Wade, provides a stark counterpoint to the latter story's nihilistic turn. As Carlin's worldview is shaken by life, the spiral of humanity becomes more bleakly brilliant. "Scratch a cynic and you find a disappointed idealist," Carlin tells Roseanne Barr in an interview excerpt.
The documentary shows Carlin found such a truly objective point of view, it scared long-time fans. It is one of many subtle stories being told. It emphasizes why Carlin's work still resonates without being too blatant. That is saved for the conclusion, which leads to the credits rolling over John Lennon and the Plastic Ono Band's "Bring On The Lucie (Freda Peeple)."
While everything is presented chronologically, George Carlin's American Dream is more than the biography of a legendary and groundbreaking performer. It is an enthusiastic affirmation of his continued relevance. As comedian Paul Provenza sums it up, "The weirder things get in life the more you want to hear George Carlin talk about it." The documentary will start conversations, and viewers will search for the source material when it ends. Most importantly, they will quote the jokes. Standup comedy is an oral tradition.
George Carlin's American Dream will premiere in two parts on HBO on May 20 and 21 at 8:00 p.m., and will be available to stream on HBO Max.