News
Forgotten British comedy of the 80s and 90s
We celebrate four comedy shows that never seem to get the full credit and love they deserve...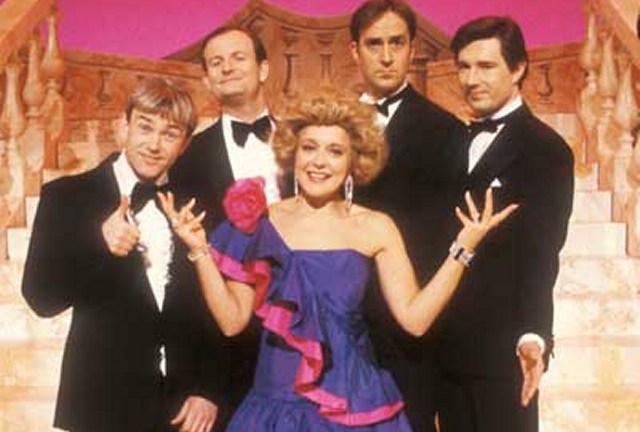 British TV and radio has churned out many comedy classics over the past decades. But when Only Fools and Horses, Father Ted, The Office and such like always seem to get a namecheck, where's the recognition for this little lot?
KYTVIt's hard to categorise KYTV, although it's best described as a very potent spoof of the incoming world of satellite television at the point it was broadcast. Make just as Sky and British Satellite Broadcasting were filling dishes and squariels with the cheapest programmes they could fill them with, KYTV ran for three series, and has proven to be a scary forerunner of what's pumped out on the hundreds of cable and satellite channels today.
The show was written by Angus Deayton and late comedy supremo Geoffrey Perkins, and they also starred in it alongside Helen Atkinson-Wood, Michael Fenton-Stevens and Philip Pope. And among the highlight episodes? The KYTV Tellython ('Brown nose day') was superb, the Right To Reply (replete with channel chairman liberally slagging off his audience) spoof was grand, and the attempt to cover religious programming with Rabbi Rabbit showed it wasn't afraid to push a little close to the edge. It could be sporadic stuff, but on its day, KYTV was superb comedy.
The first two series of KYTV, amazingly, did eventually make it to DVD, but the release of the third and final series seems lost in the ether somewhere. A pity.If I Ruled The WorldA panel comedy show that really didn't last very long at all. Perhaps it was the political theme that killed it, but it was often very, very funny. The show was hosted by Clive Anderson, but the highlights were often team captains Jeremy Hardy and the quite brilliant Graeme Garden. They were set a variety of political challenges, which along with their guest team mates, they need to complete.
If we were to pick a favourite, then it would be Griff Rhys-Jones converting the lines of the song It's Raining Men into a political speech, but then If I Ruled The World was full of great moments like that. Sadly, while easier-to-sell formats like They Think It's All Over laboured on for many years past their sell-by date, If I Ruled The World never got the chance to mature.
Sadly, there seems little sign or little chance of a revival or DVD release.
Dear JohnAn absolute gem of a sitcom, and arguably the very best that John 'Only Fools And Horses' Sullivan wrote outside of his very biggest hit. The central concept was that the late, great Ralph Bates' John Lacey, in coping with divorce from his wife, joins the 1-2-1 club, where he meets a series of people in similar positions to himself.
And it's a great palette of characters that Sullivan creates. Lacey himself is a dry and resigned man, while Louise – played brilliantly by Rachel Bell – is keen to get to the bottom of everyone's sexual problems. Ralph (the character) is the best DJ in the history of sitcoms, while Kirk is a tremendous livewire creation, who comes into his own at Mrs Boyd-Peters' party. Let's not overlook too Belinda Lang, in her pre-2.4 Children days, as Kate.
Dear John was a terrific show, sadly cut short by the tragic death of Bates, and Sullivan, for this writers' money, has never really topped it. A shame that there's no obvious DVD release on the horizon, leaving a video boxset the only way to legally watch it.
Knowing Me, Knowing YouIt may seem at first to be a little odd to cite Alan Partridge in a list of forgotten comedies, not least because Steve Coogan's most famous creation is frequently quoted and remembered. Yet not the Radio 4 series that started it all. In fact, to some it would appear that Partridge is a television-only character, who shot to fame in The Day Today and the television KMKY. Yet some of the radio shows were the very best that Coogan had to offer with Partridge, not least when he interviewed the child prodigy who ran intellectual rings around him ("Have you", retorts Partridge, "got any pubic hair?"). Genius, and well worth digging out. The BBC has published the entire series on audio CD and tape.