Reviews
Fear the Walking Dead Season 6 Episode 9 Review
Fear the Walking Dead serves up more surprising twists—and another major death.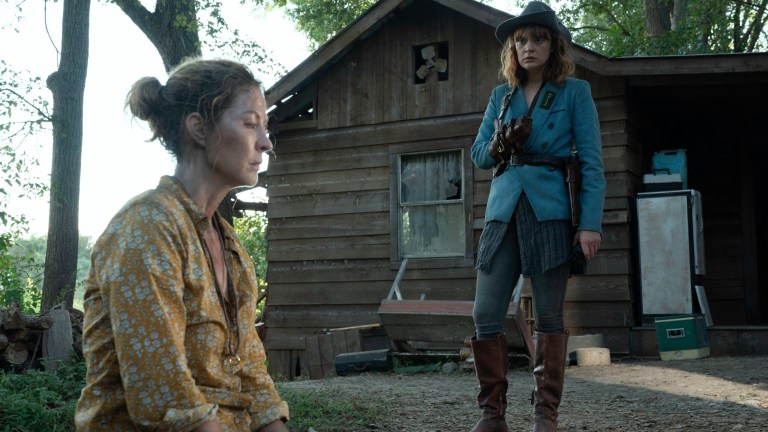 This Fear the Walking Dead review contains spoilers.
Fear the Walking Dead Season 6 Episode 9
If there's one thing Fear the Walking Dead understands about existing in a zombie apocalypse, it's that living is hard. Every week, our grizzled cast of characters must contend with the inevitable attrition within their ranks. As we learned last week with poor John Dorie, it's not a matter of if you'll die, but when you'll die. Sometimes our hapless survivors see death coming, but more often than not it's an ugly surprise, meted out by the living. That brings us to "Things Left to Do" and an unexpectedly early end to Virginia's reign, which is a shame, really, since Colby Minifie delivers a truly knockout final performance. But more on Virginia in a bit.
Originally intended as the season 6 midseason premiere, "Things Left to Do" is a busy episode, with lots of competing factions and changes of heart and reunions and partings. Morgan is at the center of the action, of course, and Lennie James works his usual magic with the kind of complex moral dilemmas that have long been Fear's bread and butter. If you tuned in this week to see walkers dispatched en masse, you may be a bit disappointed in the episode's one biter. But if you're more interested in watching favorite characters grapple with each other and themselves—congratulations, this is your week!
One benefit of a large ensemble cast is that it often allows for unexpected pairings. We saw that earlier this season in "Alaska" with Maggie Grace and Austin Amelio's Al and Dwight. The same can be said for the unlikely duo of Morgan and Virginia. The two find themselves on the run from Lawton after Strand (Colman Domingo) orchestrates a violent coup. As if being pursued by her own rangers isn't harrowing enough, the masked Outcasts join the hunt. Both groups seek justice for Virginia's many wrongs, but Morgan needs her alive just along enough to free Grace (Karen David) and Daniel (Rubén Blades). This doesn't sit well with Sherry (Christine Evangelista), who has Virginia in her sights. Morgan turns on Sherry, convinced that his is the true way to achieve real justice. He's been wrong before, as Sherry conveniently points out. And she's not wrong! Time and again, Morgan has proven himself to be the group's moral compass, only for his forgiving nature to backfire with devastating consequences. (Last season's showdown at Humbug's Gulch, anyone?)
While Morgan protecting Virginia may stretch credibility a bit, at least it results in some interesting moments. After all, these two may be on opposing sides in theory, but the cold reality is they're more alike than Morgan would care to admit. Both have done unspeakable things in the name of keeping loved ones safe. But whereas Virginia has demonstrated a remarkable capacity for compartmentalizing these dark deeds, Morgan has tired of getting his hands dirty. Their differences will come to a head later, but in the meantime, Morgan becomes an unlikely confidante for his oppressor.
Which brings us to a significant plot twist about Virginia actually being Dakota's mother. Minifie shines in this moment, making Virginia's heartbreak and vulnerability so believable. Like Morgan, she is a person driven by her demons. Unlike Morgan, though, her inability to overcome her demons has resulted in a lot of bad blood. Spilled blood, too. As Virginia tells it, Lawton and its draconian rules exist purely to keep Dakota safe. This is quite ironic, considering her own daughter wants her dead. It's this bitter truth that causes the scales to fall from Virginia's eyes. Her best intentions drove away the one person she most loved in the world.
On paper, this is an important moment of clarity and purpose. Finally, Virginia resolves to tell Dakota the truth. But Fear can't have it both ways regarding their big bad. Are we meant to root for her, or against her? Our various factions are likewise confused about her fate. Lots of people want her dead—including Virginia herself! She'd rather die than tell Dakota the truth. But then lots of people suddenly want Virginia to live—including Virginia herself!
I agree with Morgan's impassioned argument that a new, more peaceful world can't be built upon a foundation of violence. Indeed, Morgan's would-be execution of Virginia offers a compelling, philosophical dilemma faced by those who claim to abhor tyranny. Lennie James certainly sells this moment. Morgan is at an important crossroads—for himself, and for the settlement. To me, in this scene, he becomes a true leader. His mission to spread goodwill and bottled water was really more about helping others, not leadership per se. Planting his axe in the ground is a fitting monument to what the settlement can become. Morgan's not a pacifist, he's a humanist.
June, though, not so much.
It's puzzling that there's very little reaction to John's death. Only June (Jenna Elfman) and Morgan acknowledge his absence in any meaningful way. Of course, had June not saved Virginia in this season's "Damage from the Inside," or not chosen to work at Lawton's new hospital, one could argue John might still be alive. Perhaps June herself knows this, which is why she's such a ruthless executioner.
In any case, now that Virginia is gone, and with the location of Morgan's secret settlement revealed, it feels like this season has lost a bit of urgency. Plus, anyone who has watched Fear or The Walking Dead long enough understands that any utopia is short-lived. As I said in my review of this season's "Honey," there's a recursive nature to a show like Fear that drains a bit of the drama (and fun) from new storylines.
An important lesson like "killing humans is bad" is learned, then unlearned. Couples like Dwight and Sherry are reunited, then driven apart. People like Strand evolve to be more selfless, only to fall back into self-serving ways. And some people, like Alicia, are stuck in a holding pattern, learning nothing new at all and no longer being given a chance to progress as a character. This is something Fear has in common with its characters, this inability to progress. In order to evolve, the series needs to evolve beyond safe, time-tested tropes. Only in that way can Fear follow in Morgan's footsteps to become a better version of itself.