Reviews
Fall River Review: The Satanic Panic Scares Up Another Bad Conviction
Lizzie Borden's hometown goes to hell in Epix's devilishly limited documentary series Fall River.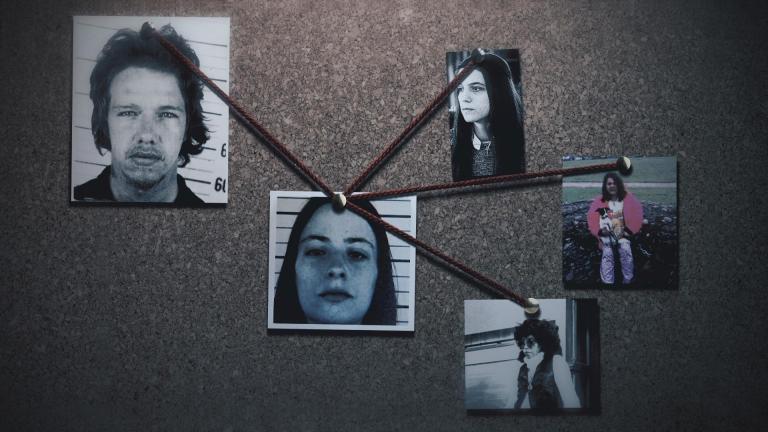 Fall River, a four-part docuseries running on Epix, is structured like a rollercoaster. Every episode cranks up the suspense, building to a conclusion, and then drops the viewer into an emotional freefall. Almost 90 years after Lizzie Borden was acquitted of murder, Fall River, Massachusetts, hosted a second trial of the century. But this one was more like the witch hunts held in Salem, just over an hour's drive away. Three women were killed in 1979, and the police and media blamed a devilish sect. The cult leader, a pimp named Carl Drew, declared himself Satan, and held his flock in scared awe by exacting human sacrifice at demonic rituals in the woods.
Executive produced by Blumhouse Television, Fall River is one of the most graphic documentaries to come out of the recent glut of the televised true crime genre. Most of this comes from the archival footage the series uses to capture the atmosphere of the time and neighborhood. We see junkies fixing, prostitutes hooking, beat cops beating, and other sensational street scenes luridly captured in the gritty frames of low-grade celluloid. They are all bathed in red or orange glows, which give a red-light-district ambiance to the past.
The footage of Satanic rituals, from promotional films Anton LaVey made for the Church of Satan, to home movies from smaller sects, are obscenely seditious, and macabrely revealing. The full-frontal male and female nudity doesn't come across in any way gratuitous, but it is completely exploitative. This proves to be subversive, because the tale intentionally undermines all the expectations laid out in the opening arguments. It is a consistent rhythm throughout each installment.
Director James Buddy Day (The Shocking Truth, Sex, Lies & Murder, Slender Man Stabbing: The Untold Story, The Disappearance of Susan Cox Powell) conducted the last interview Charles Manson would ever give in his film Charles Manson: The Final Words. He is no stranger to the cinematic possibilities of charismatic manipulators, and he's learned valuable storytelling lessons from his sinister subjects.
On October 13, 1979, the body of 17-year-old Doreen Levesque was discovered behind the Diman Vocational High School. Her wrists were bound with fishing line. She had also been stabbed in the head and sustained multiple skull fractures. Forensic evidence suggested a possible death by stoning. There were signs of sexual torture. Investigators found she had been working as a prostitute. A month later, a 22-year-old prostitute named Barbara Raposa is reported missing. Police only found skull fragments and clumps of hair from a third victim, Karen Marsden. All the women could be traced to the sex trade being plied in the Bedford Street area. The report noted concerns about a Satanic cult.
Carl Drew called himself the "son of Satan" and is immediately tagged as the head of the "Fall River Cult Murders." He ran his Bedford Street district prostitution ring as a Satanic coven and kept everyone around him in line through fear. "Satan will take his toll," he warned. The first episode lays out how Drew orchestrated the nighttime rituals, ordering Marsden's throat slashed after her skull was crushed. Witnesses recount how Drew chanted and prayed in inhuman languages. One follower, Robin Murphy, says he painted a cross from the dead body on her forehead. The audience is pummeled with descriptions of how Drew beheaded the woman with his bare hands and told his followers he had offered the girls' souls up to Satan.
But the episode closes with the revelation that Drew could not possibly have committed the crime.
The next episode does the same with another suspect. Tightening the noose around the neck until the eyes begin to bulge, only to give a last-minute reprieve because another detail has distracted the hangman. The documentary adds layers of duplicitous evidence over sheets of maniacal theoretics to present an investigation so twisted it's a wonder anyone was arrested, if not everyone.
After he retired, the lead investigator on the original case, Sgt. Paul Carey, reinvestigated it because he was never convinced of the official conclusion. He didn't reopen the files to sell a book, he says in a taped interview, but he pulls in new evidence which proves the first convictions were hastily concluded and presented a false narrative.
The mythology had been set in place since the anti-counterculture paranoia of Christian fundamentalists turned into the counter-cult movement. The Satanic Panic was sparked by religious fanatics, fanned by psychiatrists, and weaponized by the tabloids. To this day, an ear-shattering minority is screaming about how some Democrat-led Satanic criminal cabal is delivering dead baby spinal fluids in under a half hour, or your money back. The documentary expansively indulges former detective sergeant Alan Alves, who was one of the occult criminal experts on the original case. He spent his career in the satanic crimes unit of the Freetown Police Department, and testifies to the darkest of doings.
While there are a few self-styled Satanic criminal conspiracies doing dastardly deeds in the country, they are isolated from each other, as well as being few and far between. The Fall River Cult practiced crude theistic satanism. They worship the Devil like Christians worship God, only backwards. Not like the more populist LaVeyan Satanists who use it as a Darwinian metaphor. Carl Drew's alleged cult resembles a Charismatic Christian sect. This might be because it is colored by the attitude of who is determining the definitions.
What Alves comes up with sounds more like a Hammer Horror movie than any real dark rite. He believes the cult exacts blood sacrifices every 30 days on the full moon in rituals where victims are offered up as a sacrifice to Satan, who rises from the center of a pentagram. Apparently, he does this personally. Alves describes orgies and rituals he'd never partake in because they've replaced the wine and the host of Catholic ceremonies with bodily fluids. Alan Silvia, a former detective at the Fall River Police department, says the details of the case caused him to put more faith in his faith.
Fall River gives extensive backgrounds on all the players. Carl Drew was raised on a small farm in New Hampshire. His father was an alcoholic who abused him, and traumatized him, with Silvia recounting one particularly damaging incident where the father lowered Carl down a well by his feet to get rid of a nest of rats. Fall River also gives a face and voice to the victims, who were marginalized because they were sex workers.
Karen Marsden was a 20-year-old single mother. She wound up working in the red-light area because she was a runaway and drug addict. She and Carol Fletcher took police to the Freetown State Forest, where the cult allegedly congregated. Weeks later, the top half of a human skull was found in Westport, a beach town not too far from Fall River. Authorities identified the remains as Marsden's by comparing bone fragments with skull X-rays taken in 1978.
Maureen "Sonny" Sparda, a former prostitute who hosted Satanic gatherings, fingers Robin Murphy as Karen's killer. Murphy was 17 at the time, although has a problematic childhood and relatively little schooling, we learn she has an I.Q. of over 137. Later we hear she had practiced Paganism before she was ten years old. The details of her eventual story are all so graphically convincing it makes the blood boil. But Murphy's testimony doesn't match the forensic evidence.
The first person interviewed for the Raposa murder was Andy Maltias, who denied any personal knowledge of the crime, but could clue police in on what he saw in a psychic dream. This included the exact location the dead woman's body was found. Maltias was a pedophile who had been preying on Murphy since she was 11.
Maltias was convicted in the first-degree murder of Barbara Raposa and given a life sentence without the possibility of parole. Carl Drew was convicted in the first-degree murder of Marsden. He is serving a life sentence, with no possibility of parole, at the MCI in Shirley, Massachusetts. The public believed this was the tip of the iceberg and a dangerous cult was active in the area.
But then everyone says they made the story up. Witnesses recant statements, saying the police pressured them into it. The District Attorney's office worked with Murphy, used Carl Davis to threaten witnesses. Sunny Sparda was threatened by the D.A. and assistant D.A. We learn Drew's public defender John Birkness not only had never worked a murder trial, but never defended anyone before. The court claims one witness, Carol Fletcher, was incompetent because she was on diabetes medication. Murphy confessed at her parole hearing that she had been lying all along.
Inasmuch as any true crime documentary about multiple murders can be, Fall River is a fun watch. Day seems to revel in the twists and turns of the case, turning contradictions into assaults and facts on their heads. We know all along who did it because he says it up front, everyone who was put away, or anyone who got away with it. Maybe Drew took the fall for Maltias, possibly the 17-year-old true witch Robin Murphy manipulated the entire scenario by sheer force of her intelligence. Fall River lays out every fact, but also pulls the rug out from under every conclusion.
Fall River premieres May 16 At 10pm on Epix.