News
Endeavour Series 9 Filming Poised to Begin?
Though not yet officially confirmed, filming is expected to begin imminently on Endeavour series 9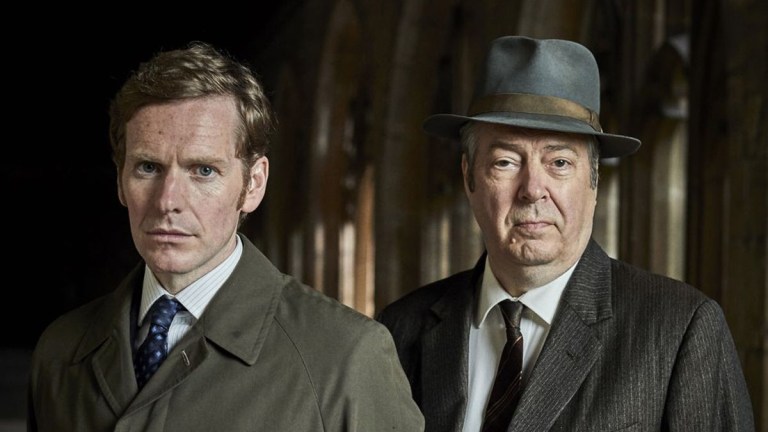 While fans await official confirmation from Mammoth Productions, the planets appear to be coming into alignment for filming to start on the ninth series of ITV crime drama Endeavour, starring Shaun Evans and Roger Allam.
Series eight concluded on ITV in September 2021 with a touching tribute to Inspector Morse actor John Thaw, and some uplifting words from Allam's Fred Thursday. Having reached its 33rd episode (the same number of Morse stories filmed), many predicted eight would be Endeavour's final series, though Allam suggested the drama would have "a few more to wrap things up". Not least to wrap up the ongoing mystery of how and why his character has disappeared from Morse's life by the time of the John Thaw incarnation.
Casting Call
The first sign that the long-running Inspector Morse prequel had been recommissioned came in February 2022, when the I Heart British TV website cannily spotted a casting call posted on UK Production News. The post listed the production title as ENDEAVOUR IX, a 3 x 90 minute TV series due to begin shooting in Buckinghamshire in May 2022, with Endeavour Series 7 producer Matthew Hamilton listed as Associate/Line Producer.
Several outlets including the Daily Mail, Hello! Magazine and Oxford Mail picked up that story and reported the news, without public confirmation or contradiction arriving from Mammoth or ITV.
Abigail Thaw
It was all quiet on the cast and crew front, until the 7th of May 2022, when Endeavour fan Sue Graham Tweeted that actor Abigail Thaw had confirmed that she would soon return to the Morse prequel, while speaking on Somerset Radio. That interview is not, as far as we know, currently available to listen to online. Thaw plays journalist Dorothea Frazil on Endeavour and is the daughter of John Thaw. Her run in Tim Firth stage comedy Sheila's Island concluded this week at the Theatre Royal in Bath, freeing her up for a potential return to the ITV series.
Endeavour's lead actor – and recently director – Shaun Evans appeared in Moira Buffini's stage play Manor at the National Theatre from November to December 2021 but his current public schedule looks clear. BBC submarine thriller Vigil, in which Evans appeared in August 2021, has been renewed for a second series, but it's early days on that yet. Vigil creator Tom Edge has already cast doubt on whether the second series would repeat the sub setting, which could take Evans' navy coxswain character out of the running at any rate.
Buckinghamshire Filming
A few announcements of filming closures taking place in May around the Buckinghamshire area made fans suspect cameras were soon to begin rolling on Endeavour Series 9. A section of Henley Reach in Wycombe was closed to boat moorings due to filming in the week starting Monday the 16th of May. This official government notice though, links that production to MGM, which could well make it the new George Clooney-directed feature The Boys in the Boat, on which UK filming began in late March.
More filming closures in Marlow, Buckinghamshire this week were discovered to be due to BBC production Great Expectations, a new adaptation from Peaky Blinders creator Steven Knight, which stars Fionn Whitehead and Olivia Colman. Oxfordians should keep their eyes peeled for any closures coming up in the next fortnight.
A 1972 setting?
If an official Series 9 announcement arrives soon, the new episodes would take Shaun Evans' character into 1972. In that year, notable real political events included the Bloody Sunday massacre in Derry and its tragic, complicated ramifications, which could connect to the Northern Irish posting of Fred Thursday's British soldier son Sam (who was MIA at the end of Series 8), and the seven-week Miners' Strike. In the lighter, pop culture history with which Endeavour creator Russell Lewis is known for peppering his scripts, 1972 welcomed the debut of TV quiz Mastermind, soap Emmerdale and BBC Radio 4 comedy I'm Sorry I Haven't a Clue, so we might expect to hear the odd familiar theme tune in the back of scenes.
As soon as there's official word either way on Endeavour Series 9, we'll bring you more.
Endeavour Series 1-8 are currently available to stream on Britbox in the UK. Endeavour Series 8 arrives on PBS Masterpiece on the 19th of June in the US.