News
Echo Leak Suggests New MCU Clash Between Daredevil and Kingpin
A costume designer's resume suggests that Daredevil will soon meet his arch-enemy Wilson Fisk again in the MCU.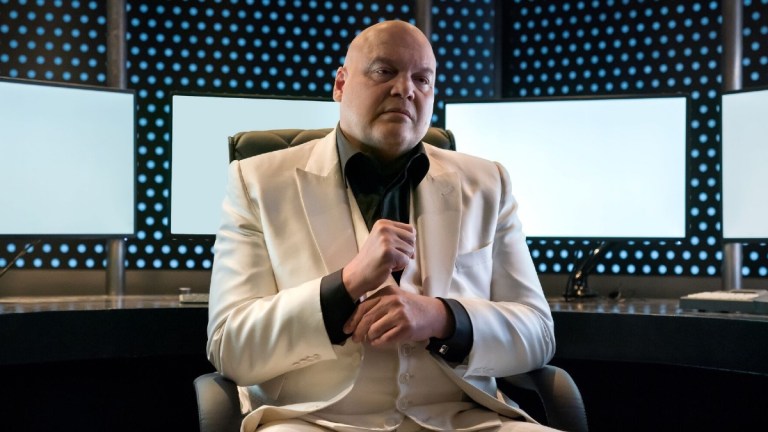 This article contains spoilers for HAWKEYE season one and SPIDER-MAN: NO WAY HOME
Ever since the introduction of Echo in Hawkeye, fans have hoped that Daredevil and the Kingpin would once again do battle on screen. While Hawkeye did eventually give us the return of Vincent D'Onofrio as Wilson Fisk, the Kingpin of Crime, Charlie Cox had only a cameo in Spider-Man: No Way Home, sans red devil horns. But if a costume designer's resume is any indication, the two arch-enemies will be clashing again soon.
Along with clips of her excellent work on films such as Speed Racer and Thor: Ragnarok, Stacy Caballero includes a description of her work on the upcoming Echo series for Disney+. The resume indicates that in addition to designing costumes for lead actor Alaqua Cox, Caballero also worked for two others: Charlie Cox and Vincent D'Onofrio. If this is accurate, then we're sure to see the long-awaited rematch between the two rivals.
Echo is the right place for the duo to resume their grudge match. Certainly, the underworld investigation in Hawkeye would lead Clint Barton and Kate Bishop to Kingpin. And champion of the oppressed Matt Murdock should represent ol' hard-luck Peter Parker. But those two characters have inextricable ties to Echo.
Introduced in 2009's Daredevil #9, written by David Mack and penciled by Joe Quesada, Maya Lopez aka Echo is Wilson Fisk's foster daughter. Convinced by Fisk that Daredevil killed her father (a crime attributed to Barton in Hawkeye), Echo battles the Man Without Fear until the two eventually become allies. Hawkeye ended with Maya breaking free of her foster parent's influence after his apparent death. But the bonds may remain strong enough for him to send Echo against Murdock.
Should Cox and D'Onofrio meet up in Echo, this will mark the first time the two really do battle in the MCU. The Netflix series in which the two debuted purported to be part of the larger cinematic universe, with occasional references to hammer-wielding gods and "the big guy" destroying Harlem in The Incredible Hulk. But outside of such tenuous references, neither Kingpin nor the Defenders ever interacted with the Avengers or Spider-Man. In some ways, the division worked to the advantage of the Netflix shows, allowing Jessica Jones and Luke Cage to deal with more serious themes. However, with those series canceled and actors such as Krysten Ritter and Mike Colter still fan favorites, it makes sense to introduce them into the MCU.
Although Caballero's resume does indicate the actors with whom she's working, it provides no hints about what those costumes will look like. The cream jacket and Bahama shirt D'Onofrio sported in Hawkeye deviated from the character's white suit and purple cravat that typically featured in most of the comics. Likewise, Murdock's initial black costume impressed viewers, but his final red Daredevil outfit drew jeers. Will Caballero be punching up the characters' iconic looks? Or will she blaze a new path? We won't know for sure until 2023.