Features
DuckTales Season 3 Will Be About Legacy, Huey, and Della Going "Full Mom"
The executive producers of DuckTales season 3 give us exclusive insights in the new season, including why it's finally time for Huey to shine.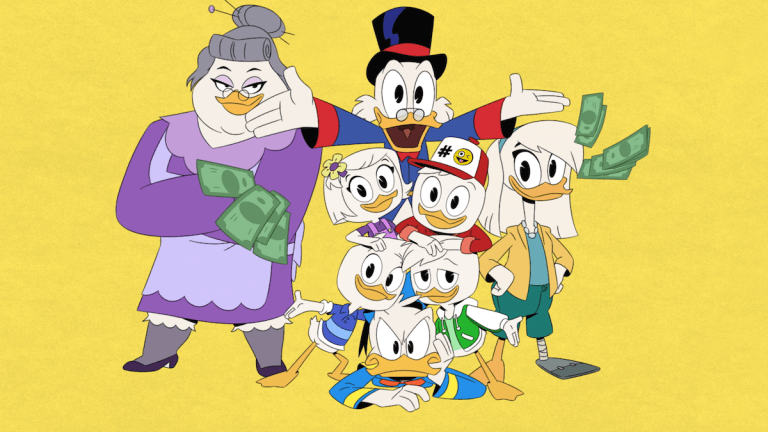 If there's one word that sums up the overarching theme of the upcoming DuckTales season 3, it's legacy. That comes from DuckTales co-executive producer Frank Angones who half jokingly says that it's taken them two years, "to get to where the original DuckTales started, which is family going on big globe-trotting adventures."
For fans of the original '80s cartoon that may sound strange but family is hugely important to the new DuckTales, so much so that the team behind the series has taken their time to carefully develop the huge extended Duck family. At the start it was just Scrooge going on adventures by himself but over the first two seasons the cast slowly but delightfully bonded together. There have even been some additions to the extended family, including Magica De Spell's niece Lena, the triplets mom Della, and Fenton Crackshell-Cabrera aka Gizmoduck!
With these bonds set in place Angones says that the characters now all have a shared goal but that doesn't mean everything will be easy going, especially for the kids of the family. They'll be faced with the question of "what do you want to be when you grow up?" and how they inherit the legacy of adventure in the family.
"They've gone along on Scrooge's adventures, but now we're going to try to put them in the driver's seat a little bit more," explains Angones. "They're going to find that, "oh, this isn't as fun as I thought it might be," or "this is a little bit more difficult. And we certainly weren't expecting a decades-long multinational conspiracy. But why not?"
That conspiracy seems to be headed up by F.O.W.L. (Fiendish Organization for World Larsony), teased at the very end of the second season.
"This is a season where nothing is as it seems," teases Angones and the character that's going to be the perfect fit for uncovering what they're up to? Huey. While the first season focused on Dewey and his quest to find out more about his mom and the second focused on Louie trying to start his own business, the third season will be Huey's time to shine.
"It makes sense (with) Huey being the character who wants to learn everything," Angones explains. "He's the big Junior Woodchuck and he's desperate to find out as much as he can about the world."
Executive producer Matt Youngberg sees Huey as a fascinating character and "we really wanted to explore Huey a little bit more."
Angones jokingly adds that they really wanted to explore Huey's "accumulation of neuroses, quirks and bizarre obsessions."
Huey won't be the only one getting more focus this season though. Angones teases Donald's "new budding relationship", "a lot of Scrooge", and more Della Duck!
Youngberg joyfully describes Della when she goes "full mom" even when she's been separated from her kids for so long.
"She tries her hardest as a mom and it's like, this is what I know I was supposed to do as a mom and she really intense and it's so much fun. Della is a godsend, really just amazing."

Angones adds that there's an episode coming up later in the season that addresses what it's like for Della to be related to "the greatest duck of all time… and what those expectations feel like. It addresses that issue with Della and it addresses that issue with the kids."
With Della firmly in the show as a main character, the family set to go on more globe trotting adventures, and the characters all exploring the theme of legacy, DuckTales season 3 is set to be the shows deepest, funniest, and most heartfelt one yet.
DuckTales Season 3 will premiere on Saturday, April 4 with two new episodes starting at 9:30AM on Disney XD and DisneyNOW.