News
Doctor Who series 11 episode 10 series finale preview
Doctor Who series 11 is about to wrap up...
Jodie Whittaker's first series as the Thirteenth Doctor is almost over, but we've still got one episode left of series 11, and a New Year's Day special to come, too.
Here's a look ahead at episode ten – the series finale – The Battle Of Ranskoor Av Kolos…
And here's a synopsis of the episode…
On the planet of Ranskoor Av Kolos, lies the remains of a brutal battlefield. But as the Doctor, Graham, Yaz and Ryan answer nine separate distress calls, they discover the planet holds far more secrets. Who is the mysterious commander with no memory? What lies beyond the mists? Who or what are the Ux?
The answers will lead the Doctor and her friends towards a deadly reckoning.
Guest starring Phyllis Logan, Mark Addy and Percelle Ascott. Written by Chris Chibnall. Directed by Jamie Childs.
More as we get it.
Doctor Who series 11 release date
More proof, if any were needed, that Doctor Who was regenerating for series 11 came with confirmation of a new slot in the schedules. The new series is now airing on Sundays instead of Saturdays.
The first of the new ten-episode run starring Jodie Whittaker in the TARDIS started on Sunday the 7th of October on BBC One.
You'll find all the series 11 news that's fit to print on page 2 and 3 of this article…
Doctor Who series 11 companions
Joining Jodie Whittaker in the TARDIS are three new companions.
Bradley Walsh is Graham, Tosin Cole is Ryan, and Mandip Gill is Yasmin in the new run of the show. 
Doctor Who series 11 Jodie Whittaker
Here's the first official shot of Jodie Whittaker as the 13th Doctor…
This promo video confirmed the casting of Jodie Whittaker as the 13th Doctor.
Some viewers reacted negatively to the video's unveiling of the first female Doctor, leading the BBC to share this official defence of Whittaker's casting…
Since the first Doctor regenerated back in 1966, the concept of the Doctor as a constantly evolving being has been central to the programme. The continual input of fresh ideas and new voices across the cast and the writing and production teams has been key to the longevity of the series.

The Doctor is an alien from the planet Gallifrey and it has been established in the show that Time Lords can switch gender.

As the Controller of BBC Drama has said, Jodie is not just a talented actor but she has a bold and brilliant vision for her Doctor. She aced it in her audition both technically and with the powerful female life force she brings to the role. She is destined to be an utterly iconic Doctor.

We hope viewers will enjoy what we have in store for the continuation of the story.
Doctor Who series 11 crew
Chris Chibnall – whose previous Who scripts include 42, The Hungry Earth and Dinosaurs On A Spaceship (he also penned the seminal Torchwood episode Cyberwoman) – has revealed a little about his first talks with the BBC.
"What the BBC was after was risk and boldness", Chibnall explained to Television magazine (which CultBox reported online). He also mentioned that he has a "daring conceit" up his sleeve, which could well fit that brief.
"I had ideas about what I wanted to do with it," Chibnall teased. "When I went to them and said, 'This is what I would do', I actually expected them to say, 'Ooh, let's talk about that', but they said: 'Great!'"
Chibnall's appointment wasn't all plain sailing, though. "I resisted it for a very long time, and [the BBC] really had to woo me", The Chib recounted in the interview.
There are two other new faces who have joined Doctor Who, too.
Firstly, Chris Chibnall added Sam Hoyle to his executive producer team for the new series. Hoyle, who produced Broadchurch with Chibnall, is working alongside Matt Stevens on the show.
Then we got news of the first director for the new series. Jamie Child has a CV that includes episodes of Poldark, Stan Lee's Lucky Man and Next Of Kin. He's directed the first block of episodes for the new series of Doctor Who, as revealed here. 
A clutch of writers brand new to the main BBC show were announced: Malorie Blackman, Ed Hime, Vinay Patel, Pete McTighe and Joy Wilkinson.
Acclaimed childrens and YA author Malorie Blackman, former Children's Laureate, is the author of the Noughts And Crosses series. Ed Hime has previously written for Skins. Vinay Patel wrote the excellent BBC drama Murdered By My Father. Pete McTighe was head writer on Australian prison drama Wentworth. Joy Wilkinson wrote celebrated 2012 BBC drama The Life And Adventures Of Nick Nickleby.
The series 11 directors are Sally Aprahamian (The Lakes, Teachers, and This Life), Jamie Childs (Vera, Stan Lee's Lucky Man, Next Of Kin), Jennifer Perrott (forthcoming BBC drama Gentleman Jack) and Mark Tonderai (Gotham, Lucifer, Black Lightning). 
Chris Chibnall had this to say about the announcements: "We have a team of writers who've been working quietly and secretly for a long time now, crafting characters, worlds and stories to excite and move you. A set of directors who stood those scripts up on their feet, bringing those ideas, visuals and emotions into existence with bravura and fun.
"Hailing from a range of backgrounds, tastes and styles, here's what unites them: they are awesome people as well as brilliant at their job. (It matters!) They love Doctor Who. And they've all worked above and beyond the call of duty in an effort to bring audiences something special, later this year."
WRITERS
Former Children's Laureate Malorie Blackman has written over 60 books for children and young adults including the Noughts and Crosses series of novels, and her book Pig-Heart Boy, which was adapted into a BAFTA-winning, six-part TV serial.
Malorie says: "I've always loved Doctor Who. Getting the chance to write for this series has definitely been a dream come true."
Ed Hime was nominated for a Craft BAFTA for his first episode of Skins, and won the Prix Italia for his radio play The Incomplete Recorded Works of a Dead Body.
Ed says: "Writing for this series comes down to the adventure really, and telling emotionally engaging stories to bring everyone along with you."
Playwright and screenwriter Vinay Patel's television debut, Murdered By My Father, won the 2016 Royal Television Society Award for Best Single Drama and was nominated for three BAFTAs.
Vinay says: "I grew up watching shows like Star Trek and Quantum Leap on the edge of my dad's bed, and I loved how they managed to capture the imagination of a kid like me as well as acting as a moral compass. I never imagined that I'd get to write for Doctor Who – I was pretty thrilled."
Pete McTighe  is the originating writer of Wentworth, the female prison drama that has sold to over 150 countries. He's written over a hundred hours of TV drama and been nominated for five Writers Guild Awards.
Pete says: My entire television career has quite literally been an elaborate plan to get to write Doctor Who – and no one is more shocked than me that it paid off. I've been having the time of my life working with Chris, and writing for Jodie and the new team, and can't wait for everyone to see what we've been up to."
Joy Wilkinson has been selected as a Screen International Star of Tomorrow and has had two screenplays featured on the Brit List. Her TV scripts include the critically-acclaimed BBC five-parter The Life and Adventures of Nick Nickleby, while her theatre work has won prizes including the Verity Bargate Award.
Joy says: "I loved the show and felt like it might be a good fit for me, but I knew it was really hard to get onto. So quite frankly I'm still pinching myself to be here!"
DIRECTORS
Sallie Aprahamian has been directing television for over two decades with critically acclaimed shows including: Extremely Dangerous, The Sins, Real Men, The Lakes, Teachers and This Life.
Sallie's memories of Doctor Who go right back to the 1960s, when William Hartnell created the role. She says: "I watched the First Doctor from behind the sofa through my fingers, frightened and exhilarated. I was really delighted, as a fan and as a director, to be invited to work on the first female Doctor's series. What a brilliant time to be on the show!"
Jamie Childs, who directed Jodie Whittaker's reveal as the Thirteenth Doctor, returns for the opening episode of the new series.
Jamie says Doctor Who represents an important part of our television landscape. "We tend to avoid making many shows in Britain that really allow the audience to properly escape, and Doctor Who has been doing this for decades. So yes, sign me up – I've always wanted to be part of that! There really aren't many shows made over here that allow the viewer to travel to another universe."
Jennifer Perrott wrote, directed, produced and executive produced her award-winning 35mm short film The Ravens. Since finishing Doctor Who she has been directing Gentleman Jack, a forthcoming BBC One/HBO historical drama series created by Sally Wainwright.
Jennifer says: "Doctor Who is an iconic show and one I'd loved as a child, especially when Tom Baker was the Doctor. Space travel has become more a part of modern life and this has opened the door for more human stories to be told amidst the escapist fantasy of saving the world from alien invasion. The aliens are now as emotionally complex as the humans, and I was really excited by that."
Mark Tonderai went to school in Zimbabwe and architecture school in Kingston, before landing a job at the BBC as a trainee presenter. Mark has directed the full season of The Five, Impulse, Lucifer, Gotham, Black Lightning, George RR Martin's Nightflyers and Jennifer Lawrence thriller House at the End of the Street.
Mark says: "What was really crucial in my decision to direct the show was Chris Chibnall. I'm a huge fan of his and I like the way he sees the world. He has this ability to entertain and also deliver truths – questions, too – about who we are. And he does it all with a hint of a smile."
Doctor Who series 11 artwork and images
The BBC also revealed a fresh logo for series 11 a while back….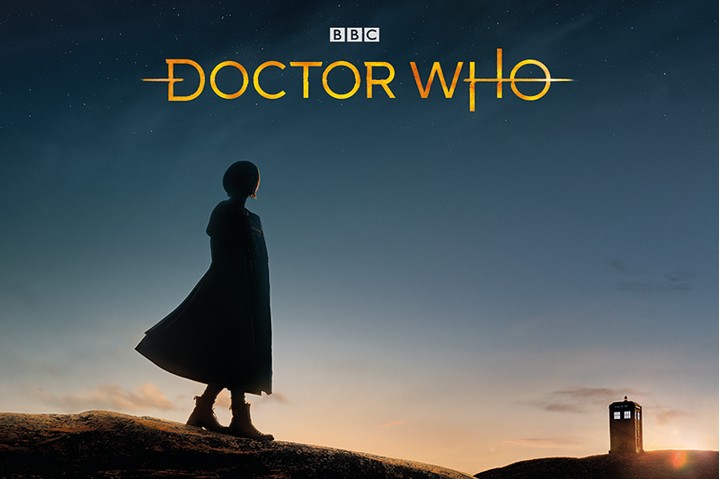 Aye, that looks dead good. Here's a wee insignia, too…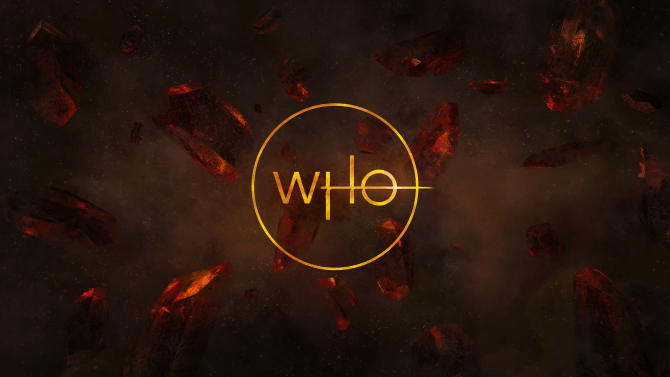 Now let's see the new logo in video form, because why not…
BBC Worldwide commissioned creative agency Little Hawk to create the new Doctor Who designs for them, and the team worked closely with new showrunner Chris Chibnall and executive producer Matt Strevens. 
More eye snacks arrived in the form of two brand new images – one from the Beeb, and one from EW.
Here they are…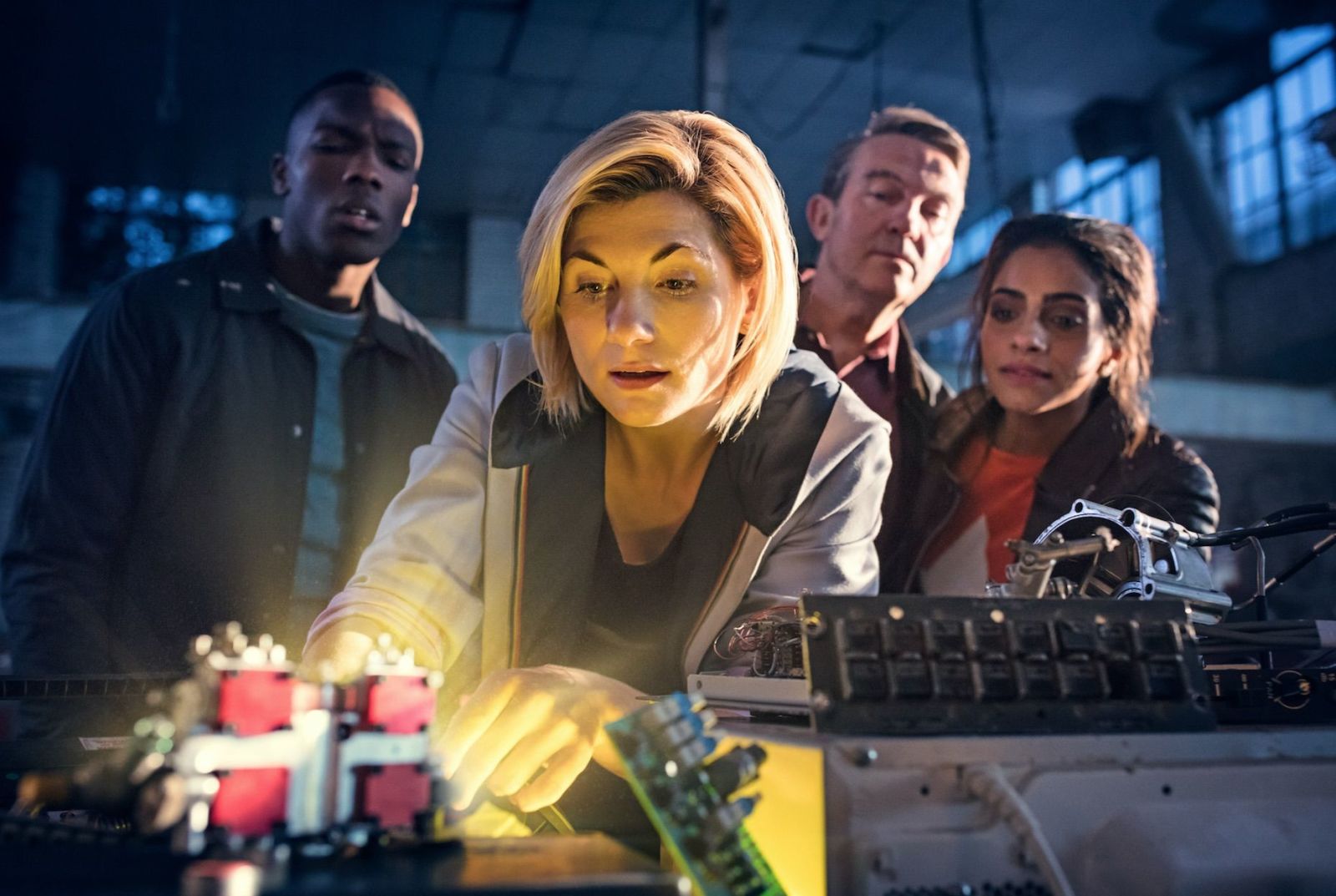 There might be a good reason for keeping TARDIS developments under wraps, however, as series 11 concept artist Darren Fereday has been teasing a major overhaul for the iconic police box, tagging production designer Arwel Wyn Jones in a series of tweets about the new design:
Just when you think the intrigue has plateaued…
Doctor Who series 11 guest stars
Some casting news has reached us via the always-lovable Cultbox – Alan Cumming has confirmed that he has a role in a new episode of the long-running series, and he even dished up a few details about the character he'll be playing.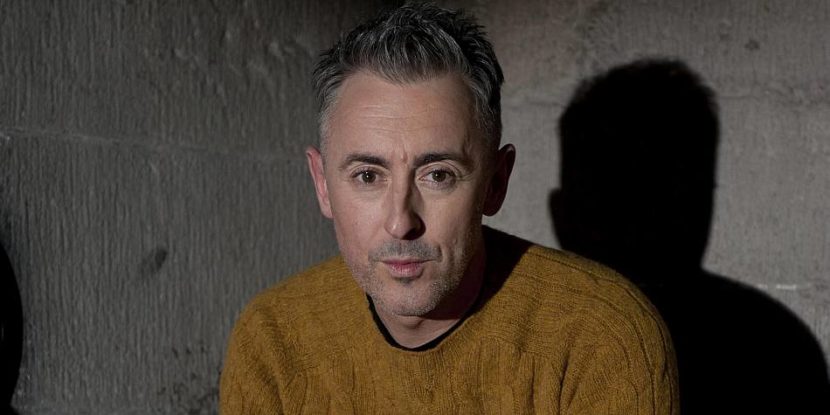 "I'm about to do an episode of Doctor Who. I'm so excited," the beloved actor gushed on the Homo Sapiens podcast. "I'm James the First".
The Good Wife and Instinct star later added that "they said he might come back" and described his Who character as "a nice baddie…a sort of dandy, foppy character who becomes alright in the end."
Ah, vintage Cumming, then!
Doctor Who series 11 composer
Murray Gold, who has done stellar work creating original music for Doctor Who since 2005, won't be returning to score series 11, and that means a fresh face has cooked up something quite new for us – composer Segun Akinola.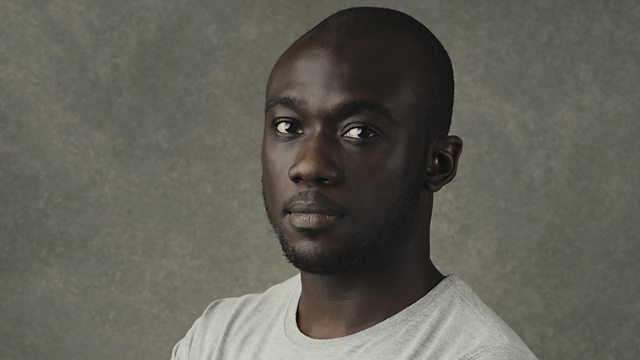 Rising star Akinola (Black and British: A Forgotten History, A Moving Image) provided "an exciting and emotional score beckoning in a new era for the show, including a fresh take on the legendary theme tune", according to the BBC.
Doctor Who showrunner Chris Chibnall had this to say about the new appointment:
"Welcome to the Doctor Who family, Segun Akinola! We're over the moon Segun's agreed to join us, to provide the score for the next phase of the Doctor Who adventure. From our very first conversations, it was obvious Segun was a passionate, collaborative and delightful human being as well as a fantastic and bold composer. We're looking forward to introducing the world to his exciting and emotional soundtracks for the Thirteenth Doctor."
Akinola added "Doctor Who is woven into the fabric of British culture and recognised globally. I am absolutely thrilled to be given the privilege of working on such a beloved series and to bring my musical voice to it."
Doctor Who series 11 enemies
Now Whittaker, along with new showrunner Chris Chibnall, has given The Times a mammoth new interview about series 11, and of course we've picked through it and scooped up all the essential bits for you.
The Broadchurch actress seemed in good spirits chatting about the series, and started by addressing the question she's probably fielded the most since her casting was announced.
"I am asked an awful lot about girls looking up to me as the first female Doctor, but just as important is boys looking up to women," she explained, before adding "It's one of them jobs, isn't it? You have to enjoy every moment of it or you're in the wrong field. I mean, it'll be nice when being the first woman doing something like this isn't such a moment, but it is also exciting to know that it won't have the same impact in the future. I'm just another actor playing the Doctor and the Doctor is an alien, so I'm as qualified as anyone else to play that role – which is woefully unqualified."
Initially thinking she was just catching up with Chibnall for a cuppa in a cafe when the ball started rolling on the Doctor's next regeneration, Whittaker had no idea what she was in for when she started joking around about having a part in series 11.
"'Can I come? Can I be an alien? Can I play a baddie?'" she recalled asking. "And he was like, 'It's funny you bring it up, because actually I wanted to talk to you about whether you would consider auditioning for the Doctor.'"
Whittaker admitted she burst into tears when she found out, post-audition, that she'd landed the part, but Chibnall says that her naturally emotional character won't be reflected in the Thirteenth. "There are no tears from my Doctor, no. That would be a huge statement."
The star backed Chibnall up, remarking of the regeneration experience for most Doctors "I think there are moments of anguish, but I feel that the way I enter into the role is with my eyes open and the lights on. You're five years old and you're in a dark cave and the light goes on and you see every colour, texture, shape. How exciting that would be! I wanted it to be like a lightbulb going on when the Doctor is regenerated and comes back, blown away by the beauty of everything and seeing it in things where it isn't always obvious; and knowing when to be scared, but using that fear to push yourself, not restrict yourself."
"Each Doctor needs to have their own journey," Chibnall went on to muse. "I think Peter's Doctor came into the world asking, 'Am I a good man?' and questioning his self-identity. Jodie's Doctor is definitely more outward-looking."
Any potential romances in series 11 were ruled out during the interview, too. "We are a friendship group in this season," Whittaker stated, sweeping away the notion of anyone getting 'the feels', "But we all love each other."
The paper also established that there will be "no Daleks, no Cybermen [and] no Weeping Angels" in series 11, with every episode featuring a brand new enemy for the Doctor to face.
"I want this to be a recruiting year for Doctor Who to bring in that next generation of audiences," Chibnall confirmed, but said the Beeb has put no pressure on him to achieve good ratings with his version of Doctor Who, only to make a good show.