Destination Fear Season 2 Release Date Confirmed for April
Travel Channel books a haunted road trip where there's no turning back on Destination Fear.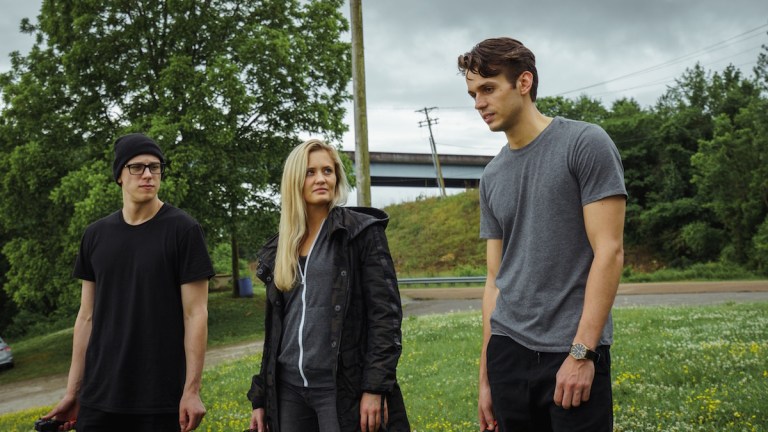 If you're looking to book a supernatural excursion after the quarantine lifts, Travel Channel's Destination Fear might have some useful tips. Brother and sister paranormal investigation team Dakota and Chelsea Laden, along with Tanner Wiseman and camera operator Alex Schroeder, have been crossing the country in an RV and checking in overnight at some of America's most haunted abandoned buildings. And the sights they're looking for are gateways into the unknown.
Destination Fear Season 2, which premieres April 29, will explore a whole new set of abandoned locations with haunted histories. In each of the upcoming six hour-long episodes, the team will take turns picking a different spooky location. And together they'll explore reports of paranormal activity before separating to sleep alone in the dark.
"Our last road trip was extremely intense, and it took a major toll on us, mentally and physically," Dakota said. "We had to really think about how much more we could handle – even Alex, who has been critical in capturing all of the action as our cameraman. But curiosity got the best of us. Our ability to withstand fear will be tested like never before."
One such destination is Minnesota's Nopeming Sanatorium. It is a favorite spot for paranormal investigators because "a lot of people died there." Founded to treat tuberculosis patients, the haunted parts of the building can be deadly due to the asbestos, lead, and mold, according to Northern Wilds. It fell into disrepair as the numbers dwindled and TB was brought under control. The owners of the location got tired of trespassing thrill-seekers and began booking tours in 2017.
The site loomed menacingly near their childhood homes of the Ladens, and Dakota has been "itching to investigate this 118-year-old building for years." Even so he says he's never had the courage to go inside of it until now, and on camera. Nopeming is the site of 1,500 deaths and its history "runs rampant with murder, suicide, and sinister spirits." In the season premiere, the team will confront their childhood fears and spend the night.
"This experience brings a whole new meaning to the idea of 'getting ghosted,'" Chelsea Laden said in a statement. "No matter how frightening these places are, or how terrifying the paranormal activity we encounter, we can't turn away. We're infatuated with the unknown." And if you doubt what your eyes are seeing in these spooky places, know that Chelsea is currently an optometry student at Illinois College of Optometry.
Season 2 will also feature the Yorktown Memorial Hospital in Yorktown, Texas; Old Montana State Prison in Deer Lodge, Montana; Hill View Manor in New Castle, Pennsylvania; Cambria County Jail in Ebensburg, Pennsylvania. The team will also be the first television crew to investigate the Sheboygan County Insane Asylum in Sheboygan, Wis. They will also be the first paranormal team to spend the night inside the building.
"We are taking things even further this time," Wiseman said. "Better equipped by what we learned from the first trip, we're exploring even scarier places that we didn't dare visit before. We're chasing the fear now, not letting it chase us."
The Destination Fear cast will also appear on the brand-new digital series "Up Close & Paranormal." In 2011, Dakota made five YouTube videos in the style of Ghost Adventures, which caught the eye of Zak Bagans who booked him as a guest on the show and later invited him to join the show.
Destination Fear Season 2 premieres Wednesday, April 29 at 10pm on the Travel Channel.