News
Legends of Tomorrow Season 6 Episode 11 Trailer, Details, and Return Date
The next episode of DC's Legends of Tomorrow will arrive soon, and we've got everything you need to know about it right here to hold you over.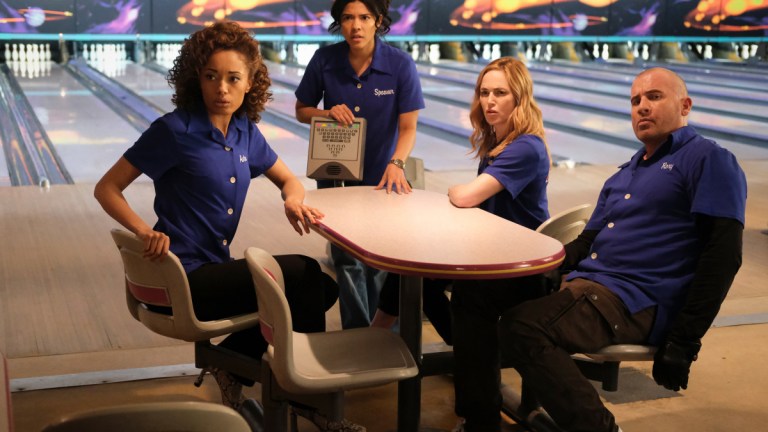 So, we've gone a little longer than we like to without a Legends of Tomorrow episode. Which of course raises the question of: when is the new episode of Legends of Tomorrow finally gonna get here? Good news, folks, we don't have to wait much longer.
The next episode of Legends of Tomorrow is called "The Final Frame." Here's the official synopsis, courtesy of the CW…
"When the Legends track down another Alien pod, they find a device that transports them to a cosmic bowling alley. Before consulting Sara (Caity Lotz), Astra (Olivia Swann) and Rory (Dominic Purcell), Spooner (Lisseth Chavez) makes a bet against the reigning champs for a ride back to the Waverider, but not everyone is happy about the plan when they realize what they are up against. Elsewhere, Nate (Nick Zano) plans a romantic date for him and Zari (Tala Ashe), but nothing goes as planned. Meanwhile, Behrad (Shayan Sobhian) and Gary (Adam Tsekham) try to distract Ava (Jes Macallan), from what's going on with wedding planning. Matt Ryan also stars."
The episode was directed by none other than Jes Macallan (!) from a script by James Eagan and Ray Utarnachitt. Check out the trailer, too!
Got some Big Lebowski vibes at the appropriate moments there, too. We'll finally get to spend more time on the Waverider on Aug. 8.
And as a little bonus, and to assure you that we aren't headed for another long break between Legends of Tomorrow episodes, we also have details on the following week's episode, which boasts the amusing title of "Bored On Board Onboard." There's no trailer for this one yet, but we do have that synopsis…
"The Legends are ready to get back home, but after Constantine (Matt Ryan) overloaded Gideon, they are going to have to go the old fashion way to preserve the ships energy. Trying to entertain themselves, tensions start to grow high, so Gary (Adam Tsekham) suggests playing a murder mystery game to pass the time. Constantine decides to make the game more interesting, which makes Behrad (Shayan Sobhian) worried about him but is met with pushback from Zari (Tala Ashe). Meanwhile, Rory (Dominic Purcell) and Gary (Adam Tsekham) deal with an unexpected guest that arrives on the Waverider. Caity Lotz, Nick Zano, Lisseth Chavez and Olivia Swann also star. Harry Jierjian directed the episode written by Keto Shimizu & Leah Poulliot."
Legends of Tomorrow season 6 episode 12, "Bored on Board Onboard" will arrive on Aug. 15 at the usual time. And after that? There's only three episodes left in this season! The airdates haven't been confirmed yet, but hopefully they'll all just roll out weekly. All we have on these right now is their titles: "Silence of the Sonograms," "There Will be Brood," and "The Fungus Amongus."
We will, of course, be covering all of them, because this show is delightful.