Features
Danny Pudi Is Happy You Enjoyed "Larry, I'm on DuckTales"
Mythic Quest (and yes, DuckTales) actor Danny Pudi reveals what it's like to be at the center of a wholesome viral phenomenon.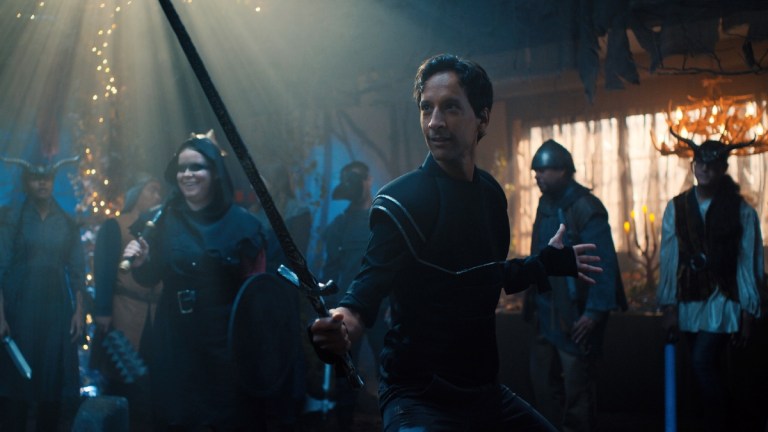 Flash back to late December of last year, if you will.
The holiday season is approaching and it's a particularly dour one. The world is still in the throes of the coronavirus pandemic and large gatherings are discouraged, scuttling many people's chances to see their family in person for the first time in months. We all needed a win. The Internet, as it so often seems to do, came through.
From the depths of TikTok and Twitter re-emerged a little-seen clip of a February 2020 interview between actor Danny Pudi (Community, Mythic Quest) and legendary broadcaster Larry King. King wanted to know a luxury that Pudi couldn't live without. Pudi offered up good coffee and nice socks. King deemed that not important enough a luxury and countered with a private plane.
Pudi, of course, responded with a now classic phrase.
"Larry, I'm on DuckTales" is the working class hero's response when presented with any hypothetical scenario of ostentatious wealth.
The video and Pudi's response went delightfully viral in December and popped up once again when King passed away in January of 2021. Of course, four months ago is an eternity in an Internet time and "Larry, I'm on DuckTales" has been supplanted by other various bits of online whimsy. One of the two players involved in the exchange, however, is happy to have played a role in briefly brightening up peoples' days.
"Oh my goodness. What a strange time," Pudi tells Den of Geek while promoting the second season of Apple TV+ series Mythic Quest.
Pudi has a particularly wholesome pop culture track record, playing beloved TV characters like Abed Nadir on Community and yes, Huey in the now sadly concluded reboot of DuckTales. Despite having a successful, public-facing career as an actor, the reach and impact of that one viral clip took Pudi aback.
"First of all, rest in peace, Larry. When that first happened, I was so confused because everyone was like, 'You're trending,' and I was like, 'What did I do?'" he says.
Once acclimated to the attention, Pudi came to appreciate the Internet's joy.
"Now people send me pictures of them in T-shirts that say, 'Larry, I'm on DuckTales.' It's so random. It's so weird. But in this time that we've been in, it's just a nice surprise to be able to provide joy to people remotely in that way. So I'm happy."
The irony now is that Pudi's character on Mythic Quest, ruthless head of monetization Brad Bakshi, is one of the few Pudi portrayals who wouldn't patiently explain to Larry King that he is low on funds. The show's co-creator Megan Ganz, who previously worked with Pudi on Community, approached the actor with an opportunity to play completely against type. Despite a smooth, charming exterior, Brad is a consummate manipulator interested in only success.
"It's very exciting to play such a different role – somebody completely different from me who doesn't care how people feel about them. I like high fives. I worry about how my children are going to react to our bedtime routine. I don't think Brad cares about any of those things."
Though Pudi notes that Brad does start to reveal some vulnerabilities in Mythic Quest's second season, his children like the character as much as a well-placed "Larry, I'm on DuckTales."
"My kids are constantly asking me how many times in an episode I get to swear, and that's exciting for me. I get to say, 'It's part of my job.' 'Your job is to swear?' 'Yeah.'"
Mythic Quest season 2 premieres its first two episodes Friday, May 7 on Apple TV+. The first two seasons of DuckTales are available to stream on Disney+ now.